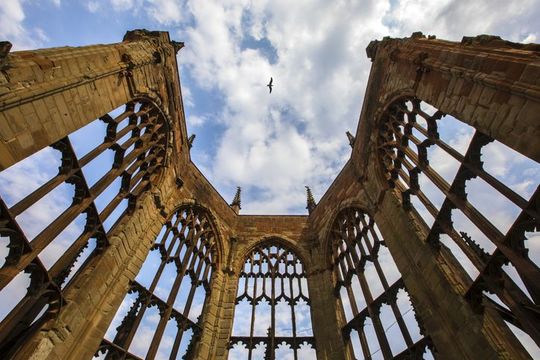 It's easy enough to lose yourself in Coventry
This Midlands industrial city, just east of Birmingham, enjoys a happy jumble of modern and medieval. Brick and cobbled lanes, narrowed by the overhang of half-timbered buildings, twist past ancient churches and lush gardens, only to open suddenly to the monumental plainness of modernist architecture.
Walk anywhere in Coventry's lively central district for the same juxtaposition: a row of medieval shops opens suddenly from a modern mall, an ancient guildhall faces a metal-clad university building, a ruined 14th-century abbey abuts a huge modern cathedral. Here the 20th and the 12th centuries mix like oil and water, close neighbors who never seem to blend.
It's also easy to lose yourself in a more literal sense. Coventry is the result of the finest principles of urban planning of the 1950s, applied with a thoroughness made possible only by a strong central authority and lots of German bomb damage. A circular expressway rings its central district with curves so gentle and steady that it is almost impossible to tell what direction you are heading.
Get off at any exit, and you find yourself wandering down a local street that meanders past car parks to a dead-end at the service entrances of the downtown shops. To a first-time visitor it seems like a cockamamie way to design a city, but it is all very rational. Parking surrounds a central core of businesses and offices, while the circular expressway offers ready access to the peripheral parking. A local can drive easily to the nearest car park, then stroll leisurely past a wide variety of downtown shops. Of course, such rationality is little comfort to a lost tourist. The best method for a first visit is to park at random, then walk to the Tourist Information Centre (follow the signs), where you can get a map that will show how much closer you could have parked if you had known where you were.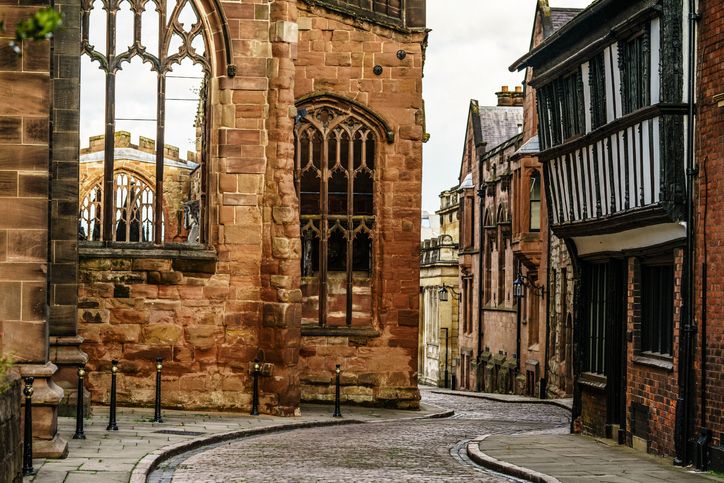 2
Coventry is associated with Lady Godiva, and for good reason--Lady Godiva was one of its founders and earliest rulers. Earl Leofric of Mercia and his wife, the Countess Godgifu (Godiva), founded a Benedictine priory on a hill overlooking the River Sowe, and the town of Coventry grew up around it. The priory probably ran a market that would have formed the nucleus of the growing town. Such a market would bring fees and taxes to the priory and the Earl while flooding the district with goods and money. Godiva may well have ruled the settlement between Leofric's death in 1057 and her own in 1066.
Certainly, taxation would be an important early issue, and Countess Godiva might have been an advocate for the priory and its market. However, it seems unlikely that she would have ridden naked through the streets of Coventry to reduce taxes. For one thing, she would have had to ride naked through the farm lane of Coventry, as the settlement had only 50 working men as late as 1086. The legend of Godiva's ride is probably a folk memory of a Queen of the May pageant--perhaps a particularly bawdy one. Godiva processions, complete with naked maiden, were held from earliest times well into the 20th century, and prudish attempts to clothe the maiden were met with riots.
At any rate, the legend of Godiva's ride is first mentioned nearly two centuries after the fact, by Roger of Wendover, whose work 'contains many fantastic and distorted stories,' according to the Columbia Encyclopedia. The legend of Peeping Tom is even later. It derives from a wooden statue of St. George that was salvaged from the dissolved abbey in 1539 and stuck in a window over the market place as a joke. ('Who is that?' 'Why that's Tom. He's peeping at Godiva.') Peeping Tom may be a legend but the statue still exists, on display downtown at the Cathedral Lanes Shopping Centre, still peeping at the city's famous statue of Lady Godiva.
The Coventry we know today took form in the Medieval period, between 1100 and 1500, as a great wool centre and cloth manufacturer. By 1100, Coventry's Benedictine priory hosted a cathedral, one of the largest in Britain. The next three centuries brought a building boom still very much in evidence in Coventry's central district.
The Parish Church of St. Michael, so magnificent it would be made a cathedral in 1918, reached its final form in 1346. Across from St. Michael's the magnificent St. Mary's Hall, erected by the merchant guild of St. Mary in 1342, stands as a monument to the power of the medieval wool merchants. Now a city building and open to the public, St. Mary's is organized around a Great Hall with a 14th-century timber roof and a tapestry dating from about 1500.
At the same time that St. Mary's and St. Michael's were rising, the town started to build itself a city wall. This wall encircled the city, with a walkway along the top and 12 elaborate gates. The wall may have had a defensive function as well as some role in regulating the market within its precincts, but it seems to have been mainly an expression of civic pride, a statement that Coventry had arrived. As indeed it had--by 1400, Coventry was the fourth largest city in England, surpassed by London, Bristol, and York. The wall is long gone, but two of the gates survive, one of them housing the Coventry Toy Museum.
Half-timbered buildings, their upper stories overhanging the narrow streets, soon lined the city lanes of Coventry and spilled out the main gates, much like modern suburban strips. A major area of medieval half-timbered buildings survives along Spon Street, on the western edge of the central district. This ancient commercial district grew up outside the Spon Street Gate (now gone); about half the buildings have been moved in from other parts of the city, survivors of modern urban planning. Today's planners, intent on fixing the mistakes of the past, are executing an ambitious restoration scheme for Spon Street.
Meanwhile, visitors can enjoy a good meal and cask ale at The Windmill, an old-fashioned neighborhood pub that strays through small, timbered rooms in one of Spon Street's oldest buildings--a good place to enjoy a traditional Sunday roast. In 1539 King Henry VIII ordered the closing of Coventry's Benedictine priory, founded by Godiva six centuries before, and the destruction of the city's original cathedral, St. Mary's. His agents carried out his wishes so completely that its site was lost until workers rediscovered its massive foundations under a demolished building in 1856. (The remains can now be seen behind the modern cathedral.) Thereafter the cloth trade declined and Coventry with it.
The industry continued on a smaller scale, with weavers turning to silk ribbons--a product still made in Coventry. Watchmakers also came to Coventry, starting a tradition of fine craftsmanship. When bicycles became popular in the mid-19th century, Coventry had the skilled craftsmen needed to produce the carefully machined parts, and soon came to dominate Britain's bicycle industry.
Some of the names of Coventry's 19th-century bicycle makers achieved more fame for their other products. Rover and Triumph, for example, turned to making automobiles. Other Coventry auto manufacturers included Daimler and Jaguar. While these famous Coventry automakers produced the kinds of sports and touring cars that Detroit could only dream about, other Coventry companies made family cars for Britain's growing middle classes. Coventry's auto works thrived throughout the first half of the 20th century, earning a reputation for craftsmanship and attention to detail. Unfortunately, few of Coventry's original factories survived the mergers and modernizations that followed World War Two, but the Museum of British Road Transport, with its large collection of antique and historic automobiles, preserves their memory.
As Coventry grew on the strength of its automobile industry, it once again became a cathedral city. In 1918, the Anglican Church declared Coventry's enormous 14th-century parish church, St. Michael's, the new cathedral. Built of red sandstone in the spectacular Perpendicular Gothic style native to England, St. Michael's was both the longest and the tallest parish church in England at the time of its elevation, with a bell tower standing 30 stories high. Nearby Trinity Church, another Perpendicular structure, would be overwhelming in any place other than beside St. Michael's. At Trinity, visitors can enjoy a major late medieval church in all its glory, virtually unchanged since the 17th century.
Coventry's large auto works attracted large-scale German bombing raids during World War Two. As darkness fell on 8th November, 1940, the Germans chose Coventry as the site to unleash a new and devastating strategy--saturation bombing. That night the Luftwaffe dropped 500 tons of high explosives and 30,000 incendiary bombs upon Coventry's centre and factories. The massive raid killed 568 people and destroyed 46,000 homes and 75 per cent of the city's industry. The jubilant Germans coined a new word to describe destroying a city by firebombs: zu Coventiren, 'to coventrate.' More air raids followed in April. Fire destroyed Coventry's centre and left its cathedral in ruins.
The morning after the cathedral's destruction, its stonemason, Jock Forbes, found two burnt medieval roof timbers lying together in the shape of a cross; he lashed them together and set them up in the rubble as a symbol of rebirth. A replica of his cross still stands there, in the ruins of St. Michael's, behind a simple stone altar made of the rubble of the destroyed cathedral. Behind the altar are the carved and gilded words, 'Father Forgive.'
The ruined medieval cathedral remains consecrated, a sanctuary dedicated to reconciliation. The ruins of the tall red outer walls enclose a quiet place of red flagstones and pots brimming with flowers. People sit on wooden benches to talk quietly, read, or pray. Miraculously, the 300-foot spire stands unharmed and since 1987 has had a full peel of 12 bells to ring in services and festivals.
The new Cathedral Church of St. Michael, completed in 1962, stands connected to the ruins of Old St. Michael's by a great 50-foot porch, supported by gracefully thin red sandstone columns. Designed by Sir Basil Spence (who was knighted for it), it is an uncompromising modernist structure of red sandstone. Its outer walls, seven stories high, curve gently outward and around sawtooth bays of stained glass.
The cathedral's vice-provost has described its interior as 'a theatre for worship,' a modernist interpretation of its great Gothic forebears. Perhaps its most impressive sight is the baptismal font, carved from a large, rough boulder of Bethlehem stone, surrounded by stained glass. On the opposite end of the cathedral an enormous tapestry of Christ in Glory covers the entire wall behind the simple concrete altar.
Each stained glass window, set in its bay, is fully visible only to a worshiper returning from Communion; the plain wall of each bay, visible to the main floor, is clad with a great marble slab carved with Bible verses. The Chapel of Christ in Gethsemane sits to one side, a cave-like recess with a gilded mosaic of the Angel of Agony, its entrance framed by a giant sculpture of a crown of thorns; it is dedicated as a place of prayer for those experiencing pain or problems.
The unifying theme of this great modernist structure remains reconciliation. The Most Reverend John Petty, its current provost, says, 'Reconciliation is the primary mission of our ministry.'