Beatrix Potter is best known as the author and illustrator of much-loved children's stories, but her legacy also includes research of scientific note and preservation of vast tracts of rural landscape. 
Beatrix Potter's books have been known and loved by children around the world for generations - The Tale of Peter Rabbit alone has been translated into more than 45 languages and sold 45 million copies. More than 250 million copies of her books have been sold worldwide. However, the author's legacy is much richer and deeper than simple stories. Beatrix Potter's childhood love of nature, landscape, flora and fauna not only informed her writing and painting, but also her scientific study, and her assimilation of a large parcel of lands which she bought up bit by bit, in order to better preserve the stunning landscape of the Lake District.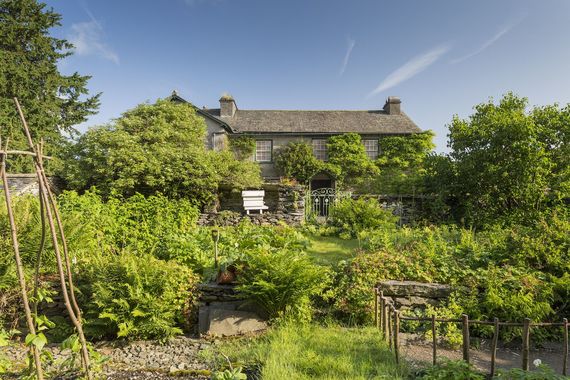 3
A magical childhood 
Helen Beatrix Potter was born on July 28, 1866, to a comfortably wealthy family living in West Brompton. In Victorian England, young women were not yet infiltrating the world of academia, but young Beatrix received a good education from a succession of governesses. As children, Beatrix and her younger brother, Walter Bertram (born in 1872), had many pets - mice, rabbits, a hedgehog, bats, along with collections of butterflies and other insects - which became the subject of their observation and drawings in the schoolroom. 
Beatrix was devoted to her pets and two rabbits in particular were to prove very important in her life, serving as artist's models and inspiration - Benjamin Bouncer and Peter Piper. She took them for walks on leads, taught them tricks and brought them everywhere. 
Another key figure in this history was Beatrix's last governess Annie Moore (née Carter), who was only three years older that her charge, and the two remained firm friends throughout their lives. Annie went on to have eight children, and it was the illustrated letters Beatrix sent to those children which eventually evolved into her children's books. 
For many years the Potter family spent their summer holidays in Scotland, but in 1882 they went to the Lake District for the first time. Little could her parents have predicted that their choice of summer holiday destination would have such a huge influence on the rest of their daughter's life, and in turn, the Lake District itself. 
They spent the summer at Wray Castle, near Lake Windermere. It was here that the teenage Beatrix first came into contact with Hardwicke Rawnsley, who was then vicar of Wray and later went on to become the founding secretary of the National Trust. His passion for the countryside made a great impression on nature-loving Beatrix. 
A scientific mind 
Study of the natural sciences was in vogue at the time, and Beatrix was interested in most elements of the world around her. She collected fossils, studied artefacts from archaeological excavations and was interested in entomology. As she studied and observed, she drew and painted the subject matter with increasing skill. 
By the 1890s, she had developed a particular interest in mycology, the study of fungi, and produced some excellent watercolours. Her knowledge and skill were well-respected, but as a woman, at that time, there was only so far she could take it. She had written a paper detailing her theories on germinating fungal spores, but, upon presenting it to William Thistleton-Dyer, the director of the Royal Botanic Gardens at Kew, he was dismissive and patronising. She wrote of the meeting, "I informed him that it would be in all the books in ten years, whether or no, and departed giggling."
However, Kew's mycologist George Massee supported her and presented her paper, On the Germination of the Spores of Agaricineae, to the Linnean Society of London in March 18971. (The prestigious natural history society was named after the Swedish naturalist Carl Linnaeus who developed the system of taxonomy.) She could not present it in person; the Society did not admit its first female fellow until 1905. The paper was apparently well-received, but she withdrew it to do some more work on it, and it was never published - no copy is known to be in existence today. 
There is much debate as to whether Potter was a brilliant scientific mind held back by her sex in the stuffy Victorian society, or if she was merely an enthusiastic amateur, who did not produce scientific work of major importance. The quality of her illustrations of fungi, which she studied under a microscope, is widely lauded and appreciated however.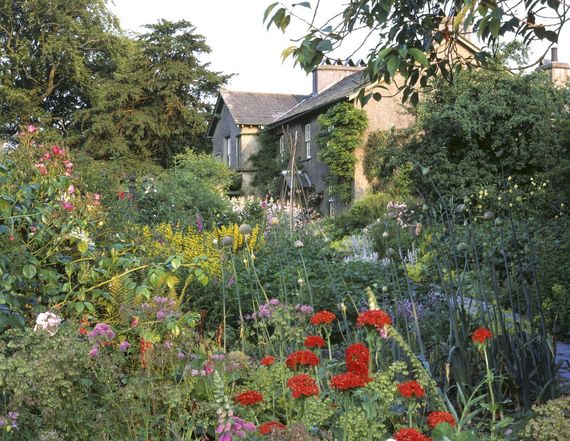 3
Entrepreneurial beginnings
In the 1890s, Beatrix and her brother began to put some of their drawings to use, printing them up as Christmas cards. This was the first sign of a savvy entrepreneurial spirit. The firm Hildesheimer and Faulkner bought several of her rabbit pictures to illustrate A Happy Pair, a book of verse by Frederic Weatherly, and the sales of more illustrations over the following years most certainly encouraged her determination to publish her own book of stories. 
She often illustrated her letters with sketches, particularly writing to her old friend Annie's children. Annie's eldest son, Noel, was often ill and Beatrix endeavoured to keep him entertained with lively letters. In September 1893, on a trip to Perthshire in Scotland, she penned what would become one of the most famous letters ever written, as she detailed, for Noel's amusement, the fictional adventures of "four little rabbits whose names were Flopsy, Mopsy, Cottontail and Peter".
It was this tale that became the basis for her first book. Unable to find a publisher for it, she printed a limited run of 250 copies at her own expense, in December 1901. 
Later, the publisher Frederick Warne & Co, who had previously rejected the "bunny book", reconsidered and agreed to publish it with full colour versions of the illustrations. 
The Tale of Peter Rabbit was finally published, on 2 October 1902, and was a huge success. The Tale of Squirrel Nutkin and The Tailor of Gloucester, which had both started life as letters to the Moore children, followed in quick succession. Potter's output was prolific, publishing two or three books a year, 23 children's books in all, among many others. 
The entrepreneurial spirit surfaced again, as she segued into merchandising. As early as 1903 she had made a painted Peter Rabbit doll. Other spin-offs included painting books, board games, wallpaper, figurines, baby blankets and china tea-sets. All of these were were licensed by her publisher, Frederick Warne & Co, and earned them both a steady stream of profits. 
Despite her success, this era of Potter's life was also marred by tragedy. She had fallen in love with her editor, Norman Warne, one of the sons of the publishing house. Her parents were opposed to the match as they considered a man working in a trade to be their social inferior. Despite their objections, the pair became engaged, but it was not to last long, as Warne tragically died of pernicious anaemia soon after, aged just 37. 
Lake District life
As a successful author and businesswoman, Beatrix was making her own fortune. She also received an inheritance from an aunt. In 1905 she decided to put her money to use, and bought Hill Top Farm in her beloved Lake District. However, as an unmarried woman, she remained living with her parents. The tenant farmer John Cannon and his family stayed on at the farm, managing it, while she set about learning all she could about fell farming and livestock husbandry. She added to her land at every opportunity, purchasing neighbouring lands to add to the estate. 
It was through her land purchases that she met her husband. Beatrix was 47 when she married William Heelis, the local solicitor who had acted on her behalf. Her parents, once again, disapproved of her choice, but her mind was made up and the couple married, on 15 October 1913, in London at St Mary Abbots, in Kensington. 
They moved in to Castle Cottage, the renovated farmhouse on Castle Farm, in the village of Near Sawrey, while she kept a private studio and workshop at Hill Top Farm. Beatrix thrived on country life and it inspired more of her best-loved stories, The Tale of Jemima Puddle-Duck and The Tale of Tom Kitten. She was also active in the local community, establishing a Nursing Trust for local villages and serving on various committees and councils.
The impression made upon young Beatrix by Hardwicke Rawnsley had lasted all this time and she adhered to the values and principles of the National Trust, making every effort to preserve her buildings and barns in keeping with the aesthetics of the rural area. Overall she bought 15 farms, saving lands from development, and was deeply involved in the rural life. Her flock of indigenous fell sheep, Herdwick sheep, were prizewinning and her keen interest in science led her to experiment with the latest remedies for sheep diseases. She was often asked to judge agricultural shows and in 1942 she became President-elect of the Herdwick Sheepbreeders' Association, the first time a woman had been elected to the office. Sadly, she died in December of that year, before she could take office. Her husband William passed away in 1945 and all of her properties were left to the National Trust, in what was at the time the largest bequest they had received: including over 4,000 acres of land, 16 farms, cottages and herds of cattle and Herdwick sheep. It now forms part of the Lake District National Park. 
Hill Top Farm was opened to the public by the National Trust in 1946 and much of Beatrix's artwork was displayed there until 1985 when it moved to a dedicated gallery in what was once her husband's solicitor's office in Hawkshead. The eclectic collection she left behind ranges from furniture, ceramics, paintings and jewellery, to wooden rabbits and doll's clothes.