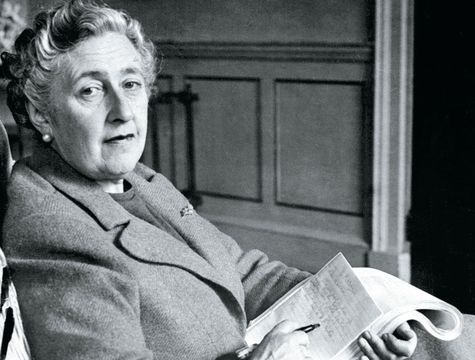 Hercule Poirot and Miss Marple both visited this town on River Dart, in Devon, where the world's best-selling author, Agatha Christie, called home.
When Agatha Miller was performing in amateur theatricals at Cockington Court, sharing midnight picnics at Ansteys Cove or rollerskating along Princess Pier as a girl, Torquay was a much quieter town than the "Queen of the English Riviera" is today. Genteel folk took the train down from London to sit on the broad veranda of the Imperial Hotel and watch the fishing fleets come in and out of Tor Bay. As part of the local set of gentry folk, Agatha was right at home.
During the Great War, the Town Hall in Torquay was converted into a military hospital for soldiers grievously wounded in the trenches of France or Belgium. Agatha worked in the dispensary and picked up a knowledge of medicines, and poisons, that she would later put to good use. When she married Lieutenant Archibald Christie, they honeymooned at the Grand Hotel—just before her young husband was shipped off to the stagnant and deadly battlefront.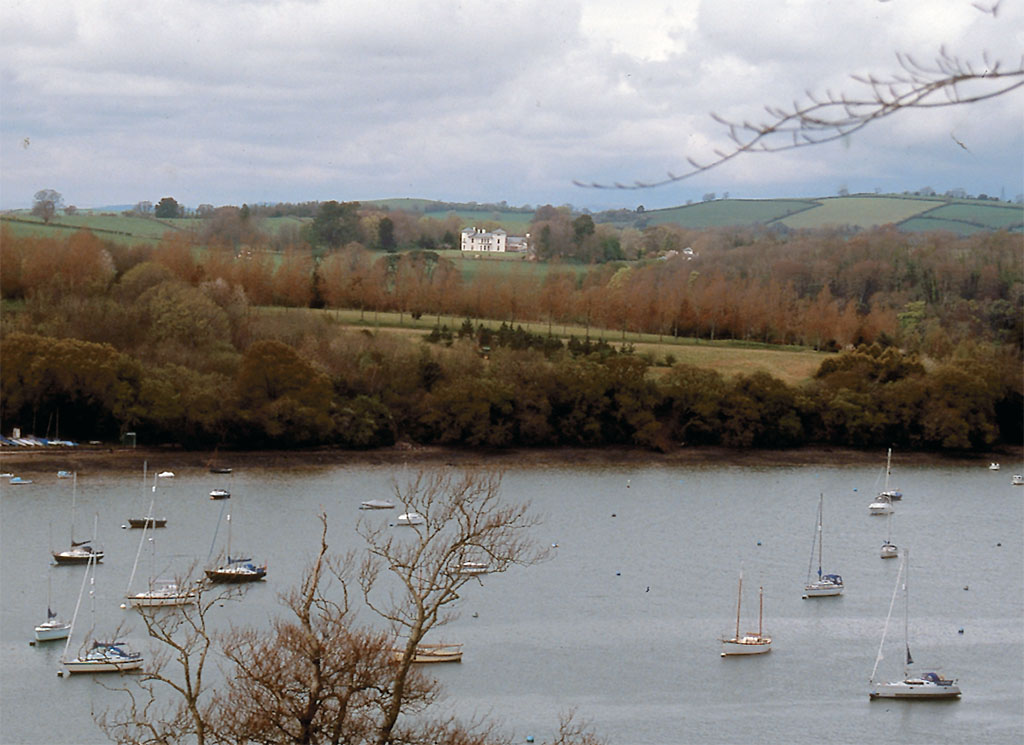 7
Agatha Christie went on, of course, to become the best-selling author in the world. And she still is, more than 30 years after her death in 1976. With Christie's success as a writer beginning in the 1920s, in one sense she left the localized world of Torquay behind. Her marriage to Archibald did not last, perhaps yet another casualty of that devastating war. In 1930, Christie married noted archaeologist Max Mallowen. They made "home" in Berkshire.
After all, by then, Agatha was becoming in demand by the literary world. And together, they were making periodic expeditions to archaeological digs Mallowen directed in the Middle East—places like Ninevah and Tyre.
In another sense, however, Agatha never left Torquay and the incredible beauty of Torbay behind. She returned to it again and again in her fiction, setting many of her classic murder mysteries in its golden arch of beach, cove, and island. Hercule Poirot and Miss Marple both ventured to Torbay to solve heinous crimes.
In 1938, now independently affluent from her writing, Agatha Christie herself returned to Torbay and purchased a Georgian manor, Greenway House. On the River Dart, just around the bend from Dartmouth and the Dart estuary, and a country lane out of the village of Galhampton, Greenway sits on rising ground overlooking the placid Dart river valley.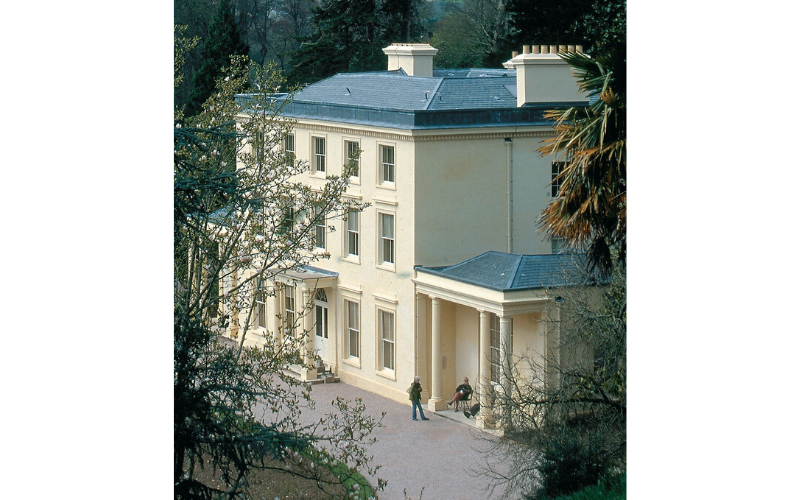 7
This year, for the first time, Greenway House is open to the public. It is, in fact, the first time a residence of this most famous author has been open—to give a personality, a face to her intriguing life and work.
Though the property had been deeded to the National Trust (and its gardens open to the public for several years), Greenway was home to her daughter and son-in-law, Rosalind and Anthony Hicks until their recent deaths. Agatha's grandson, Michael Prichard, then determined that the home as Agatha herself knew and loved it, be made available to the public.
While Greenway was never Agatha's primary residence, it was for a generation the family holiday retreat—where the family gathered for Christmas and Easter, and where she spent her summers. As her grandson and the NT developed Greenway House for "public consumption," they determined that it ought to remain her home—and not a museum to Miss Marple. Today, Greenway is restored and furnished as Christie and Max Mallowen would have known it in the 1950s.
I visited Greenway House this spring, just a few weeks after it opened. It was obvious that the team of NT staff and numerous volunteers were still straightening the kinks out. After all, Greenway is the most exciting new National Trust opening in some years. Already admission to the house itself is by timed ticket. As out-of-the-way as Torbay is from significant population centers or visitor hubs, Greenway this spring was attracting some 900 visitors a day—functioning virtually at capacity.
Greenway is not easy to get to in any event. The preferred and recommended method of arrival is by boat—passenger ferry from Torbay, Dartmouth or across the river from Dittisham. The NT calls it the "Green Way" to arrive at Greenway, but they're being disingenuous. If you are staying along Tor Bay, Greenway is an all-day cruise and visit. If you are driving around to Dartmouth or Dittisham, it is a 20-mile drive around the estuary to Dartmouth then a £7.50 per person ferry ride to Greenway Quay. Anyway, you arrive at the quay, it is a 400-yard climb uphill to the house and gardens. This is not a trip for those with limited mobility.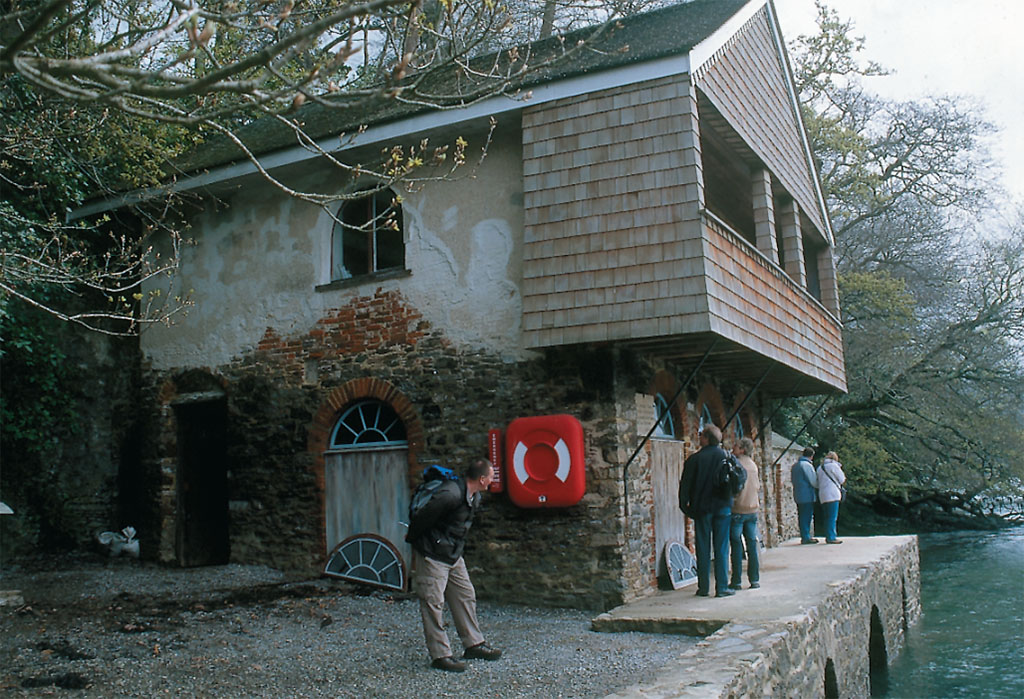 7
By road, Greenway lies through Galmpton village off the A3022 between Paignton and Brixham. It is a single track lane more than a mile and a half to Greenway. If you are arriving by car, you absolutely must have prebooked a time to arrive and park at Greenway. Or to get closer than Galmpton village. That means the single lane leading to Greenway is peppered with foot visitors hiking to and from wherever they managed to ditch their car in tiny Galmpton.
However you get to Greenway, though, you are sure to conclude that the effort was worth it. This is a great visit. The house itself is surrounded by gardens—walled gardens, conservatories, orchards, and woodland gardens. Through the spring months here on the English Riviera, the climate produces an early profusion of rhododendron, camellias and the like. The gardens at Greenway have been open to the public since 2003. They are elegant and well-tended.
Members of the NT, or Royal Oak here in the States, and familiar visitors will recognize the NT's adaptation to public demands. The stables and outbuildings have been tastefully refurbished for visitors, with eating options and gift shops.
Greenway House itself required several million pounds worth of structural and cosmetic repairs to bring it into condition for the public opening. Fortunately, none of the investment shows to spoil the period visit we are meant to enjoy. After admission on a timed ticket, a steward provides a valuable introduction in the hall, and then we are left to wander—expecting the family to return any time.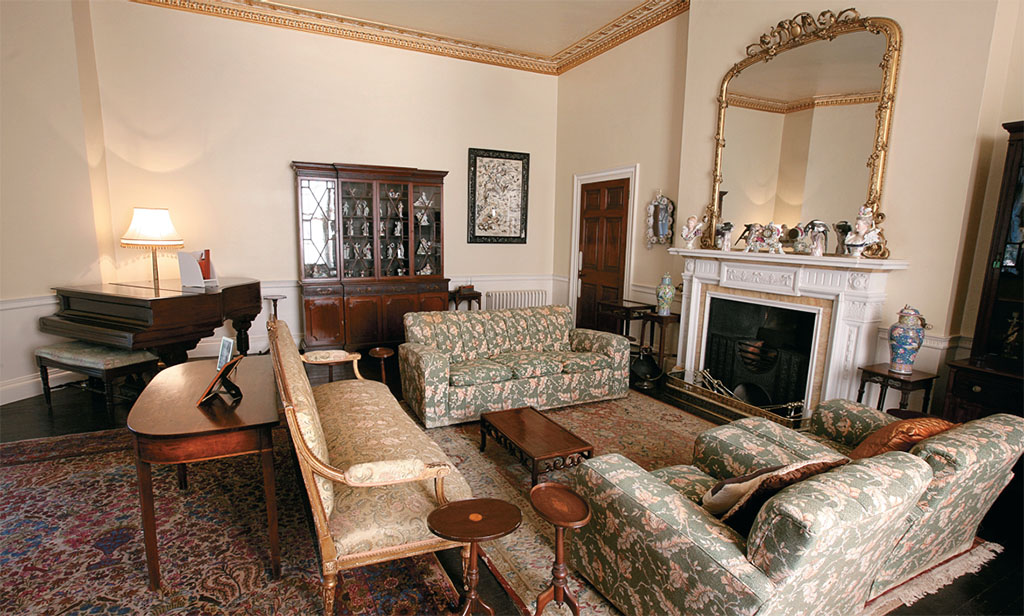 7
Hallways and anterooms are full of the collectibles that each of the family members seemed to amass in internecine competition. Agatha's grand piano sits in the drawing-room, where she entertained herself but declined to entertain others. In the evening, the family gathered here to listen to Agatha reading from her work in progress.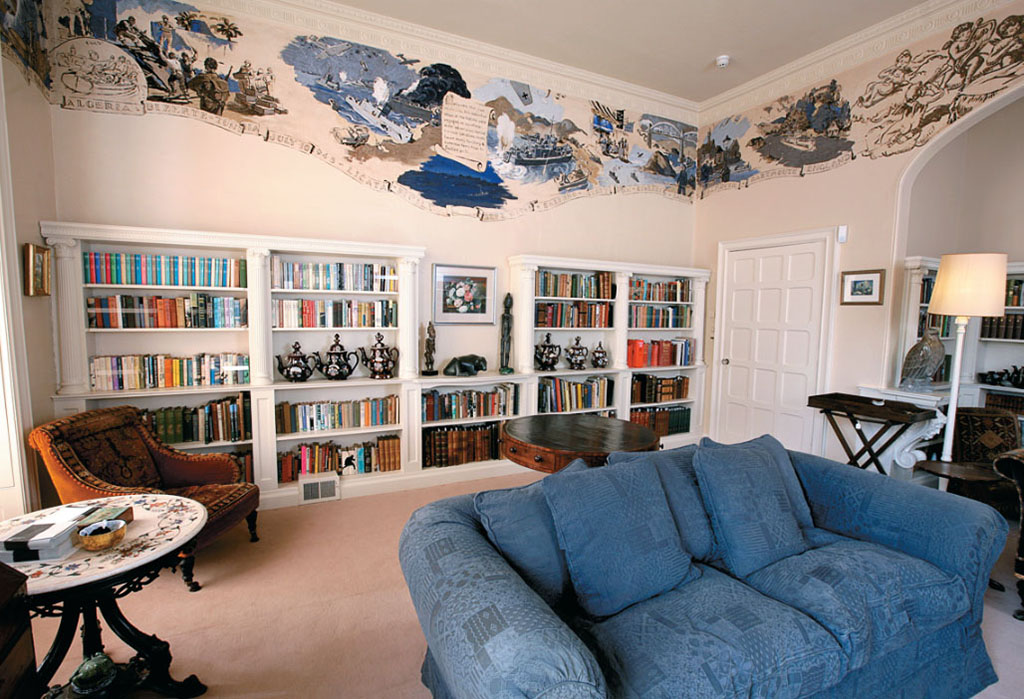 7
My favorite room was the library; apparently it was Christie's as well. After breakfast, she would start her morning's reading in a wingback chair set in the southern corner, with the morning light streaming over her shoulder. A drinks tray sits by the door, as it did when Greenway was acquisitioned as an officers' mess during World War II. Officers of the 10th U.S. Coast Guard flotilla headquartered here in the run-up to D-Day. One Lieutenant Marshall Lee painted an extraordinary frieze of the war up to that time running along three sides of the library's upper walls. Agatha preserved the mural intact after resuming possession of the house.
From kitchen and morning room to Agatha's bedroom, the house is open, and it is definitely hers. In her bedroom, the metal camp bed from her archaeological digs still stands, her luggage is ready and her clothes hang in the dressing room.
When visiting a beautiful stately Georgian country home set in a dramatic locale, surrounded by noteworthy gardens, it is generally the physical attraction itself that draws our interest and that governs our experience. Who lived there is definitely of lesser interest than where and how they lived. That could have been the case with Greenway House, but it is not.
Tricky business, that. The NT and Christie grandson Michael Prichard faced a formidable task to make Greenway a site of worthy grandeur, yet not to have the physical property overwhelm the experience of Agatha Christie and her family at home here. They succeeded brilliantly.
If you just want to go see great gardens and a lovely English manor house, there are scores of options. Go there. Greenway is a place to get to know Agatha Christie, to sneak beyond the curtain of time and place and see the personal world of the Grand Dame of the English murder mystery.
The coast of Tor Bay, introduced last issue as the "English Riviera," is awash with sites associated with Agatha Christie and the many novels and stories that she set here in South Devon. Torquay, her hometown, contains an Agatha Christie Mile of such visits. In mid-September, the town celebrates an annual Agatha Christie Murder Mystery Week. Eh, it's a festival, not a crime convention.
Agatha Christie fans have always had plenty to draw them to the area—from the Imperial and Grand hotels, Torre Abbey and Cockington to the little church in Churston Ferrers where she attended when at Greenway and whose stained glass east window she commissioned.
Greenway House adds a centerpiece, a destination-worthy attraction, for an Agatha Christie visit in South Devon. As word gets around, the next few years will see an increasing stream of Christie-inspired visits to Torbay. Greenway House will prove to be a jewel in Tor Bay's crown and in that of the National Trust. It's already too late to get there before the crowd.
Visiting Greenway
Greenway House. Open 10:30-4:30, March through October 25, Wednesday-Sunday.
Admission, £8.20; Entrance to the house by timed ticket. Arrival by car must be pre-booked. Tel. 01803 842382.
www.nationaltrust.org.uk
Greenway Ferry. Passenger ferry service to Greenway from Torquay, Paignton, Brixham, Dartmouth and Dittisham. Tel. 08454890418. www.greenwayferry.co.uk
If you are traveling by car, head for Exeter. You can drive to Torbay via the A380 or the coastal, scenic A379.
Train service will take you to Torquay via Exeter. Trains are out of London at Paddington Station.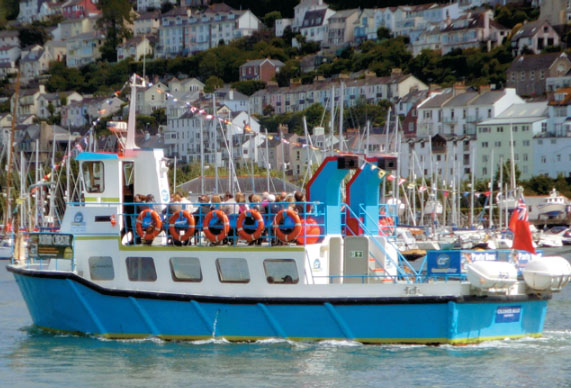 7
Christie Mysteries Set Locally
- Peril at End House
- Sleeping Murder
- The ABC Murders
- The Body in the Library
- And Then There Were None
- Evil Under the Sun
- Dead Man's Folly
* Originally published in Nov 2009.