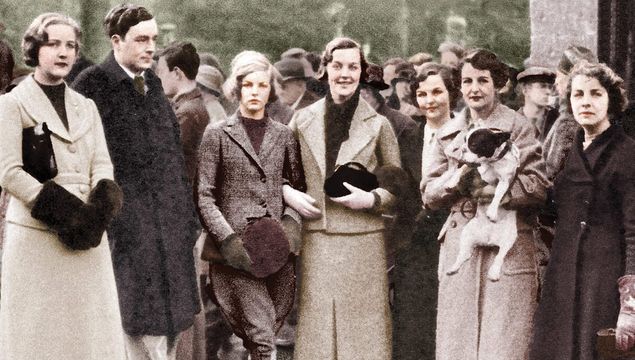 The author of the Downton companion books on her new Golden Age-style detective novel with the Mitford sisters.
What is it about the Mitford sisters? The Kardashians of their day, these six photo-genic socialites, daughters of Lord and Lady Redesdale, have come to represent glamour, posh style and the major forces of their era—including the truly evil. "Each of them illustrates something interesting, compelling or dynamic—or simply a fact of life as it was lived between the wars," says Jessica Fellowes, author of the new mystery novel The Mitford Murders, the first of a planned six-book series (one for each sister).
In this installment, commoner Louisa Cannon must escape a life of poverty and abuse in 1920s London while also solving a murder. Luckily, she has the help of railway policeman Guy Sullivan and the eldest Mitford child, a plucky 16-year-old Nancy Mitford. "Nancy had a bit of edge to her. She had energy. She was clearly good fun," adds the author.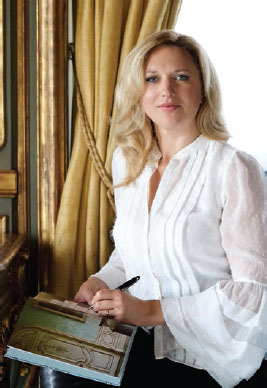 6
Author Jessica Fellowes
British Heritage Travel: Tell us about the Mitford girls.
Jessica Fellowes: They came from an aristocratic family, but they weren't particularly powerful or rich. They were all quite bright and had something to say for themselves. You've got Nancy, the eldest, a satirical novelist. Pamela came next, the one people know the least, really, but I see her as the ballast to the family. There was Diana, who married Mosley, the fascist in Britain. Unity fell in love with Hitler. Decca ran off with a communist. Deborah married an aristocrat and became the Duchess of Devonshire and ran one of the largest stately homes in England.
BHT: Those are extraordinarily divergent paths for members of one family.
JF: They had incredibly different lives, and yet they stayed friends and had an incredibly well documented relationship; they wrote each other endless letters. There's any number of biographies, books and even autobiographies, but my job is really about the gap: their childhood and what sent them off in these very different directions when they all came from the same house, the same parents.
BHT: You blend their family history with the real-life, unsolved murder of war nurse Florence Nightingale Shore (goddaughter and namesake of Florence Nightingale), who died January 12, 1920.
JF: Whoever killed her got away with it, so I solved it—fictionally. There are no records, but I found that there was a plausible link between the Mitfords and this particular murder, so I've exploited that for the fun of a Golden Age mystery novel.
BHT: Your wealth of knowledge about the time period reveals itself in those details—train tickets shaped as "stiff little rectangles," the penny dreadful novels—all these little historical things.
JF: I spent the last few years absolutely steeped in that research. What the Mitfords do for me is provide a hook to hang my hat on. They're great short-hands for their era and the atmosphere. Also, there's all the work I've done on the Downton Abbey books.
BHT: That must have been great training!
JF: It stems from my relationship with Julian [Fellowes, creator of Downton Abbey and the author's uncle] from when I was growing up. He and I shared this interest in the era. My grandfather was born in 1912, and so all those stories came from him and his aunts and so on, which Julian had collected as a young man, and he and I would discuss them. That was what really set me off on that trail. I'm fascinated by the intensity of the era between the world wars, so writing the [five nonfiction] Downton books felt like a natural fit.
BHT: In the Mitford Murders, you visit many different cross-sections of society.
JF: Downton was a house that moved quite slowly, while everything else was happening around it. My action takes place in London or in Oxfordshire. I am particularly interested in how the world moved after the First World War. They were dealing with an onslaught of technology in the same way we are. Ours is the internet, mobile phones, DNA and robots. Theirs was telephones, trains, motorcars, electricity, radio and cinema. It was completely changing the dynamics of their world, the dynamics of class.
BHT: The novel's true heroes—Louisa, a poor nursemaid, and Guy Sullivan, a railway policeman—are anything but upper class. They're just trying to get ahead with hard work and perseverance.

6
JF: This was one of the first times you were able to really do that. That was the great thing that the First World War did: It changed the mindset of the working class. It knocked the upper classes off their perch and the working class began to see that they didn't have to live the life that they'd been handed. I think that's the neatest point, that Guy and Louisa break free. They are pioneers in this new world.
This conversation has been edited for size and clarity. The Mitford Murders (Minotaur Books) will be available January 23, 2018. For more about the author, visit jessicafellowes.com.
The House of Mitford: Asthall Manor


6

Bought by Lord Redesdale in 1919, Asthall Manor was home to his six daughters and is now the settings of Fellowes' new mystery novel. Sadly, fans cannot visit the real-life Jacobean manor house in Oxfordshire. "It's privately owned," says Fellowes, who drew from descriptions in the ads Lord Redesdale placed when he put the house up for sale. One can, however, visit the gardens: "Every other year, the owner does an outdoor sculpture exhibition, so you can go to that."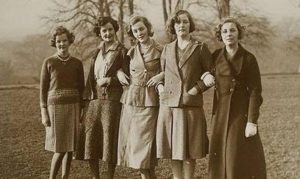 6
Jessica, Nancy, Diana, Unity and Pamela Mitford in 1935 (without Deborah or the lone Mitford brother). "Poor Tom! He never gets much the look-in," says Fellowes. "Nancy was the most likable," the author admits. We asked if she worries about how she'll eventually feature some of the less sympathetic sisters, especially Diana and Unity, fascists and fervent supporters of the Nazis and Hitler. "Yes, I'm definitely worried about that, but there's a fear of-going near something these days, and to write about fascism does not mean I in any way sympathize with any of it."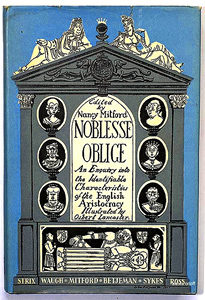 6
After British linguist Alan S. C. Ross coined the terms "U" and "non-U" in 1954, Nancy published The English Aristocracy in the magazine Encounter. Her essay popularizing the terms and explored the linguistic barriers between the classes in Mitford's signature comic style. A year later, Mitford edited the book Noblesse Oblige: An Enquiry Into the Identifiable Characteristics of the English Aristocracy with contributions from Christopher Sykes, Evelyn Waugh and John Betieman. The New York Times called it "unabashedly snobbish and devastatingly witty."