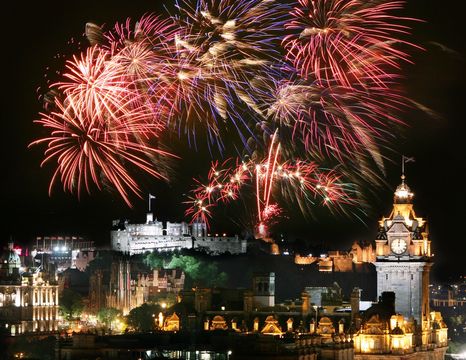 On New Year's Eve about 200k people celebrate Hogmanay on the streets of Edinburgh. Here's everything you need to know about the ancient traditions of Hogmanay.
You've probably heard or read the Scottish word and wondered whether it was some Gaelic way of saying you possessed many a porcine. No. The word, likely stemming from 16th-century French, literally means a gift given at New Year's but what it means today is a broad term describing the annual custom of visiting friends and family just after midnight on New Year's Eve, with gifts in hand such as cake, salt, coal, and whisky.
This tradition of first-footing, as it's known, has been going on for hundreds of years in Scotland, as Christmas wasn't even officially celebrated in Scotland until 1958 due to the Protestant Reformation. Hogmanay starts New Year's Eve and lasts two full days, with January 2nd a public holiday.
There are many customs, both national and local, associated with Hogmanay. The most widespread national custom is the practice of first-footing, which starts immediately after midnight. This involves being the first person to cross the threshold of a friend or neighbour and often involves the giving of symbolic gifts such as salt (less common today), coal, shortbread, whisky, and black bun (a rich fruit cake), intended to bring different kinds of luck to the householder. Food and drink are then given to the guests.
This may go on throughout the early hours of the morning and well into the next day (although modern days see people visiting houses well into the middle of January). The first foot is supposed to set the luck for the rest of the year. Traditionally, tall, dark-haired men are preferred as the first foot.
In the small town of Stonehaven, wire balls are fashioned and lit with fire, producing fireballs that are paraded about by the locals before flinging them into the harbor. In South Queensferry, brave hearts throw themselves into the icy sea to greet January 1.
The Edinburgh Hogmanay is probably the most popular. Indeed, one year it got into the Guinness Book of World Records for having the largest New Year's Eve crowd. It's also the most diverse. Its street party will attract upwards of 200,000 revelers to sing, dance, drink, and watch one of the world's biggest fireworks displays. Alternatively, you can celebrate here in the States by singing the traditional song from Hogmanay "Auld Lang Syne".
Check out this televised performance from Hogmanay in Edinburgh in 2021: