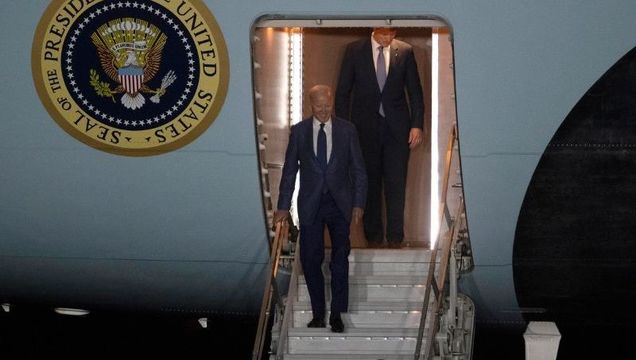 US President Joe Biden arrived in Belfast on Tuesday evening, April 11, marking the start of his first official visit as President to the island of Ireland.
Biden was greeted at Belfast International Airport by UK Prime Minister Rishi Sunak who was accompanied by Northern Ireland Secretary of State Chris Heaton-Harris.
Also there to greet the President were Lord-Lieutenant of County Antrim David McCorkell,  UK Ambassador to the US Dame Karen Pierce, US Ambassador to the UK Jane Hartley, US Consul General of Belfast Paul Narain, and the Commander 38 Irish Brigade and Northern Ireland Garrison James Senior.
US Special Envoy to Northern Ireland Joe Kennedy III traveled with Biden to Belfast.
As Biden's cavalcade traveled to Belfast's city center, the US President was met with cheers as people lined the sidewalks:
Joe Biden arriving to cheers into Belfast city centre pic.twitter.com/zkyfbPHwR8

— Seán Defoe (@SeanDefoe) April 11, 2023
Journalist Aodhán Roberts captured Biden waving to the crowds:
Video: Crowds cheer as President Biden arrives in #Belfast City Centre. pic.twitter.com/aC3elISSdh

— Aodhán Roberts (@AodhanRob) April 11, 2023
Before departing for Belfast, Biden told reporters in Maryland on Tuesday that his priority during his Irish visit is to "make sure the Irish accords and the Windsor agreement stay in place, to keep the peace. That's the main thing."
"Keep your fingers crossed," he added.
Biden said that "two of my family members who hadn't been there before" will also be accompanying him on his Irish trip.
White House Press Secretary Karine Jeane-Pierre later told reporters aboard Air Force One while en route to Belfast that Hunter Biden and Valerie Biden Owens would be accompanying the President during his Irish visit.
Before departing the US for his trip to Ireland, US President Joe Biden said his top priority was to "make sure that the Irish accord and the Windsor agreement stay in place" | More: https://t.co/sKHz7LibkL pic.twitter.com/w8YKxPI8FE

— RTÉ News (@rtenews) April 11, 2023
Also speaking aboard Air Force One on Tuesday, US National Security Council Coordinator for Strategic Communications John Kirby told reporters that on Wednesday, Biden is "going to meet with the political leaders of all the parties [in Northern Ireland], all together in an engagement."
The focus of these engagements, Kirby said, is twofold: first, congratulations on the 25th anniversary of the signing of the Good Friday Agreement, and second, a "focus on trade and economics moving across the board."
Kirby noted: "But, look, you've all heard him say — in fact, he said it on St. Patrick's Day: We'd like to see the National Assembly returned, clearly."
When asked what Biden's message will be during his remarks at Ulster University on Wednesday, Kirby said: "I don't want to get too far ahead of the President's speech, but one is, again, putting the Belfast/Good Friday Agreement into some sort of historical context, talk about the importance of that.
"And that kind of leads to a message about the youth generation in Northern Ireland and how they are literally just changing the face of high-tech innovations in Northern Ireland and the impact that they're having economically and domestically, politically inside their own country.
"And then the third thing kind of gets back to what I said before: He's going to talk about trade and economic prosperity in Northern Ireland and all the opportunities that opens up between the United States and the UK."
Biden's visit to Northern Ireland and Ireland this week is set to be a mix of diplomacy as well as a celebration of his often-touted Irish roots.
After speaking at Ulster University on Wednesday, Biden will travel to Carlingford in Co Louth in the Republic of Ireland before heading on to Dublin.
On Thursday, Biden will meet with Taoiseach Leo Varadkar and President Michael D. Higgins before addressing a joint session of Irish parliament. That evening, he'll attend a banquet dinner at Dublin Castle.
On Friday, the President will travel to Co Mayo where he will tour the sanctuary of Our Lady of Knock and will visit the North Mayo Heritage and Genealogical Center's family history research unit. That afternoon, he'll deliver public remarks at St. Muredach's Cathedral in Ballina.
* Originally published by our sister publication IrishCentral.com on April 12, 2023.