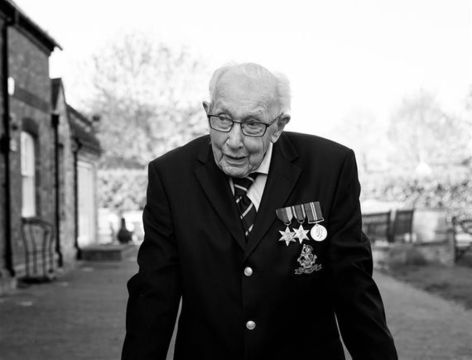 The 100-year-old British Army veteran, who raised $45 million for charity during the pandemic as well as lifting the public's spirits, has tested positive for COVID-19. 
In the early days of the coronavirus pandemic when the United Kingdom was facing an uphill battle with the virus, Captain Tom Moore emerged as a beacon of hope for the nation.
With his 100th birthday just around the corner, Tom, a former British Army Officer, began a fundraising campaign for National Health Service Charities Together, a group of charities designed to enhance the lives and careers of NHS staff.
Captain Tom's campaign was nothing more than a resounding success.
He raised almost $45 million by simply doing laps of his garden. What started off as a simple goal of raising 1,000 pounds for the NHS turned into a global campaign, and Captain Tom became a symbol of hope for the British public during the pandemic.
Now, some worrying news has emerged regarding Captain Tom. Tom's daughter revealed that her father had been fighting pneumonia for several weeks, and has now, unfortunately, contracted the coronavirus.
Tom was admitted to Bedford Hospital near his home in Bedfordshire Sunday after he began to struggle with his breathing.
It is worth noting that Tom is not being treated in an Intensive Care Unit at this point.
In a statement released on Tom's Twitter account, his daughter Hannah thanked the health workers who are caring for Tom in Bedfordshire. 
January 31, 2021
This worrying news was met with well-wishes from around the world, including from some prominent figures in the UK, including Boris Johnson himself.
My thoughts are very much with @CaptainTomMoore and his family. You've inspired the whole nation, and I know we are all wishing you a full recovery. https://t.co/Gm0S07umgd

— Boris Johnson (@BorisJohnson) January 31, 2021
Coronavirus figures in the United Kingdom surged hugely over the Christmas period, leading to an all-time high in terms of daily numbers in January.
A new strain has shot through the country, and lockdowns were implemented nationwide.
While case numbers have been dropping slightly in recent weeks, there is still a huge need to limit social contacts to try and stop the spread of the virus. 
Fingers crossed Captain Tom will be on the road to full recovery sooner rather than later.