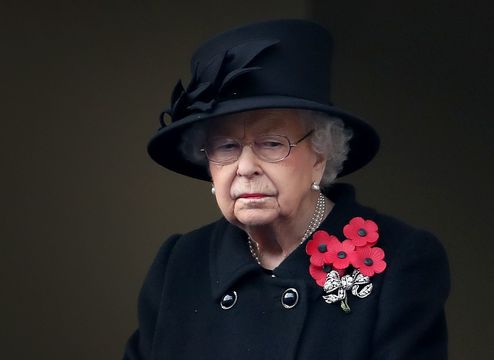 This Sunday marked Remembrance Sunday, a pivotal day in the British Royal calendar, the Royal Family paid their respects to Britain's fallen heroes.
On the second Sunday of each November, The Queen leads the whole nation in remembering those who have died in world wars and other conflicts. In a ceremony at the Cenotaph, the focal point of the nation's homage, Members of the Royal Family unite with others in thousands of similar ceremonies across the UK and worldwide in holding two minutes of silence at 11 am. 
Typically, Remembrance Sunday would see the Queen and several other members of the Royal Family join up with world leaders and dignitaries at the foot of the Cenotaph memorial.
Once the clock strikes 11, two minutes of complete silence is held in remembrance of all lost in war. Once a further round of gunfire signifies the end of the silence, the bugle call 'The Last Post' is played. Her Majesty and others, including High Commissioners from the Commonwealth, lay wreaths of poppies at the foot of the Cenotaph.
Of course, this year things were quite different. As COVID-19 cases continue to surge all across Europe, travel has been placed on hold for the time being, and most citizens are being urged to stay home to stop the spread of the deadly virus. In the week surrounding Remembrance Sunday, the Royals typically attend a wide variety of events and ceremonies to mark all of those who lost their lives in war.
While Prince Harry was unable to be in the UK for this year's service, he and Meghan Markle took the time to lay a wreath in America. 
Prince Harry and Meghan Markle Visit Los Angeles Cemetery on Remembrance Day​ https://t.co/1FI3qxivkA

— People (@people) November 8, 2020
This year, a socially distanced ceremony was held at the Cenotaph in London. Prime Minister Boris Johnson could be seen laying a wreath along with other former Prime Ministers as a marching band played, and Prince William was the representative for the Royal Family.
Take a look at the video below, courtesy of The Telegraph: