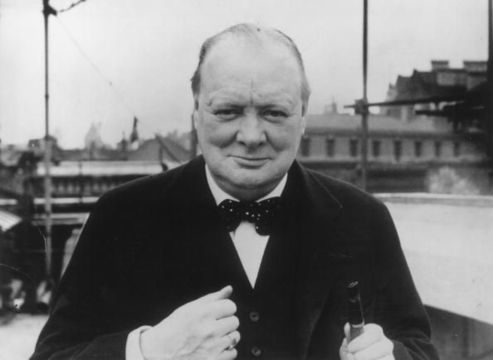 A letter written by Prime Minister Winson Church, in which he praises Second World War test pilot Neville Duke has sold for £8,000 at Sotheby's.
Neville Duke was a famous World War Two test pilot who famously flew a mission just hours after his friend died in a tragic accident. In his letter, Winston Churchill praised the Squadron Leader for his fortitude.
Duke was one of the most successful Allied fighters in the Meditteranean. He destroyed 27 enemy aircraft during his service. He was also heavily involved in developing the fighter aircraft, the Hawker Hunter. 
Read more: Remembering Britain's WWII hero Winston Churchill
Sotheby's describes the letter as "a tribute to an outstanding figure in British aviation. Neville Duke (1922-2007) flew Kittyhawks and Spitfires in North Africa during World War II, downing 28 enemy aircraft between 1941 and 1944. After the War he became the lead test-pilot for Hawker, setting two world speed records in the early 1950s in the Hunter, an early transonic jet fighter. He also commanded the 615 (County of Surrey) Squadron of the Royal Auxiliary Air Force, of which Churchill was honorary air commodore. 
This letter refers to a tragedy that had occurred at the Farnborough Air Show the day before this letter was written when a prototype de Havilland DH. 110 disintegrated mid-air, causing the death of 29 spectators as well as the crew. Duke lost a friend in the disaster, having known the de Havilland pilot, John Derry, for many years, but in a remarkable expression of determination he took to the air that same afternoon, taking a prototype Hawker Hunter P.1067 supersonic over the show."
Written on Downing Street notepaper reads:  "My dear Duke.
"It was characteristic of you to go up yesterday after the shocking accident. Accept my salute. Yours, in grief, Winston Churchill."
The letter was bought by an unidentified bidder for £8,125, exceeding its pre-auction estimate of £6,000-£8,000.
Read more: Why Winston Churchill is so fondly remembered In Missouri