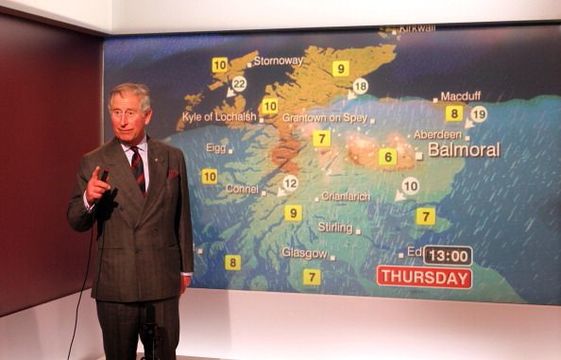 Could Prince Charles have found his calling as a weatherman?
As The Prince of Wales, Prince Charles spends the majority of his time at Royal events, meeting and greeting dignitaries, politicians, and famous people around the world.
As well as this, there is the small matter at hand that he is the heir to the throne. As the potential future King, Prince Charles has had his career and life path carved out for him since birth. 
With this in mind, it's safe to say that Prince Charles never tried his hand at too many vocations as a young man. Having said that, Charles is certainly a well-educated man. Instead of joining the military after high school, Charles instead chose to go down the university route. 
Studying at Trinity College, Cambridge, Charles anthropology, archaeology, and history. 
Not what you would necessarily suggest are pertinent subjects for any burgeoning weatherman. But alas, Charles is a man of many talents.
During a visit to BBC Scotland's studios, in Glasgow, Charles was meeting staff to celebrate the 60th anniversary of BBC Scotland. When asked if he would have a little fun and do a mock-weather presentation, the Prince obliged and hilarity ensued. 
Have a look at the footage below, courtesy of the BBC