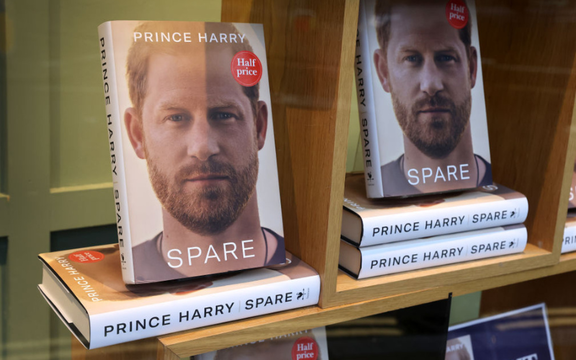 The Duke of Sussex's highly anticipated memoir went on shelves at midnight in bookstores and online.
The official release of Prince Harry's controversial memoir "Spare" has already made headlines across the world with personal revelations about the Royal Family being leaked last week and sold early by some booksellers in Spain.
The landmark publication is finally here! Full of insight, revelation, and self-examination, SPARE chronicles Prince Harry's journey with raw honesty. The official #PrinceHarryMemoir is out today, with the audiobook read by the author. Visit https://t.co/RkK6yNuHnk pic.twitter.com/rqaWPNF0xo

— Random House Group (@randomhouse) January 10, 2023
 In "Spare", the Duke of Sussex shares the difficult relationship he has with his older brother Prince William, the future King of England, as well as his hatred towards the British tabloid press and how the Royal Family struggled to accept his wife Meghan Markle, Duchess of Sussex. 
Buckingham Palace has yet to release a statement on the memoir or on the comments made by Prince Harry.
In the memoir, Prince Harry also recalls memories of his mother Princess Diana, and the moment he learned that she had tragically died in a car accident in Paris.
The morning after Lady Diana's death, his father King Charles, woke him up and broke the news to the then twelve-year-old Prince.
"He sat down on the edge of the bed," Harry writes. "He put a hand on my knee. Darling boy, Mummy's been in a car crash." He went on, "They tried, darling boy. I'm afraid she didn't make it."
The Prince writes that "none of what I said to him then remains in my memory. It's possible that I didn't say anything. What I do remember with startling clarity is that I didn't cry. Not one tear. Pa didn't hug me. He wasn't great at showing emotions under normal circumstances, how could he be expected to show them in such a crisis? But his hand did fall once more on my knee and he said: It's going to be OK. That was quite a lot for him. Fatherly, hopeful, kind. And so very untrue."
The blurb of "Spare" reads: "It was one of the most searing images of the twentieth century: two young boys, two princes, walking behind their mother's coffin as the world watched in sorrow—and horror. As Diana, Princess of Wales, was laid to rest, billions wondered what the princes must be thinking and feeling—and how their lives would play out from that point on. 
For Harry, this is that story at last. With its raw, unflinching honesty, Spare is a landmark publication full of insight, revelation, self-examination, and hard-won wisdom about the eternal power of love over grief."
The title 'Spare' appears to be a reference to the phrase 'heir and a spare' – suggesting his attitude to his place in the Royal Family.
The Duke of Sussex hopes to support British charities with donations from his proceeds from the memoir.
Prince Harry and his wife Meghan quit life as senior working royals in 2020, and now live in California with their two children Archie and Lilibet.