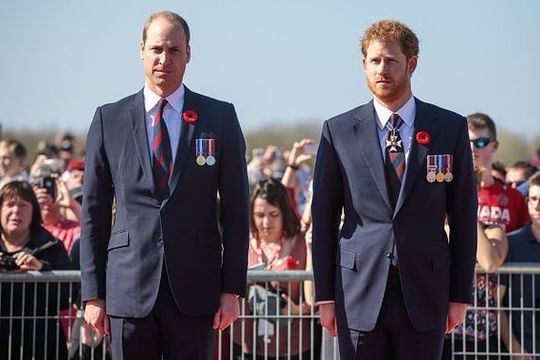 Royal expert shares what's in store for the monarchy following Harry's revelations. 
According to Royal correspondent Charles Rae, "Prince Harry should have been William's wingman instead of hitman", and believes Princess Diana would be "appalled" over the fallout.
In an interview on behalf of Spin Genie, Rae opened up on the drama surrounding the royals, following the release of Prince Harry's bombshell memoir "Spare" and recent interviews. While a potential reconciliation may not be on the cards in the near future, he believes Harry and his wife Meghan Markle won't attend the upcoming Coronation but predicts the family could come together "sometime down the line".
As well as commenting on a royal reunion, Rae also sheds light on Princess Diana's "hopes" for son Harry, why he believes the Royal family won't speak out over the Sussexes allegations, and plans for the upcoming Coronation of King Charles.
Is there a possibility the Royal family could repair their relationship with Prince Harry? 
"I do not think there is any chance, in the short term, of any reconciliation between the Sussexes and the rest of the family. So many accusations by Harry and Meghan have been made, but lots of families have fallouts and in many cases there have been reconciliation, sometimes years later. They say time is a great healer and it could happen sometime down the line."
Why do you think the Royal family have decided to keep quiet and not defend themselves over Harry's allegations?
"I believe the Royal family has decided to keep quiet as they believe, and I think it is right, it would unleash even more criticism from Harry and Meghan. If they respond to one part of the accusations, then the question will be is the remainder accurate. I very much doubt that the Royal Family will in future make any official comments. As I say, if they did it would only lead to much more publicity, which they certainly don't want."
Do you think it has been difficult for the likes of William not to speak out - especially after Harry's accusations about him?
"I think it has been and still is very difficult for William in particular to speak out, not just about the particular accusations against the Prince of Wales, but for the very fact that both William and Harry were so close. I also believe William feels very betrayed by his younger brother, who may well harbour the same feelings of betrayal by his older brother."
How do you think Princess Diana would feel about William and Harry falling out so publicly? 
"Princess Diana would be appalled at the way things have turned out. However, I doubt very much that she would have allowed it to get to this level of bitterness if she was alive, particularly between her sons. She always tried to ensure that both boys were treated fairly. She would never allow other members of the family to show favouritism to William, as the heir to the detriment of the spare. Harry from a very young age always knew he would never be king, but Diana had hoped that Harry would be in a unique position to support his brother when he is king. But unfortunately, Harry, who should have been William's wingman, has turned into his hitman."
Do you think Harry and Meghan will attend the upcoming Coronation? 
"It will be very difficult for both Harry and Meghan to attend the Coronation, given what has gone on. In saying that, I believe they will be invited. Remember after the Oprah interview they were invited to the Platinum Jubilee. However, they have the perfect excuse not to come, as on the same day, it was Archie's fourth birthday. They may choose to stay in California to celebrate that instead. There are also rumours that Harry has been offered a lot of money by two broadcasters to commentate on the Coronation."
What do you think is in store for the monarchy this year? How will they bounce back from Harry's allegations?
"The monarchy will survive. It has survived for thousands of years and has faced many controversies, executions, abdications, affairs, falls and rises in popularity, which will continue. I believe the monarchy is probably the greatest living soap opera and can easily outdo the likes of EastEnders and Coronation Street. Whatever happens in the future for the monarchy, it will deal with it in the best way it sees fit."