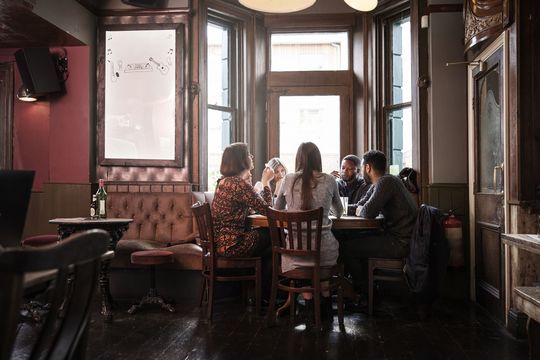 Dana Huntley examines what makes the great British pub just so special.
A cozy log fire in winter, a flower-decked garden in summer; a place to greet mates and coworkers, quip about politics and football and the latest antics of the Royals - an inn, a tavern, a "local," an ale house: There is no more iconic or characteristic social institution across our sceptred isle than the Great British pub. Shorthand for "a public house", the pub has a history reaching back 1,500 years or more. 
Call it the boozer or the bar, traditionally the local pub has been the neighbourhood living room. The place where friends and family meet, birthday parties are celebrated and games are played. It's a place of general welcome and somewhere respectable to take your grandmother. Any semblance between the British pub and American bars is quite coincidental. The pub is also where the normally reserved (by American standards) Brits feel free and have interest in and time for conversation with strangers, be they from Kansas City, London, or two villages away.
On my first real exploration of Britain, now 40 years ago, I quickly discovered that the pub was the place to meet people, to visit with the locals, and to unpack the community beyond its renowned attractions and old churches. 
Preserve our local pub!
Alas, over the last 20 years or so, pubs have been disappearing at what is taken to be an alarming rate. Village and country pubs have been especially hard hit – a natural change in the lifestyle of the times. With the world of entertainment available on smartphones and television screens these days and the relative inexpense of adult beverages from the off-license or grocery store, it's tempting these days to just stay home. 
Fear not, however, the local pub has its champions. The Prince of Wales himself joined the campaign for the viability of rural pubs, back in 2001, lending his support to The Pub is the Hub initiative, which actively helps hundreds of 
pubs across Britain promote partnerships in their communities to make themselves economically viable. 
Villages particularly have rallied against the closures of the local pub. Ten years ago now, I travelled up to northeast Wales, where one village took matters into its own hands. At Llanarmon-yn-Ial (pop. 600), when the pub closed, the villagers had a meeting and formed a co-operative to take over The Raven Inn themselves. With a local committee governing the Raven's operations, more than three dozen volunteers actively ran the pub: taking shifts behind the bar, washing dishes, cleaning bathrooms a\nd floors, publicizing events, cooking and more. I wrote up The Raven's story in British Heritage. Now, community ownership maintaining the local village pub has spread across the country in varying forms. 
The villagers' pride in their pub isn't confined to their rural location. Everyone's home pub is their "local" – where all the regulars know each other and the barkeep can pull your regular pint when you walk in the door. 
Of pub food and drink
There are those who fancy cider and those who favor gin. In Scottish pubs, there might be four score and seven malt whiskies behind the bar and regulars who can describe their unique characteristics in mind-boggling detail. There are also those who prefer soft drinks, juice, tea or coffee, and that is always welcome, as well.
The original and bedrock beverage of the pub, 
however, is draft beer. Proper top-fermented real ale. In truth, it was in haunting English pubs that I learned a taste for and knowledge of the amber nectar – lessons for which I am profoundly grateful. 
In bygone centuries, most people, drank beer most of the time as their primary libation. The brewed beverage was reckoned rightly to be safer than drinking the water. Originally, ale was simply malted barley, steeped, and brewed with yeast for fermentation. Then, as these fortuitous accidents happen, folks discovered they could add flavor and longer life to the ale by adding hops. Lo, beer was born. 
Publicans and innkeepers brewed beer, farmwives brewed beer and every landed stately home had a brewhouse in its courtyard. The first commercial brewery was Shepherd Neame founded in Faversham, Kent, in 1689. It still turns out great traditional Kentish ales including Spitfire and Bishops Finger. 
There is indeed a difference in yeast and brewing process between ale or "bitter" beer and lager. The light, pale ice-cold brew that Americans most recognize is lager, and particularly favored by younger drinkers. 
Preserving, promoting and celebrating both traditional cask beers and their pubs is the cause of an active national consumer organization, CAMRA – the Campaign for Real Ale. Hardcore fans of the brew consider CAMRA's annual Good Pub Guide as a beer and tavern bible. With almost 200,000 members, CAMRA sponsors scores of beer festivals every year, offers an online database of real ale pubs and provides resources to help save local pubs, as well as a guide for community ownership. See www.camra.org.uk for more.
Don't expect much in the way of cocktails at the pub. Cocktail lounges and hotel bars are a different variety of establishments. Any spirit – most commonly whisky, rum, gin and vodka – can be added to any juice or soda mixer, but that's generally about as far as it goes in the local. Ask for a Cosmo at your own risk. 
Gin was the English spirit that led millions to wrack and ruin in the 18th century, advertised as "Drunk for a penny; dead drunk for tuppence." The elixir evolved into respectability, a favorite tipple with women, including Her Majesty the Queen. The past few years have seen a surge in popularity for gin. Craft and designer gins are all the rage. 
As for good eating, pub grub is comfort food. 
The culinary offerings at traditional pubs, however, have come a long way from the ploughman's lunch of bread, cheese, and pickle. While chips and sandwiches are ubiquitous, the menu today often includes a curry and lasagna as well as bangers and mash, fish & chips and lovely hot meat pies topped with puff pastry. 
Historically, regional and national breweries have owned their own chains of pubs, clearly identified on their colorful pub signs. These pubs, known as "tied" pubs, provide a ready, steady outlet for the breweries own range of beers and lagers. Independently owned pubs are "free houses," free to carry whatever beers the landlord chooses. 
In recent years, however, the nation's largest pub owner has become J.D. Wetherspoons as Wetherspoons free houses have spread to number more than 900 unique establishments. Barely a town of any size doesn't boast a Wetherspoons pub. Their popularity derives from their array of draft beers, wine and spirits, an extensive and varied food menu (served until late), with clean restrooms and surroundings, all served at lower prices than you're apt to find anywhere else in town. There is a trade-off, of course. The buzz of Wetherspoons is never going to match the atmosphere of the neighborhood local and it's certainly not the place you're apt to get into conversations with people.
"Mind your Ps and Qs"
The old expression comes from the pub when the landlord might admonish his regulars to behave themselves and "mind" their pints and quarts. Apart from common courtesies, pub etiquette has only a few universally accepted protocols. 
Don't expect table service. All food and drink are ordered at the bar and paid for at the time of service. They don't run tabs at the pub.
There is customarily no tipping in the pub. The tradition extends from the notion that the publican is your host and that, ultimately, you are a guest. 
In the course of visiting with folks, if you accept the offer of a drink with a party, it is good form to then stand a round for those in the conversation group. 
Pubs I have known and loved
In London, I've thought of several pubs over the years as my local while 'in town'. The Cross Keys on the fringe of Covent Garden in Endell Street boasts flowers circling its entrance, Victorian woodwork, and Beatles memorabilia on the walls. 
Between Westminster Abbey and Victoria Station on Victoria Street, The Albert has been pulling pints and serving up traditional pub food since 1862. It's not uncommon to see Chelsea pensioners drinking a pint at the Albert in their scarlet tunics.
In Mayfair, it's the Kings Arms for a pint or a pub lunch. Tucked into quaint Shepherd Market off Curzon Street, the pub is a great place to watch the street scene in this hidden pedestrianized oasis in the bustling city.
Across the island, over the years there are pubs that I return to again and again when I'm in the neighbourhood. 
They always feel like home. Rarely do I pass through Oxford without a visit and perhaps a meal at the Eagle & Child on St. Giles across from the Martyrs Memorial – the favorite local of the Inklings, including J.R.R. Tolkien and C.S. Lewis. In Bath, I go back decades with the Saracen's Head, at the bottom of Lansdowne Street. Charles Dickens stayed there when it was a coaching inn and he was writing The Pickwick Papers. Warm memories flood back of evenings and conversation at the Pennan Inn on the north Aberdeenshire coast,  Reedham Ferry Inn on the Norfolk Broads, Lynmouth's Village Tavern in North Devon and many more. 
If you would like to know Britain and meet some locals, let's go down to the pub together. Mine's a London Pride.  
*Originally published in 2021.