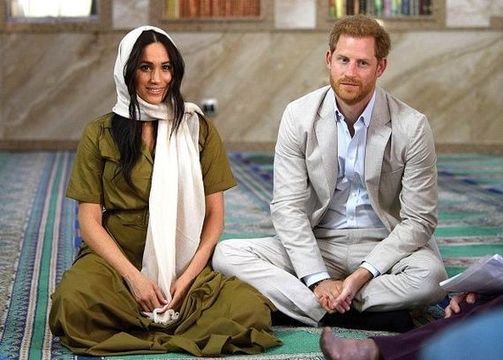 Much has been said about Harry and Meghan's new Spotify special
As we know, last year Harry and Meghan made the decision to journey across the pond to North America, and give up their titles as working members of the Royal Family.
Understandably, this decision was met with uproar and shock by followers of the Royal Family, as well as the family themselves. Reports at the time stated that Queen Elizabeth was blindsided by Harry and Meghan's announcement, and had not been prepared for the news.
Over the course of the year, Harry and Meghan seemed to court controversy every step of the way. Netflix's hit show 'The Crown' caused headlines all over the world for its controversial portrayal of the Royal Family and allegedly brought stress to the family.
In spite of this, Harry and Meghan signed a multi-million dollar deal with Netflix which will see them working closely with the streaming service in the next year. This decision raised eyebrows, and many were of the belief that it was a sign of just how fractured the Royal Family has become in recent months. Along with their Netflix deal, Harry and Meghan also signed a deal with the largest streaming service in the world, Spotify.
This holiday season, they kicked off their partnership with the streaming giant with a podcast to mark the start of 2021.
The stand-alone special promises "a collection of personal anecdotes and inspirational stories from a variety guests around the world … plus a surprise or two," according to a press release. Billed guests include Stacey Abrams, Christina Adane, José Andrés, Brené Brown, Rachel Cargle, Deepak Chopra, James Corden, Matt Haig, Sir Elton John, Hussain Manawer, Naomi Osaka, Tyler Perry, and George the Poet. Archwell Audio is their production banner and teamed with Spotify-owned Gimlet Media to produce the special.
Speaking on the year that has just passed, Harry said "As we all know, it's been a YEAR. And we really want to honor the compassion and kindness that has helped so many people get through it."
Harry and Meghan also shed some light on the music that has helped them to navigate what has been a testing year for all.
Meghan said "'This Little Light of Mine' played at the very end of our wedding… while we were walking down the steps of the church, It was the music that we wanted playing when we started our lives together. Because as we all know, 'darkness cannot drive out darkness, only light can do that…'"
There was even a cameo from Archie!
Harry and Meghan Markle, the Duke and Duchess of Sussex, released a special holiday podcast packed with celebrity guests, but 1-year-old Baby Archie stole the spotlight with his first recorded words. @joefryer has more. pic.twitter.com/Vzqg7KHo5W

— TODAY (@TODAYshow) December 30, 2020
Have a listen to the full podcast available exclusively on Spotify.