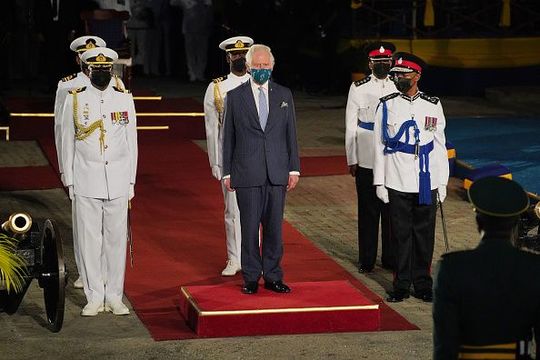 Prince Charles is in Barbados this week
The Caribbean island of Barbados has long been a member of the Commonwealth and was a long-time colony of the United Kingdom.
Barbados made the historic decision to become an independent republic almost 400 years to the day that the first English ship touched down on its shores.
The tiny Caribbean nation removed Queen Elizabeth II as its head of state in a spectacular ceremony that began late Monday, breaking its ties with the British royal family — and with it, one of the island's last remaining imperial bonds to the United Kingdom.
Barbados gained full independence around 55 years ago, but Queen Elizabeth was maintained as monarch in what was essentially a ceremonial role.
The island has marked the occasion with celebrations all week, with gun salutes, fireworks, dance, and music followed by Prime Minister Mia Mottley declaring the singer Rihanna — a Barbadian native, as well as a global star — a national hero.
To signify the official change of power, a final salute was made to the British monarchy and the Royal Standard flag was lowered and replaced. In a speech, Prince Charles acknowledged the "appalling atrocity of slavery" the Caribbean island suffered. The Queen sent the country her "warmest good wishes" for "happiness, peace and prosperity in the future" and said the nation holds a "special place" in her heart.
Leading national figures, including Prime Minister Mia Mottley, swore allegiance to Barbados in front of the new president at the ceremony, which lasted for several hours. 
Could this perhaps become a trend for Commonwealth countries that no longer want to be linked with the Monarchy? Time will tell.
A special moment for The Prince of Wales as he receives the The Order of Freedom of Barbados - Barbados' highest-ranking honour. pic.twitter.com/bdej2iQVP4

— The Prince of Wales and The Duchess of Cornwall (@ClarenceHouse) November 30, 2021