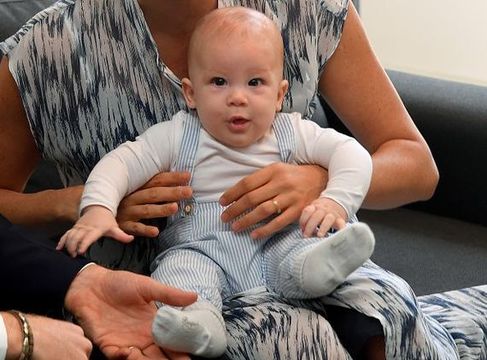 The Office for National Statistics found that certain Royal names were popular in 2020
Have you ever wondered whether or not the names of Royal babies have an effect on British baby names in a calendar year? Maybe you won't be surprised to hear that it certainly does!
The Office for National Statistics has released information that details the most popular baby names for the year 2020 in England and Wales.
Unsurprisingly, Archie's birth in May 2019 had a profound effect on the 2020 list, as we saw the name jump into the top ten for the very first time.
Ironically, the name Archie, given to Harry and Meghan's first son, knocked another popular name linked to the Royal Family - Charlie - out of the top 10.
"Archie jumped into the top 10 boys' names for the first time, driven by younger mothers as well as the obvious Royal link," according to the statisticians at the Office for National Statistics.
There were several other names linked to the Royal Family that found their place in the top 10 list. George, Harry, and Arthur all scored highly.
It wasn't only boys names, however, that included some Royal links.
Isla and Mia both took spots in the top 10, which are both names given to Queen Elizabeth's great-granddaughters. Isla Phillips is the second child of Peter Phillips and his ex-wife Autumn, while Zara Tindall and her husband Mike named their firstborn Mia. Amelia, which took the second overall spot behind Olivia, also has a royal connection, being the name of Lady Amelia Windsor, who is 43rd in the line of succession to the British throne.
The name Lily also featured in the top 10. Harry and Meghan recently named their newborn daughter Lillibet, or Lili for short.
Data from the Office for National Statistics (ONS) shows the names Oliver, George, Arthur, Noah and Muhammad made up the top five most popular baby names in England and Wales in 2020.

It is the first time Charlie has not been in the top 10 since 2005 pic.twitter.com/StoxcdUo7Y

— PA Media (@PA) October 18, 2021