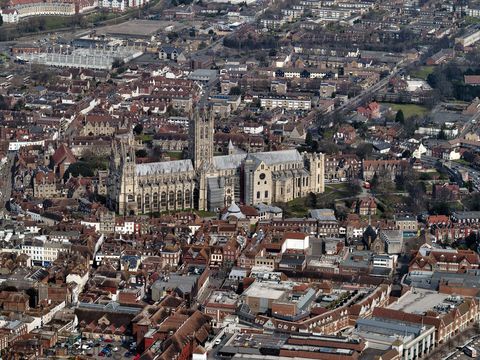 Today we look at this great medieval city and its top attractions.
Steeped in medieval history, with traces of its remaining city walls intact, and home to the oldest cathedral in England, this small, pretty city in Kent is just 56 miles southeast of London and a popular day trip destination from London. Canterbury is also home to a modern university, interesting shops, diverse restaurants, and lively pubs. Visitors flocked here long before Chaucer wrote The Canterbury Tales immortalizing the pilgrims who came to pray at the cathedral tomb of the murdered Thomas Becket, and the city remains rich in medieval atmosphere. It has been the seat of the Archbishop of Canterbury, head of the Church of England, since 597.
How to spend a day in Canterbury?
Glorious Canterbury Cathedral dominates the city. Before entering, walk around its exterior and take it in from different angles. Look up at the soaring towers of this tremendous edifice, which can be seen from almost any place in Canterbury. Be sure to look at the stone vaulting and the stained glass, especially the series of 13th-century windows illustrating the miracles of Thomas Becket.
Canterbury Cathedral is considered the finest existing example of Norman architecture in England. For an unforgettable time and to experience the cathedral at its very best, try to attend Evensong, where music fills the iconic space as the world-renowned choir of 30 boy choristers and 12 lay clerks sings at 5:30 p.m. Mondays to Fridays and 3:15 p.m. on Saturdays and Sundays.
Greyfriars Chapel, footsteps from the cathedral, is a reminder of a time when monasteries played a major role in Canterbury. The chapel dates to 1267 and is the only remaining part of a Franciscan monastery that once stood here. It is surrounded by a small garden that offers a blissful quiet oasis for relaxation and reflection Pass through the courtyard on Stour Street and follow the sign for the "Greyfriars Entrance" to find this picturesque spot.
Eastbridge Hospital of St. Thomas was founded in 1180 as a place for visiting pilgrims to stay overnight as huge numbers poured into Canterbury to pay homage at the shrine of Beckett. Take a step back in time and look at the refectory, the chapel and the crypt, which are all open to the public.
Absorb Canterbury's compact city center through some of its parks and its ancient walls. Dane Jane Gardens on Watling Street offers a great view of the city from the top of its mound. These attractive gardens contain many monuments, a huge fountain, a children's maze and a convenient tea room. Walk on the towering city walls whose remnants date to the 13th and 14th centuries for more panoramic views of Canterbury and to see the remains of Canterbury Castle. The walls can be accessed from a number of places, including Castle Street and Broad Street.
Take one of the guided walking tours of Canterbury that meet at 2 p.m. daily from Easter through October. Tours meet outside the Visitor Centre at 34 St. Margaret Street.
For more information about Canterbury visit www.canterbury.co.uk.
What is one thing that you may not know about Canterbury?
There are 18 full-time highly skilled stonemasons working in Canterbury Cathedral to safeguard it for future generations. Heather Newton, who oversees the constant stone conservation, described the work that she and her colleagues do each day: "Creating new stonework and restoring buildings exactly as our medieval colleagues made them in the first place makes our job special. In that way we're guardians of the cathedral and Kent as a whole, caring and preserving the rich history of a World Heritage site."
"If you know any of the stonemasons that I manage you will know that they really are a unique bunch of characters! So if you come around and find some unusual characters, whether its beards or dreadlocks, just remember that they're here working for the future of one of the world's most important cathedrals," Newton said. "When we're long gone, we know our work, just as the work of colleagues stretching back more than a thousand years, will live on."
Where to have lunch and/or dinner in Canterbury?
Kashmir Tandoori at 20 Palace Street is one of the city's oldest Indian restaurants. It offers good curry at moderate prices.
Café des Amis at 95 St. Dunstan's Street serves Mexican cuisine with a Mediterranean influence. The restaurant is adorned with artwork by local artists. 
Deeson's British Restaurant at 25-26 Sun Street opened in 2009 and prides itself on using the best produce that Kent and England have to offer. On Sundays, a traditional roast is added to the regular menu and on Fridays fish and chips is special. Its owner Sam Deeson said, "Canterbury like most cities is full of chain restaurants so being an independent restaurant so close to the city centre again is quite unique."
Where to stop for afternoon tea or coffee in Canterbury?
Favorite places include The Custard Tart at 35A St. Margaret's Street, Tiny Tim's Tearoom at 34 St. Margaret's Street, and the Moat Tea Rooms at 67 Burgate. Sit at the upstairs window of the Moat Tea Rooms, housed in a 16th-century building, and watch visitors making their way down the Burgate to the Cathedral Gate just as they have done for centuries.
Where to shop in Canterbury?
Canterbury Pottery at 38A Burgate offers colorful handmade ceramic items like vases, mugs, and teapots. Order a personalized ceramic house number plate, which takes two weeks to make but can be mailed to your home.
The Chaucer Bookshop at 6-7 Beer Cart Lane has been in existence in its beautiful 18th-century building within the city walls since 1956. It offers a large selection of books, maps, and prints relating to this area of Kent.
Nasons, founded in 1929, is Canterbury's oldest department store and has been at its present location on the High Street since 1962.
How to spend the evening in Canterbury?
Stop into The Old Brewery Tavern at 39 Burgate in the shadows of Canterbury Cathedral for delicious pub food and a wide variety of ales. A public house has occupied this site for more than 500 years and at one time a butter market used to be held in the square outside the pub. Owner Michael Caines has a number of restaurants in England, including one on Canterbury's High Street.
The Gulbenkian, on the campus of the University of Kent, contains a theater for live performances, a cinema, café bar and art gallery. Buses depart on Westgate by the Canterbury West Station for the short ride to the University's campus.
How to get to Canterbury?
There is a frequent train service from London's Charing Cross Station to Canterbury West and from London's Victoria Station to Canterbury East. Either trip takes approximately 1 ½ hours; each station is within easy walking distance of the city center. www.railtrack.co.uk 
By car from London, take the A2, then the M2, then the A2 again for the 56-mile journey.
Where to stay overnight in Canterbury?
The Falstaff at 8-10 St. Dunstan's Street, a short walk from the city center, is one of Canterbury's best-known hotels. It began as a 15th-century coaching inn and a number of rooms in the main building retain the original ceiling beams.
* Originally published in March 2012.