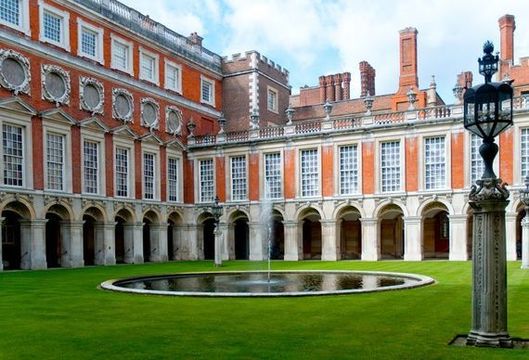 Henry VIII's Tudor Palace at Hampton Court is actually more Baroque—thanks to Willam and Mary.
With its impressive architecture and prominent place in history, Hampton Court Palace is regarded as the finest Tudor palace in England—but in reality, owes its eminence to two royal dynasties.
Forever tied to the legacy of Henry VIII (1491-1547), who was unquestionably its most famous incumbent, the fabric of the historic property is in truth as much Baroque as it is Tudor if not more so.
Marking its 500th anniversary next year, Hampton Court was built by Cardinal Thomas Wolsey on the Thames in Richmond, where he converted a barn into a luxury manor house. It was taken over by Henry VIII in the 1520s, who spent around £62,000 (the equivalent of £18 million today), extending and rebuilding it many times over. Yet it is the influence of his later successors William III and Mary II that remains most visible today—if you know where to look.
Dr. Tracy Borman, joint chief curator for Historic Royal Palaces, the charity that looks after five of London's iconic palaces, says Henry's fame makes him synonymous with the building despite the alterations made to it by the Stuarts and Hanoverians following his death.
Ruling jointly from 1689, William and Mary completely remodeled the palace, replacing the gothic towers and chimneys of the east and south facade with grand baroque exteriors, elegant fireplaces and triumphant, colorful ceilings.
"Hampton Court is one of the best-preserved of Tudor palaces, in particular indoors where the Great Hall is pretty much as Henry VIII would have seen it," Borman explains. "The staterooms are amazing and lavishly decorated—it really is like stepping back into the Tudor court. Henry VIII's love life is well documented here with his different wives coming and going, and this is where Edward VI was born.
"But it's very much a palace of two halves, as there's more of the Baroque building started by William and Mary that remains," said Borman. "They'd already knocked a good part of Henry's palace down, and the scary fact is that if William and Mary had not run out of money, they'd have carried on going."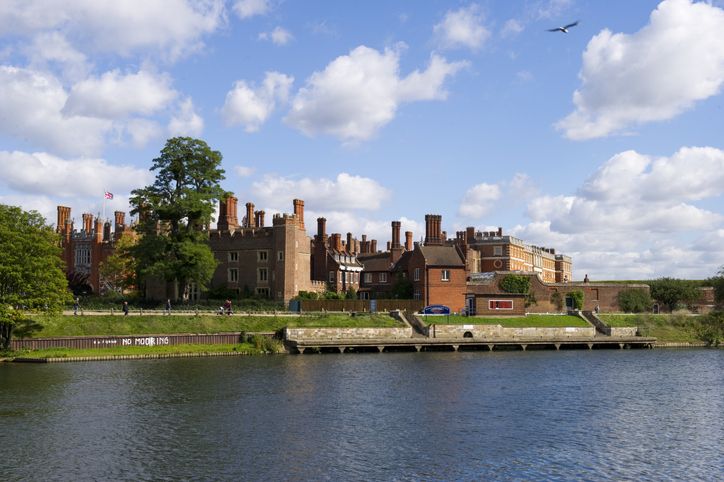 2
Despite the palace's grand appearance with its distinctive red brick frontage, decorative stack chimneys and thousands of rooms lavishly decorated with giant tapestries and gilded ceilings, life at the palace during its Tudor heyday was tough for the majority of its inhabitants.
"Henry's Tudor court would have comprised as many as 2,000 people all living here at the same time," said Borman, whose work involves bringing the palace to life for visitors by researching its history and working on information for exhibitions and events. "The royal family would have had the best rooms, while most people would have lived an uncomfortable existence—bunking down where they could find space. Many of the courtiers would have slept in the grand hall, and those who couldn't be found accommodation camped outside in tents."
Palace Keepers
Historic Royal Palaces is an independent charity established in 1989 looking after Hampton Court, the Tower of London, Banqueting House, Kensington Palace and Kew Palace. HRP raises all its own funds, depending on support from visitors, members, sponsors, donors and volunteers. All of the buildings in its care are owned by Her Majesty the Queen, who holds them in trust for the next monarch.
When Henry was in residence, the palace was full of his own courtiers and advisers as well as overseas dignitaries and ambassadors as he sought to negotiate his own marriages, or those of his daughters. And so many people required feeding; Henry's Tudor kitchens were at the heart of the palace, designed to feed at least 600 people twice a day—a vast operation in any century.
Employing more than 200 people, the kitchens comprised 55 rooms, including a spicery, pastry house, three larders, three cellars and six giant fireplaces with spit racks. The annual provision of meat for the Tudor court stood at 1,240 oxen, 8,200 sheep, 2,330 deer, 760 calves, 1,870 pigs and 53 wild boar, all washed down with 600,000 gallons of beer.
"A gargantuan amount of food would have been consumed—local crops and livestock often needed time to be replenished. It wasn't like today where you could just nip to the shops," Borman explains. "There was a real difference between the diet of the rich and the poor, too. The rich mainly ate a lot of meat, pastries and game, while the poor would have had many more fresh vegetables, pulses and beans. They would have been a lot healthier than their rich counterparts, who suffered gout and believed fresh vegetables were bad for you."
As well as lively banquets, the Tudor court enjoyed a range of entertainments at Hampton Court. There were real tennis courts, bowling alleys and pleasure gardens for visiting dignitaries to enjoy, plus a hunting park of more than 1,100 acres.
So what does it take to maintain this magnificent building?
"We have a constant program of conservation and repair— with a building of this magnitude it never gets finished," said Borman. "Alongside routine maintenance work, we have high priority conservation projects and there's a specialist team of surveyors who check that the building is in a good state of repair, which is one of the most important activities. Conserve rather than reconstruct is our aim, so that we are keeping things as they are or restoring them to their former glory, rather than creating a modern equivalent."
Hie Thee to Hampton Court
For more information about Hampton Court and Historic Royal Palaces visit www.hrp.org.uk.
ADMISSION: Hampton Court admission is £18.20 for adults, £15.50 for concessions and £9.10 for children under 16. A family ticket for up to two adults and three children is £46.80.
HOURS: April to October, the palace and maze are open daily 10 a.m. to 6 p.m. Check the website for winter openings.
GETTING THERE: Hampton Court Palace is accessible by rail, road and water. By train, it is 35 minutes from London Waterloo. By car, the palace is located on the A309 and is well signposted from all major local roads.
Experts are not only concerned with the preservation of the physical fabric and the retarding of decay from such enemies as dust, light and pollution, but also with the historical secrets embedded in the building. Every brick and stone gives clues to the materials and craftsmanship employed, as well as the alterations made over the centuries.
A team of scientists and technicians works alongside the conservators and curators at all five HRP sites. Hampton Court has its own lab, where experts conduct tests and experiments; a specialist team looks after the impressive grounds, including a maze, real tennis court and what is claimed to be the world's largest grapevine.
Recent conservation projects have included the restoration of Henry's vast collection of Tudor tapestries and the cleaning of the spindle chimneys, while works in the Chapel Royal discovered parts of a pew originally built by Cardinal Wolsey in the late 1520s. The building constantly shows that it still has much to reveal.
As well as preserving the past, HRP strives to improve those properties in its care, so it can hand them on in a better state than when they were taken over. It recently launched a £30 million fundraising campaign, with £2.3 million designated toward the restoration of Hampton Court's Baroque palace, plus £3 million for a new collection storage facility and for the development of a children's garden.
With links to the stuart and Hanoverian houses as well as Tudor, Hampton Court ceased to be a royal residence in 1760 when George III abandoned it following the death of his wife. It was divided into grace and favor apartments, until 1838 when Queen Victoria opened up the gardens and state apartments to the public, free of charge.
Next year 500 years of life at Hampton Court will be celebrated with a special a program of events. "Henry VIII is our most important monarch given the changes made during his reign and that's why Hampton Court is synonymous with him. And although it's the most important Tudor palace, it's also so much more than a Tudor palace," Borman concludes.