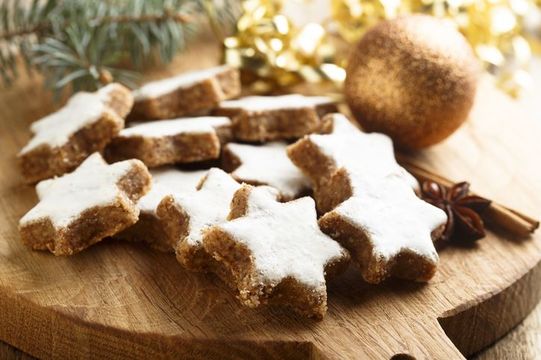 Looking for something to get you in the festive spirit? The Royal Family has just the recipe!
We're well into December, and what better way to get the Christmas period starting than by baking some homemade cookies!
Buckingham Palace shared the recipe for the royal family's favorite Christmas cookie, courtesy of the royal pastry chefs. Americans beware, the recipe may look somewhat confusing as it makes use of some ingredients that are unique to Great Britain. 
To make these cinnamon stars you will need to start with a kitchen scale to guarantee the best possible result, as professional bakers (like the royal pastry chefs) use weight to measure their ingredients as opposed to measuring cups.
The ingredients list is simple. You will need:
360g Icing Sugar (powdered sugar)
85g Egg White
20g Lemon Juice
300g Ground Almonds
115g Mixed Peel (candied lemon and/or orange peel)
½ Lemon, zested
12g Ground Cinnamon
¼ tsp Ground Cloves
Here's the method for baking;
1. Blitz the mixed peel into a paste-like texture, set aside.
2. Whip the icing sugar, egg white with lemon juice into a soft peak meringue. Take 1/3 out and keep aside to top the dough with a thin layer later.
3. Add all remaining ingredients into the larger part of meringue and combine to a dough-like texture.
4. Knead the dough together with your hands and flatted onto a baking paper lined baking tray. Placing a sheet of baking paper on top, roll it down to about 1cm thickness.
5. Remove paper from the top and spread a thin layer of meringue over the dough. Keep it as smooth as possible.
6. Rest the sheet of dough in the fridge for a minimum of 1 hour.
7. Remove the dough from the fridge and start cutting it into shapes with a knife or cutters. Be creative. Stars & Diamond shapes work well. To use the cinnamon star cutter or round cutter, a bowl of hot water is required. Dip the cutter into the water first and in between cutting the shapes. This helps to release the cookie easily from the cutter.
8. Bake in the oven at 160C fan for 12-15 minutes. Best is to bake with bottom heat only so that the top stays white and does not discolor. Cookie is baked when you are gently able to lift the edges of the paper. The centre should still be soft and sticky.
9. Leave to cool for about 30 min before removing from tray.
10. Keep in an airtight container for up to 2 months.
11. Enjoy!
Want to make your own 'Cinnamon Stars'? The Royal pastry chefs at Buckingham Palace are excited to share their recipe with you! 🌟 #ARoyalChristmas

Visit our website for the detailed recipe and method: https://t.co/f6Y2dtuiZH pic.twitter.com/2Kp73AyTyb

— The Royal Family (@RoyalFamily) December 14, 2019
* Originally published in 2019. Updated in 2022.