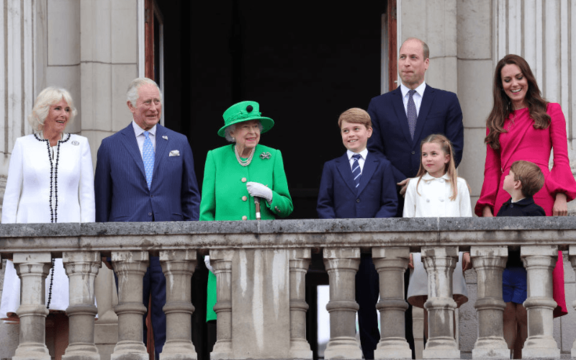 Our top moments from the incredible four-day Jubilee celebrations.
The Jubilee festivities may have come to an end but we're still reminiscing on all the fantastic moments the nation got to enjoy in honor of Her Majesty, the Queen. 
The Queen and Paddington Bear have a tea party
On Saturday, 4 June,  a glittering group of entertainers from the worlds of music and dance performed at the Platinum Party at The Palace concert. The crowd was treated to a surprise comedy sketch from none other than the Queen and Britain's favorite mischievous duffle-coat-wearing bear, Paddington! During their chaotic tea party, the Queen revealed she keeps an emergency stash of Marmalade sandwiches in her famous handbag.
The Duke and Duchess of Sussex make an official appearance
For the first time in two years since leaving the UK for the US, Prince Harry and Meghan, Duchess of Sussex appeared at a royal event together when they arrived hand-in-hand at St. Paul's Cathedral on Friday, 3 June, for a special service in honor of the Queen.
The couple's daughter Lilibet also celebrated her first birthday over the weekend and they marked the occasion by sharing a lovely photo of her at Frogmore Cottage on the Windsor Castle estate.
Here's an adorable photo of Lilibet, on her 1st birthday on Saturday at Frogmore Cottage on the Windsor Castle estate. pic.twitter.com/8gsuvYi9nn

— The Duke and Duchess of Sussex (@PHarry_Meghan) June 6, 2022
Prince Louis steals the show
The Duke and Duchess of Cambridge's youngest son became a talking point of the Jubilee for all his hilarious and cheeky behavior caught on camera. The adorable four-year-old found it difficult to keep his energy under control, no matter how best his family tried to calm him down.
The Queen lights a Jubilee Beacon 
On Thursday evening, 2 June, the Queen set off a chain of lights from Windsor Castle to Buckingham Palace, as thousands of beacons were lit across historic sites, the UK's four highest peaks, and in all 54 Commonwealth capitals.
There is a long tradition of celebrating Royal Jubilees, Weddings and Coronations with the lighting of beacons. A beacon chain, once used as a tool for communication, has now become a symbol of unity across towns, borders, countries and continents and is often the central point of focus for any outdoor gathering or celebration.
What were your favorite moments from the Jubilee celebrations? Let us know in the comments below!