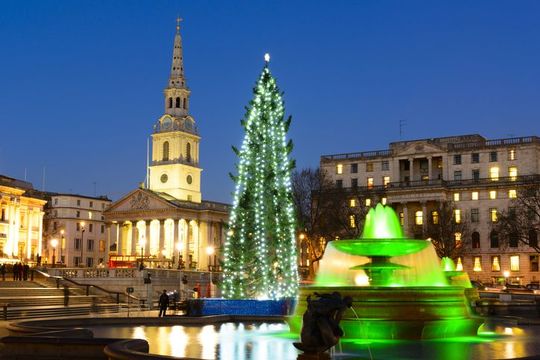 Every year since 1947, Norway has sent a tall spruce tree to London in thanks for Britain's help during World War II
Erected in Trafalgar Square and decorated with lights, it is London's official Christmas tree. An evening lighting ceremony with music and entertainment launches the city's holiday season, usually on the first Thursday of December.
Occasional noontime carol concerts beside the tree make the square a cheerful place, though the pigeons don't seem to care one way or the other. The lights are turned on ever evening until midnight. Each year's tree is usually 50 to 60 years old and stands about 70 feet tall. After the holidays last year, Jenny Jones, the deputy mayor of London, helped put the spruce tree through a chipper to turn it into mulch for the city's parks.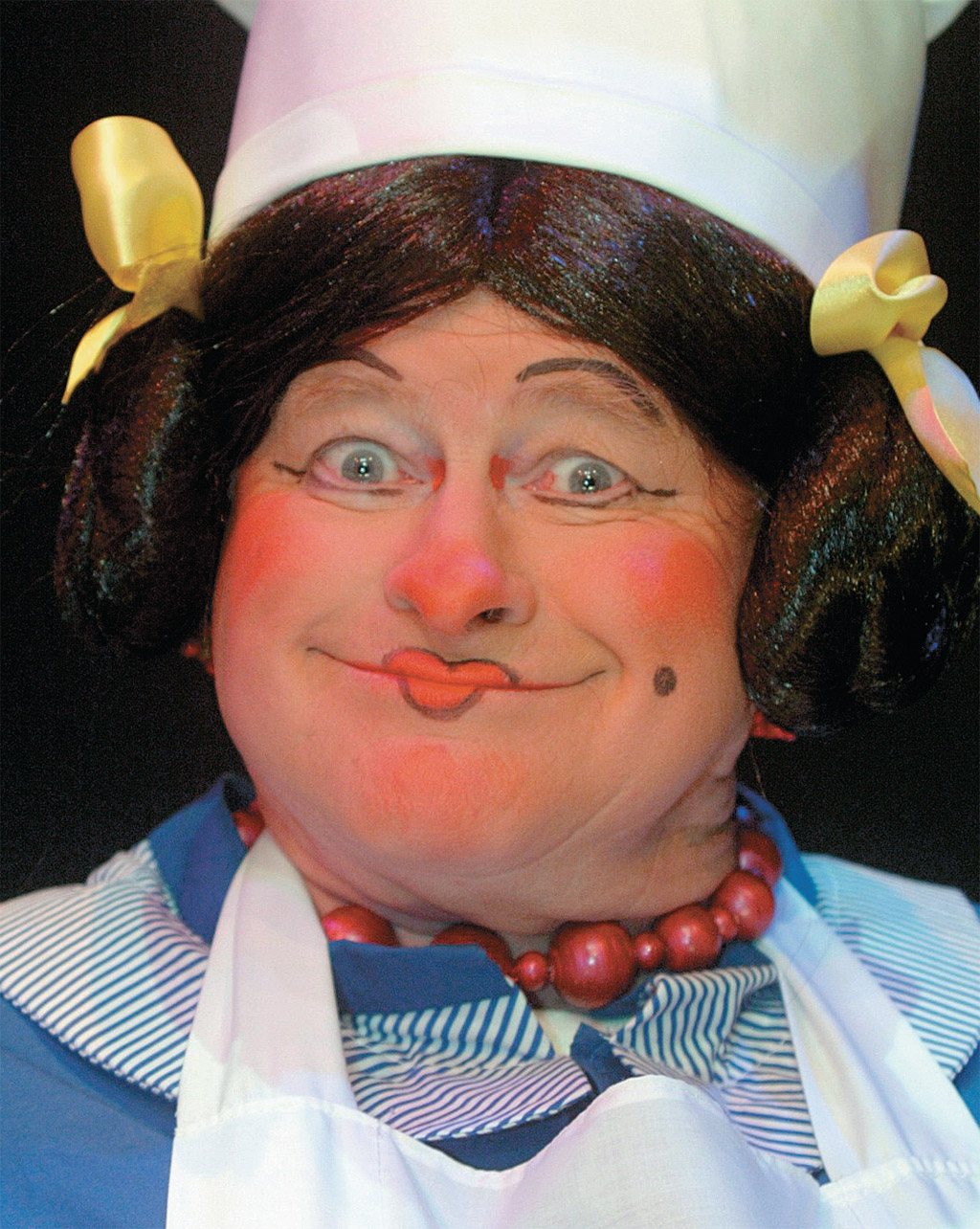 5
BATH AT CHRISTMAS
Bath is the place to enjoy three elements of an English Christmas—shopping, music and pantomimes. The shopping extravaganza takes place December 2-12 at an outdoor market in the precincts of Bath Abbey and the Roman baths. Toys, food, drink and handmade gifts are offered at 110 wooden chalets.
Carol singers and strolling musicians make the holiday shopping especially festive. Bath's Theatre Royal stages Handel's Messiah by candlelight on December 5. The 18th-Century Concert Orchestra reenacts the first performance of the work as performed in 1741, wearing period costumes and playing antique instruments. Seats are £21 and £23, and there is a matinee at 3:30 and an evening performance at 7:30. A Dick Whittington pantomime takes the Theatre Royal stage December 16 through January 23 for rollicking laughs. Tickets cost £6 to £19.50. Phone the Theatre Royal box office: 01225 448844. Web: www.bathchristmasmarket.co.uk or www.theatreroyal.org.uk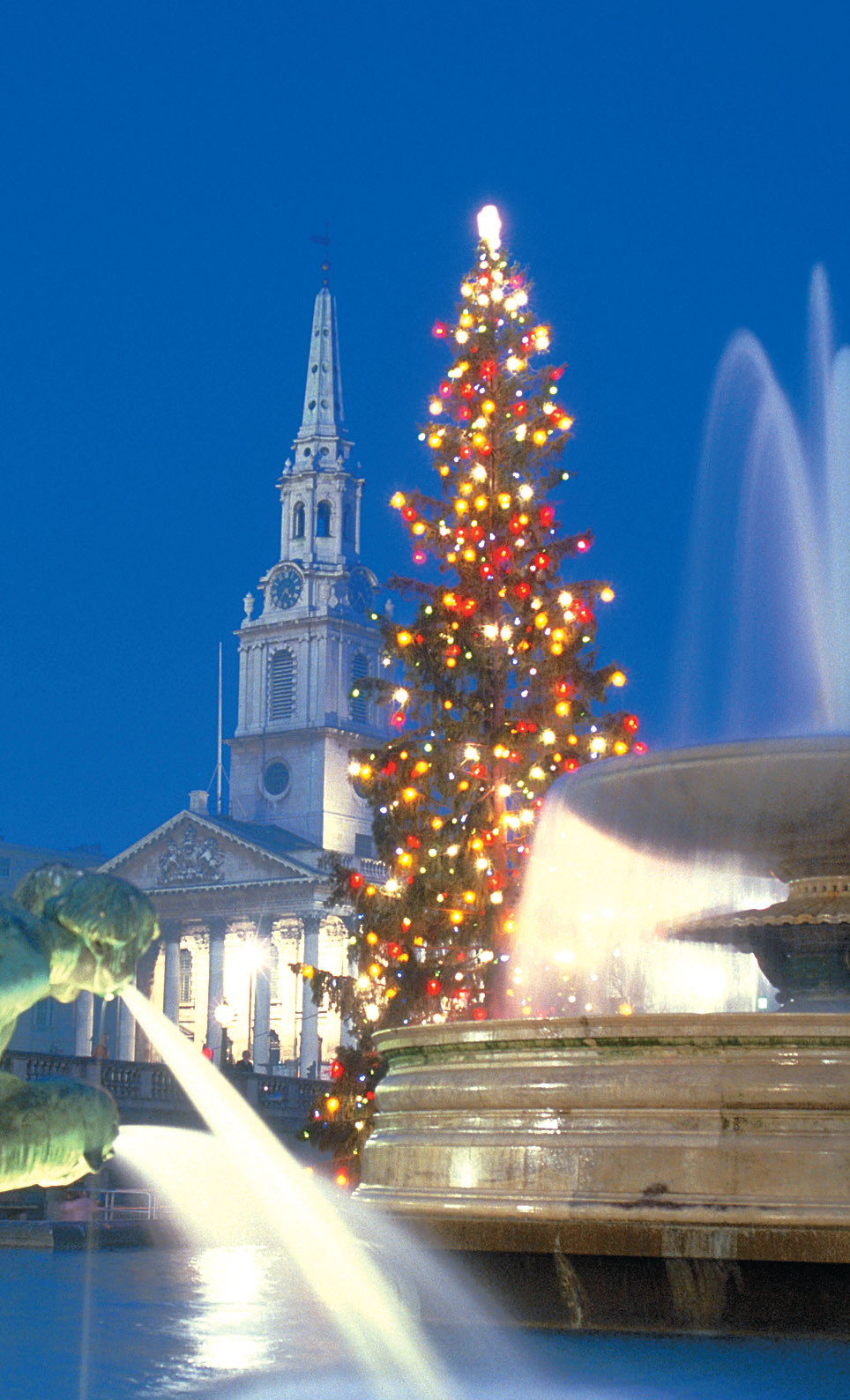 5
SAINTS' FOOTSTEPS IN WALES
A group of local residents in North Wales has organized a new 47-mile walking path that follows the trail of religious pilgrimages. It's said that 20,000 Celtic saints are buried on Bardsey, the Isle of Saints, at the tip of the Llŷn Peninsula. Medieval pilgrims traveled along the "Edge of Wales" to Bardsey to venerate the saints.
So holy was the isle that three pilgrimages to Bardsey equaled one to Rome. Today's trail originates where the old one did, at Clynnog Fawr near Caernarfon, and follows a way-marked path along sandy beaches, cliffs and quiet lanes. On the way are churches, holy wells and pilgrim stones, plus an Iron Age fort and Yr Eifl Mountain. At Aberdaron, walkers cross over to Bardsey via ferry.
The crossing can be rough, so on some days the ferry does not sail. Guides are not provided, but the residents offer detailed maps and a global positioning kit, and will arrange lodging along the way in hotels and guesthouses. Transportation of luggage is also available. The trail is broken into distances of eight to 14 miles per day. Phone: 01758760652. E-mail: [email protected]. Web: www.edgeofwaleswalk.co.uk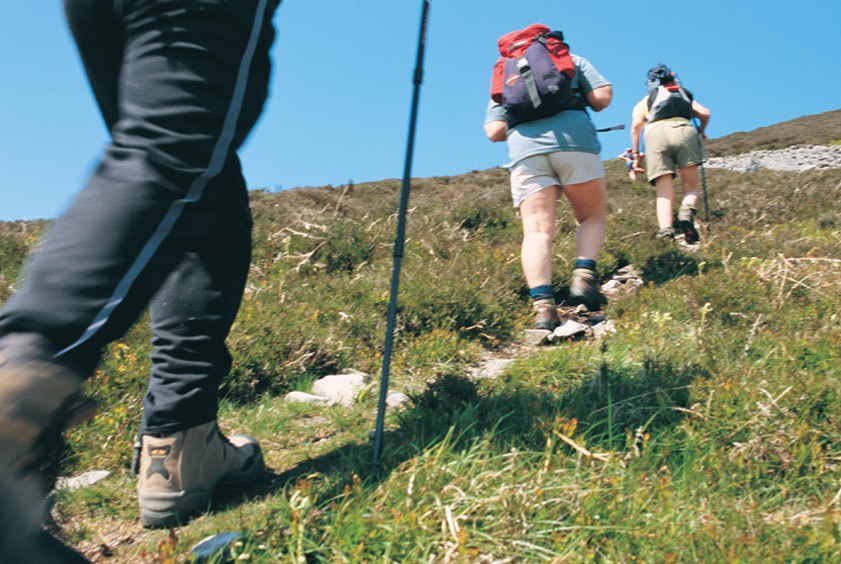 5
EDINBURGH'S SPLASHY NEW YEAR'S
They call it "Hogmanay," a Scottish word that could be derived from any one of about seven different languages. They mean New Year's Eve, though the party starts on December 29 and runs through New Year's Day.
There's Scottish dancing, pipe bands and street theater. The street party action centers on Princes Street in the New Town. In the Old Town, thousands of revelers join a torchlight parade on the 29th, which winds through the streets to the top of Calton Hill, culminating in a bonfire and fireworks. St. Giles Cathedral is the site of a more sedate event, a candlelit concert on New Year's Eve.
Hogmanay culminates at the stroke of midnight on the 31st, when fireworks shoot into the air simultaneously from the seven hills surrounding Edinburgh. On New Year's Day there are sled-dog races in Holyrood Park. For the two-footed, there's a fun run and a triathlon.
In case you're wondering why Edinburgh and the rest of Scotland go all out for New Year's, it helps to know that up until the mid-20th century, Christmas was an ordinary working day in Scotland. Christmas celebrations were considered too "popish" and forbidden, so festivities were delayed until New Year's. Many Hogmanay events are free, though tickets may be required. Find complete details on the Web site in early November. Web: www.edinburghshogmanay.org
THE MAGIC OF WESTONBIRT ARBORETUM
Westonbirt Arboretum in Tetbury, Gloucestershire, brings a special outdoor Christmas experience, with the chance to enjoy the magic of the season with music, mulled wine, Santa's Grotto and a famous illuminated trail that brings visitors from far and wide.
As daylight fades and the nights grow longer, the trees at Westonbirt take center stage. A thousand spotlights light up the UK's national arboretum in a dramatic light display. The Enchanted Wood is a mile-long trail through one of the world's most diverse woodlands.
Renowned worldwide for its tree and shrub collection, Westonbirt Arboretum covers 600 acres of beautifully landscaped grounds. The collection contains 18,000 specimens, including almost half of those woody plants known to grow in the temperate zone.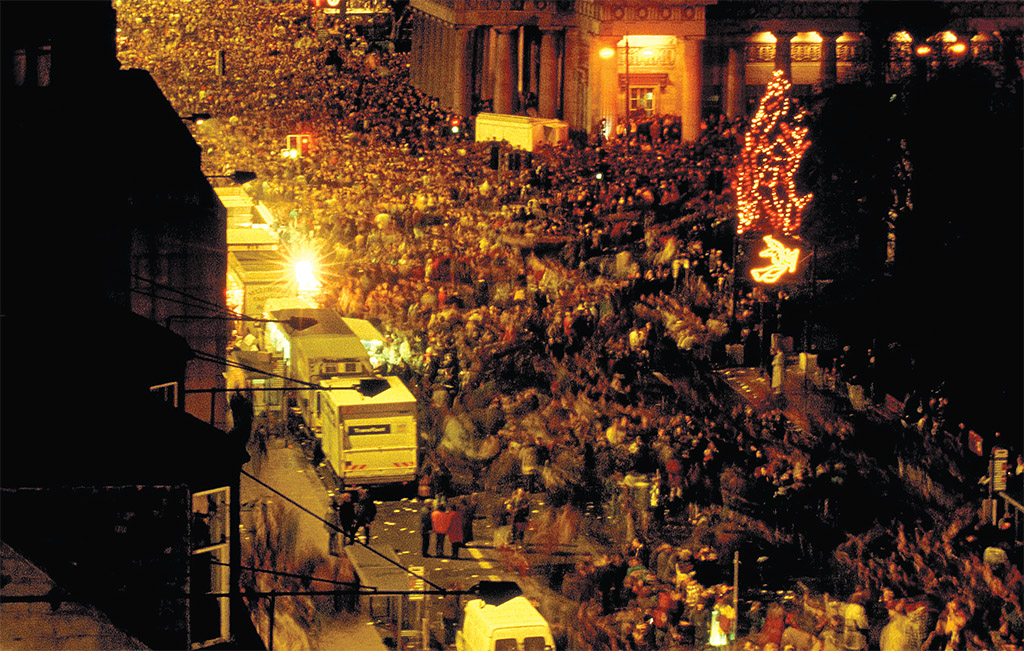 5
Edinburgh goes all out for New Year's Eve during its "Hogmanay." The party is set along Princes Street, where there are pipe bands, street theater and Scottish dancing. At midnight on the 31st, fireworks shoot into the air from the seven hills surrounding the city.
[/caption]
NELSON MARITIME TRAIL
The year 2005 marks the 200th anniversary of Admiral Lord Nelson's death at the Battle of Trafalgar. In commemoration, the East of England Tourist Board offers "SeaEast," a 44-page maritime information sheet that includes a special Lord Nelson trail through the county of Norfolk. The Nelson trail is part of a comprehensive guided tour of the Norfolk, Suffolk and Essex coastline. To get a copy of SeaEast, call the East of England Tourist Board or visit its Web site. Phone: 0870 225 4800. Web: www.visiteastofengland.com