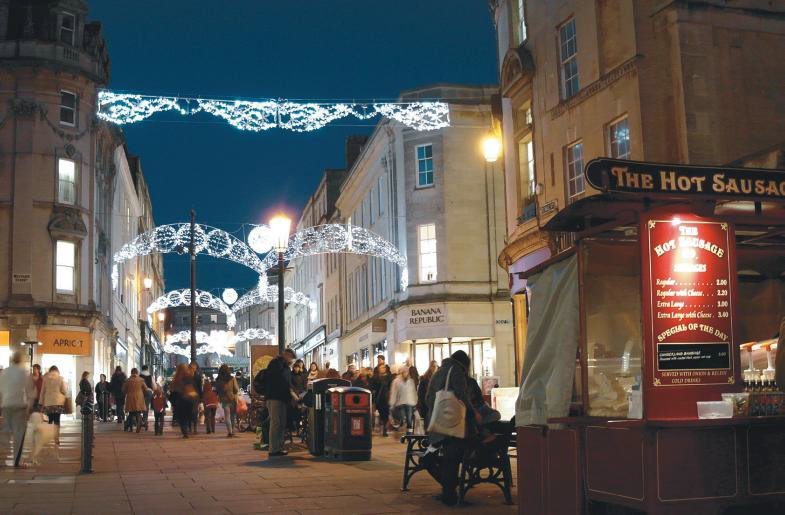 The historic backdrop to the seasonal bazaar, that is Bath's Christmas Market, is stunning.
Editor's note: Of course, due to the COVID pandemic travel is restricted somewhat and most events are canceled in order to obey social distancing. Let's just enjoy this article from a 2017 edition of British Heritage Travel and plan our Christmas outtings for 2021.
There's a chill in the air - Jack Frost is indeed nipping. It's December in Somerset, definitely weather that calls for gloves, hat, and scarf. To combat the cold, I've eaten a bag of roasted chestnuts—yes, they were from an open fire, and mighty tasty, too. While I ate, a local youth choir belted out seasonal hits from "Silent Night" to Mariah Carey. Now I might continue to wage war against the cold with a cup of hot mulled wine. No point in catching a chill!
My household, like many others across the UK, has a new custom to mark the start of the festive season. Every year in early December, we take a couple of days and visit one of the Christmas markets that have become an annual fixture on calendars of towns and cities across the country. This year, we're returning to Bath, where the historic backdrop to the seasonal bazaar is stunning.
History of markets in Britain
There is a rich history of markets in Britain dating back to the Middle Ages—from agricultural shows to fetes on the village green. However, most of these were traditionally held in the summer, harking back to the original celebrations of the time of plenty that warm weather brought.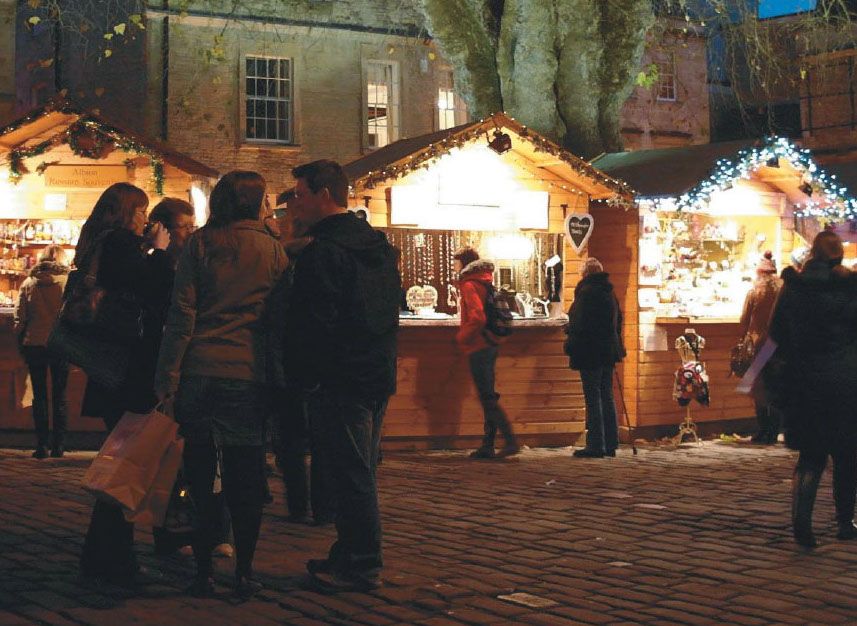 3
That changed when in 1982 dignitaries from Lincoln visited their twinned town in Germany. They were so impressed with the Christmas market that hailed the start of Advent that they decided to hold their own version back in Lincoln. Just 11 stalls were erected in Castle Square, but they were enormously popular and the calls to repeat the event the following year could not be ignored.
A festive tradition was born. The market grew every year, adding new stalls and attracting more visitors. Other towns and cities saw its success and began to establish their own Christmas markets.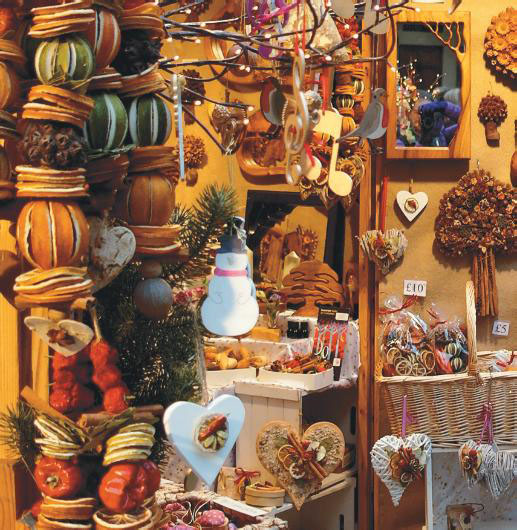 3
THERE ARE NOW MORE THAN 200 Christmas markets dotted around Britain. Some last just a day or two, others remain for weeks. Some stay close to their Germanic origins and attract continental traders, others have a distinctly British feel. Some markets are housed in historic buildings and museums; others take over whole streets and city centers. Whatever their style, Christmas markets encourage visitors and trade to towns and cities that have been battered by the economic downturn.
Bath—one of the biggest tourist draws in the country—isn't a city that struggles to attract people into its city center. Its attractions are world famous and span the centuries: from the Roman Baths complex that gave the city its name, to medieval Bath Abbey, to the Georgian elegance of the Royal Crescent. Even so, the December Christmas market is an added bonus to travelers: regularly voted one of the best Christmas markets in Britain, if not Europe.
The centerpiece of the Christmas market is the square alongside Bath Abbey. Row upon row of wooden chalets form makeshift streets, each lined with an array of boutique goods and gifts. The stalls snake away from the square in three directions—around the abbey to Cheap Street, down Abbey Green to Abbeygate Street, and past the Roman Baths toward the modern Thermae Spa.
Some retailers make a real effort to display their wares at Bath Christmas market—with traders coming from as far afield as Australia. The vast majority of stallholders are UK-based, however, and most are local to the West Country.
Chili peppers, for instance, are not exactly one of Bath's big exports. The Upton Cheyney Chilli Company, though, has carved out a niche by supplying this vegetable to those who like their food hot.
"We grow the chilies on a farm in the hills above Bath," says Chilli Dave. "It's 50 meters from the field to the kitchen, then about five miles from the kitchen to the market. You can't get any more local!"
It's small, independent, local businesses like the Upton Cheyney Chilli Company that Bath Christmas market favors. If you want to wander down the street to Starbucks, browse in Marks and Spencer and pick gifts from the Argos catalogue, these High street giants are present in Bath, as they are in every town. However, if you want to drink real Severn cider while selecting from hand-made scarves and hats or speaking to the artisan who crafted your toy or painting, then the Christmas market cannot be beat.
FOR THOSE WITH SEASONAL wares, the Christmas market is a vital outlet. "We work year round, but this time of year we put in 20-hour days," says George Hollywood, proprietor of Georgie Porgie's Puddings. "We make over 40,000 puddings a year, and the Bath Christmas market is one of our biggest events."
Hollywood's puddings fly off the stall as soon as it is restocked. Not only does he offer a traditional British Christmas pudding—a steamed cake mixture containing dried fruit, rum and brandy—but also varieties with cider and apple, lemon and Pimm's or orange and Cointreau. If you're not sure which to choose, then try the samples on offer. You'll also find tasters of local cheeses, sweets and chocolates at many of the stalls.
The samples are generous, but retailers make enough sales to make it worthwhile. It's thought that shoppers spend up to £20 million in Bath at the Christmas Market, with 20,000 people visiting on peak days. Even in a tourist city like Bath, it's a welcome bonus to the coffers and helps keep the local economy ticking.
As dusk falls, the fairy lights decking the chalets begin to shine through the darkness. It's at this point that the Christmas marketplace takes on a magical feel. With Bath's ancient buildings providing the backdrop and plenty of traditional wares on offer, it almost feels like you've stepped back in time to the Victorian Christmases of Charles Dickens. You won't bump into many Scrooges here, though; happy, smiling faces are the vast majority. With darkness, the temperature drops. Now is a good time to purchase a hot mulled wine. Already had one? Have another—it is nearly Christmas, after all!
* Originally published in 2017.