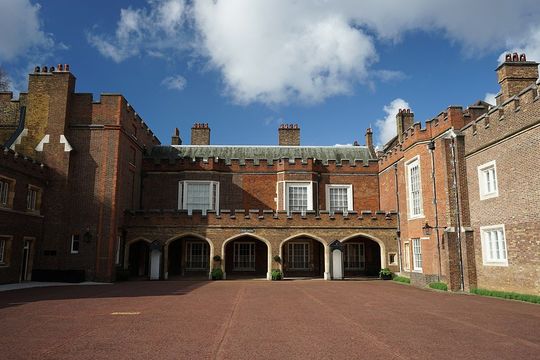 It's been called the epicenter of modern Royal London, so Sandra Lawrence shows us around St James's Palace and surrounding attractions.
The epicenter of modern Royal London has to be the area around St. James's. It wasn't always so, of course; William the Conqueror built his castle at the east of the City for protection against river-borne foes. As security became less of an issue, though, palaces were built for splendor, further west, where prevailing winds whisked away the city smells.
Whitehall Palace is long-gone. The last and only survivor of a Royal residence once more like a town than a castle is Inigo Jones's extraordinary Banqueting House, now reopen after a long refurbishment program, but two great palace complexes do survive.
The secrets of St James's Palace
St. James's Palace is still very much a working palace and isn't open to the public, but I'm told you can get into at least part of it if you're prepared to get up early. The Chapel Royal holds services on Sundays, except August and September, at 8.30 and 11.15 a.m.
It's a short wander through to St. James's Park, but if you time it properly, you'll get rather more than a pleasant stroll. Friary Court in Marlborough Road is the place where those in the know gather to watch the troops parading just before the Changing of the Guard ceremony. It's a crowd, yes, but small in comparison to the giant mob waiting at Buckingham Palace. Stand here just before the parade's start time to witness a much more interesting version of the famous ceremony, including inspection, drill, and music. You can then follow the bandsmen down the Mall to Buck House, where everyone else has missed the free show.
"Pall Mall" comes from the old Italian game of palle-malle (Italian for balloon and mallet)—a kind of early croquet played in the 16th and 17th centuries. Charles II built a palle-malle alley as part of St. James's Park. Pall Mall, which runs parallel to the park along to Buckingham Palace, is merely an abbreviation, but the word "Mall" has now come to mean any shaded walkway.
St James's Park and the famous ducks
You may choose to divert into St. James's Park for that carefully chosen picnic before visiting the Big Palace. Originally the site of a leper hospital, St. James's Park was commandeered by Henry VIII for hunting, making it the oldest of the eight Royal Parks. Its marshland was drained by James I, but Charles II really stamped his mark, landscaping the area into a pleasure ground. He liked to feed the ducks.
The views of the palace, fountains, and Whitehall are famous, but for an interesting alternative view, watch out for the pelicans. These bizarre birds have been hopping around Duck Island since 1664 when the Russian Ambassador brought some over as a gift for Charles II. They are fed fresh fish between 2:30 and 3 p.m. each day, from Duck Island cottage.
If you have time, a turn around the Royal Mews will give you an insight into the way Buckingham Palace has been—and still is—run. The Royal stables still host horses, Windsor Greys and Cleveland Bays, though they mainly live in more comfortable quarters these days. The mews is also home to many of Her Majesty's finest carriages, from pony traps driven by Queen Victoria to the grandest gilded affairs used only at coronations, openings of Parliament and Royal weddings.
The history of Buckingham Palace
King George IV did love his bling. It was said that if something stood still long enough, he had it gilded. George commissioned architect John Nash to gussy-up the perfectly respectable Buckingham House in his trademark gaudy style. The bejeweled result, Buckingham Palace, is still the working headquarters and home to Her Majesty the Queen, hosting more than 50,000 guests at banquets and receptions each year.
The palace is only open to the public, therefore, during the summer months and even then just the 19 State Rooms, but they are enough of a golden eyeful to dazzle most visitors. Studded with extraordinary paintings by Van Dyck and Canaletto, sculpture by Canova, Sevres porcelain and some of the finest furniture in the world, many of the rooms will be recognizable from official photographs of the Royal family. The throne room is, of course, the most magnificent of all. This year is a particularly good time to visit as a special exhibition celebrating the Queen's 90th birthday, "Fashioning a Reign", will be showcasing many of her most special outfits, from childhood to the present day. It looks to be a spectacular and unmissable treat for fashionistas and Royalists alike.
Packing a picnic fit for a queen 
The Royal court at St. James was always ablaze with wax candles and they had to be new each time. In 1707 one Mr. Fortnum, a footman at Queen Anne's court, perceived a little perk. He saved half-used candles from the palace and, together with his business partner, Mr. Mason, started to sell them on a street stall. The business was brisk.
Fortnum & Mason is now an institution; ancient, elegant and sophisticated, famous for its elaborate wicker hampers. Always looking for the next big thing, however, the store claims the invention, in 1738, of the ultimate picnic food. Mr. Fortnum, looking for easily consumable food for travelers, hit on the idea of wrapping a boiled egg inside sausage meat, and coating it in fried breadcrumbs as finger food. He called it a "scotched" egg; Scotch eggs to pretty much the same recipe have been massive sellers ever since.
If you're fancying some cheese or other nibbles to go with your lunch, exit through the rear of Fortnum's into Jermyn Street, supplier of gentlemen's necessaries for 300 years. From waistcoat manufacturers to shirt tailors, barbers to milliners, chocolatiers to shoemakers, the wares, services, and food remain of the finest quality and reward a wander.
Paxton and Whitfield is one of the best cheesemongers in London. The individual pots of Stilton are sublime; eat them with P&W's superb Original Oaties, the nuttiest, oatiest storebought savory cookies I've ever tasted.
If you're really going for a posh picnic, nip round the corner to the venerable wine merchants Berry Bros. and Rudd. Don't miss the tiny corridor next to the shop leading to Pickering Place, which, during the 1840s, was briefly Embassy for the Republic of Texas.
Berry Bros. is a few yards away from the gatehouse of the magnificent, Henry VIII–built St. James's Palace.
* Originally published in June 2016.