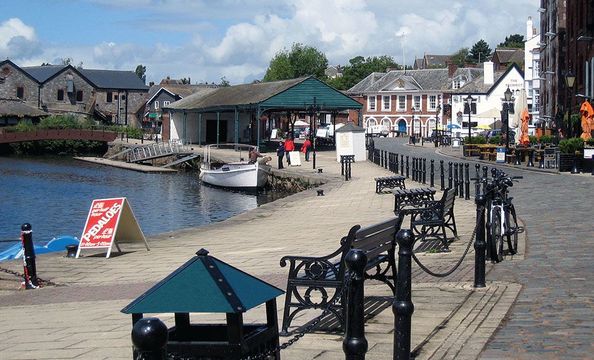 Whether you're based in Devon, Cornwall, or further field and in search of history, fine museums and underground excitement Exeter is a wonderful town to visit.
W

hy visit Exeter?

One of the great cathedral cities of Britain, Exeter has a downtown replete with black and white Tudor buildings and good museums. The city makes a fine base for visiting Devon and Cornwall, as well.

The Celts came first. They built part of today's high street and named the river Eisca, meaning "abounding in fish." The Romans came next and built the defensive wall (parts of which are visible today) and a spectacular bath, uncovered in the Cathedral Close in 1971. The Vikings followed until King Alfred saw them off. Then, William the Conqueror put his stamp on Exeter in 1086, building Rougemont Castle, whose gatehouse and tower still stand.

Read more: Follow the Roman road, explore the Fosse Way

For centuries, Exeter existed on the finishing and shipping of wool. When the cloth trade declined in the 1700s, Exeter neatly switched to banking. At least six banks kept the wheels of commerce rolling—along with tourism and the fact that people were finding Exeter a fine place to live.
How to get to Exeter?
Exeter is easy to reach on the M5, A30/A303 or A38, or by train in just a couple of hours from London's Paddington or Waterloo Stations. Several coach lines operate from London as well. 
Where to stay overnight in Exeter?
Exeter abounds in hotels and B&Bs. The premier historic hotel is the Royal Clarence, established in 1769, opposite the cathedral. The City Gate Hotel on Irongate near Central Station provides comfortable lodging at reasonable prices.
Read more: Exploring Devon and Cornwall
Where to lunch/dine-in Exeter?
Young's at the City Gate Hotel has a traditional British menu served in several cozy nooks. Eat by the attractive fireplace or on the patio. Or try celebrity chef Michael Caine's Restaurant in the Royal Clarence.
Chaucers at 223 High Street, a haven of oak beams, lush carpets, and snug alcoves, offers real Devon ales and an extensive wine list, along with a good menu selection. Top dinner off with warm chocolate melting pudding.
Where to take tea in Exeter?
In Devon, there is only one tea worth taking, and that is a classic Devon cream tea. Drake's Café at 17 Catherine Street serves homemade scones on cheerfully checked tablecloths. The clotted cream is so thick and yellow that Americans mistake it for butter. Don't worry about whether the cream or jam goes on first, just enjoy it. Other selections are available as well.
How to spend a day in Exeter?
A visit to the cathedral is a must. The Normans finished building St. Peter's Cathedral in 1206. A half-century later, it was partly demolished and England's finest example of Decorated Gothic took its place. Its architecture owes much to Bishop Walter Bronescombe, who attended the consecration of Salisbury Cathedral in 1258 and came away with some ideas. These did not include a towering spire; Exeter's towers are Norman (the only parts Bishop Bronescombe's plan left in place) and do not dominate the skyline as do some cathedral towers.
In its 300-foot nave, 60 tall stone piers open out into sweeping arches. The windows are as large as possible to let in a variety of light and shadow in all seasons. Visitors can push a mirror trolley down the aisle to view the massive, colorful roof bosses, or see a model of one up close. Carved angels play instruments in the minstrels' gallery, the screen of an echo chamber that produces unique, disembodied sounds. The Exeter Astronomical Clock is one of the world's oldest timepieces. Don't miss the 12th-century Our Lady's Tumbler capering on a pillar over the pulpit as he performs for the Virgin Mary carved on the corbel opposite. Then, join families and tourists alike lounging on the cathedral green and admire the 60-plus elaborately carved statues on the west front. Evensong in the cathedral, sung by the cathedral choir, is a lovely experience. 
Read more: The history and wonder of the beautiful Devon lace
Red Coat guides offer a variety of free walking tours of Exeter every day from April through October. Or pick up brochures at Visitor Information and go on a self-guided walk of the 2,000-year-old city wall, including Northernhay Gardens with its flowers and statuary and Rougemont Gardens and its Norman gatehouse. Another tour takes walkers through medieval Exeter, down Castle Street to the cathedral and on to Southernhay, once home to jollities such as fairs, markets, and executions.
Exeter museums include the newly refurbished Royal Albert Memorial. Tuckers Hall was the home of the medieval guild of cloth workers. Pop into the medieval Guildhall, the oldest municipal building in England, rest travel-weary bones on a bench and view the timber roof and historic portraits. Or visit the church of St. Mary Steps with its Norman font and ancient "Matthew the Miller" clock.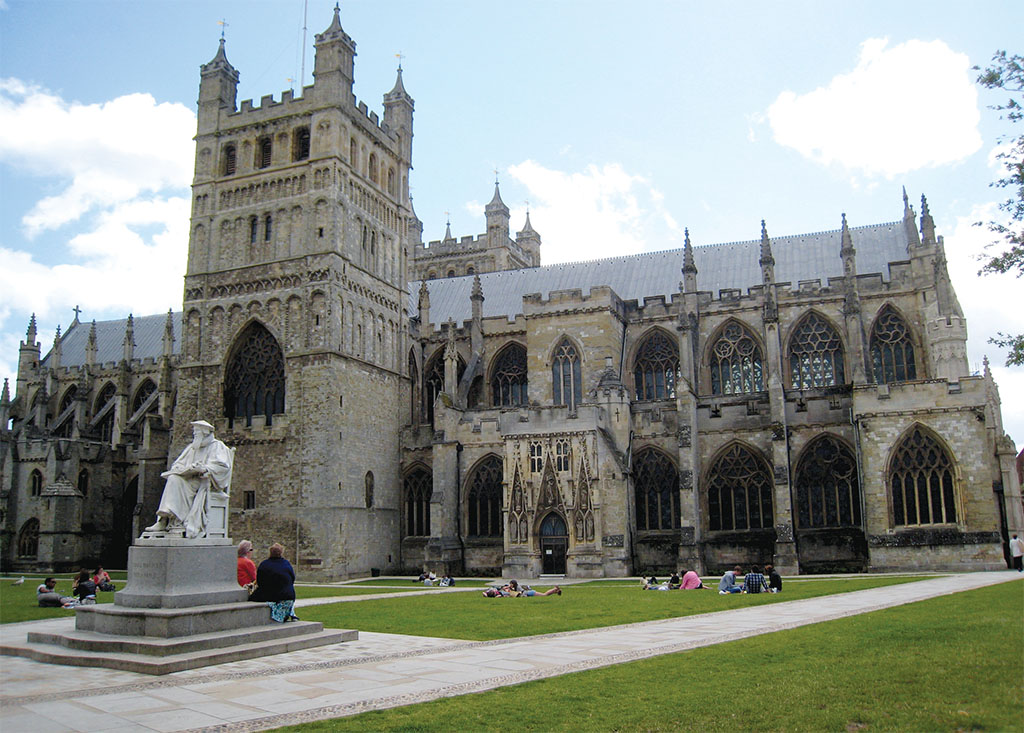 2
A guided tour takes place in the underground passages next to Boots in the High Street. They were built in the 14th and 15th centuries to carry water to the city. See interactive displays and go on a high-speed fly-through of the passages. Not for the claustrophobic.
St. Nicholas Priory, a monastery turned Tudor home, has three rooms furnished as they would have been in 1602. Some original fixtures include the plaster ceiling, fireplaces and a genuine Tudor loo. 
It's a short walk or bus ride to the River Exe's quayside, where you can take a guided trip down the Exeter Canal through the pleasant surrounding countryside. Stop for lunch or a drink at the Double Locks Inn and catch a later return boat, or return to walk a mile through a pasture back into town.
A visit should include the quirky shops, pubs, galleries, and restaurants of picturesque Quayside, where The Onedin Line was filmed. At the Quayside Visitor Centre, learn about the city's history and shop for books and souvenirs. In summer only, cross the River Exe on Butts Ferry, a 1,000-year-old tradition, to find more shops and galleries. The sports-minded can fish, rock climb, kayak, cycle or windsurf. Walkers can pick up the 12-mile Green Circle in various locations and do it all at once or in phases.
Where to shop in Exeter
Three shopping centers—Princesshay, Harlequins, and Guildhall—should satisfy any shopping needs. A farmers market operates year-round every Thursday from 9 a.m. to 2 p.m. at the junction of South and Fore Streets. There is more shopping at Quayside.
Where to spend an evening?
The Northcott Theatre and Barnfield Theatre present professional productions, while the New Theatre is a training company for young actors. Exeter has an annual schedule of concerts, fringe theater and other productions. For the young, the Cavern Club has live rock and indie. Or join the Red Coat guides on a ghostly walk.
What is something you may not know about Exeter?
Two-thirds of the old city was devastated and the cathedral was damaged in May 1942 "Baedeker raids." In retaliation for the RAF bombing of Lubeck, Germany, which was not a military target, the Nazis consulted their Baedeker guidebook and picked out five nonstrategic cities to destroy. In a photo showing an entire street of stores in ruins, the shopkeepers have already erected signs directing customers to their new places of business.
Exeter's motto, suggested by Elizabeth I, is "Semper Fidelis."
Read more: The very best Roman road trips in Britain