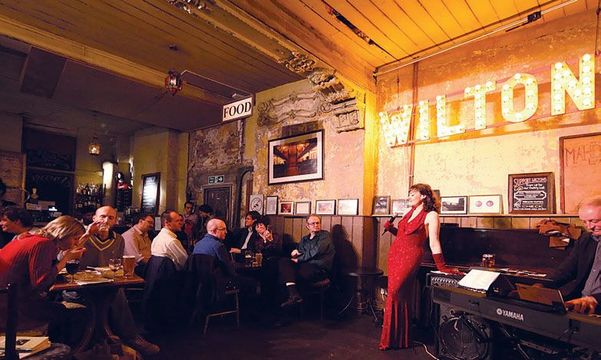 Discover specific locations from wonderful novels you'll find around the great city of London.
The Canterbury Tales, 

Geoffrey Chaucer

From the very dawn of the printing press, London has been the venue for fiction. In 1387 Geoffrey Chaucer's pilgrims set out on their journey to St. Thomas Becket's shrine from the Tabard Inn in Southwark. Part of the old Roman Watling Street, the area around London Bridge, the only southern entrance to the City, was forested with travelers' hostelries.

The original Tabard burnt down in 1669, and just one galleried coaching inn remains the George Inn. It would have originally have been three-sided and to date, no one's taken up my idea of putting giant mirrors on the two sides that were demolished when the Great Northern Railway company pulled the galleried dormitories down for warehousing.

Owned by the National Trust, this warren of interconnected bars, both upstairs and downstairs, carries a real flavor of old London. It's a wonderful place to enjoy a pint of real ale and read a few stories from The Canterbury Tales. The coziest room is the snug, to the right as you walk in.
Wolf Hall novels, by 

Hilary Mantel

It's hard to pick just one architectural "character" from Hilary Mantel's Wolf Hall novels. Though Austin Friars, the area of the City of London where her main character, Thomas Cromwell, really lived, still exists in name, the buildings in the labyrinthine passageways are nothing like the London streets he would have known, and the river he would have used as a highway has none of the warehouses and windmills of 16th-century England.

Putney, where Mantel's antihero was born, can only boast a blue plaque. The quiet courtyards of Gray's Inn, where law students still gather to discuss knotty legal issues, were rebuilt in Georgian times (and many were lost in World War II) through the Old Hall at nearby Lincoln's Inn, built in 1490, remains.

The law school of Sir Thomas More, Cromwell's rival, still stands. Lincoln's Inn is also, coincidentally, the setting for the opening scene in Dickens's Bleak House. Sadly, a major restoration program means it is not currently open to the public, but I'm monitoring the situation. I'll report back; it's a fine place to visit.
Charles Dickens
It's just as hard to find an architectural epitome for the work of Charles Dickens. A London fanatic, it would be easier to list the locations he didn't use. One area he regularly returned to, both physically and in his novels, is Lincoln's Inn and Fleet Street. Dickens is said to have based his tragic Little Nell's shop in The Old Curiosity Shop on the 16th-century emporium on the south side of Lincoln's Inn Fields. It's easily viewed in Portsmouth Street (nearest station Holborn), though it has seen better days.
Ye Olde Cheshire Cheese, in an alley off Fleet Street, has also seen some times, but it is still a must-visit for its stellar literary connections. Its warren of bars and snugs meanders over at least four levels (it's hard to tell, the floors are so higgledy-piggledy) and has played host to more writers than pretty much anywhere else. Samuel Johnson, of dictionary fame, lived just around the corner, and Dickens himself was a regular. He mentions the pub in A Tale of Two Cities. Mark Twain, G.K. Chesterton, Oliver Goldsmith, Arthur Conan Doyle and P.G. Wodehouse are all claimed to have raised a glass there, though sadly customers are no longer given a complimentary pipe and tobacco as they enter and the sawdust has gone from the floor. Such are modern times.
Secret Agent, by Joseph Conrad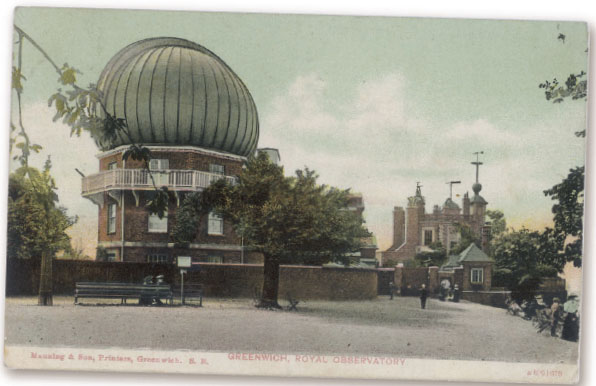 3
The old Royal Observatory in Greenwich Park was the destination of Joseph Conrad's Secret Agent.
The gutter-steeped novels of Joseph Conrad are a lot less well-known than they used—or indeed ought—to be. While the set-up for a spectacularly unsuccessful terrorist attack in his 1907 The Secret Agent takes place in central London, the incident and its tragic aftermath actually happens way out east. It's still possible to take the train to Maze Hill station, where Conrad's fake anarchist disembarks, and follow his footsteps to the walls of the Royal Observatory, Greenwich, though unlike park visitors of the day, the public are now allowed inside. Pick up a copy of The Secret Agent and find a park bench. Its pages will take you back to the days of the Edwardian double-agents and pea-soupers that once stretched all the way down the River Thames.
Peter Ackroyd
Lingering a little longer in London's murky underworld, one of the capital's finest modern writers, Peter Ackroyd sets his masterpiece Dan Leno and the Limehouse Golem in and around the bawdy music halls of Victorian East End.
There were scores of these places, providing cheap, brash entertainment to the masses, but I know of only two remaining. The one most likely to give a flavor of the novel is Wiltons, a pre-loved, fragile ghost of itself. I was surprised and relieved not to see used as a location for the recent movie of the novel.
This extraordinary survivor, dating back to 1859, was not one of Dan Leno's haunts—by the time he arrived it had already become a Methodist mission—and was derelict for much of the 20th century. Much fundraising and hard work has restored it enough to be functional, yet not enough to lose its character. Take a "history tour" or, better still, see a performance there. It's the closest you'll get to Ackroyd's dark, intoxicating, deadly world.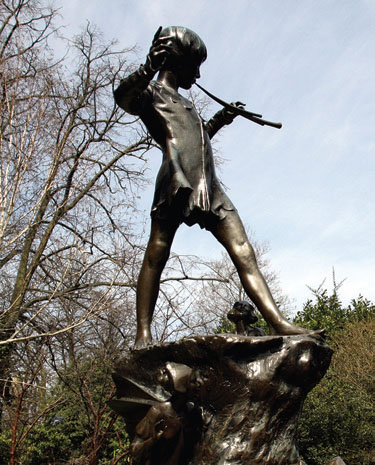 3
Peter Pan, by 

J.M. Barrie.

A lighter location can be found in the middle of Kensington Gardens, the fictional realm of the Lost Boys in J.M. Barrie's Peter Pan. Beloved since Edwardian times, sculpture to the book was erected in 1912 to the west of Long Water. Children still love to spot the animals and fairies below the life-size statue of Peter blowing his horn.
Harry Potter, by J.K. Rowling
Fewer children read Peter Pan today. They're more likely to make a beeline for a certain platform 9¾ at Kings Cross Station, the departure point for the Hogwarts Express. It is, of course, possible to line up for a photo of yourself and your "luggage" disappearing through the station wall, but there are other, more atmospheric places to find Harry Potter.
Although most of J.K. Rowling's modern children's classics are set in the fictional Hogwarts School of Witchcraft and Wizardry, I am convinced she must have visited Goodwin's Court, a strange little passageway running between St. Martin's Lane and Bedfordbury. Hiding in plain sight, the entrance to this strange "Diagon Alley" is nigh-on invisible until you're right upon it, whichever end you try to find. The beautiful row of bow-fronted Georgian shops is best enjoyed at night, when the gaslight takes it back to the 18th century, as if by magic, and let's face it, that's what we all wish for when we dive into a novel.
* Originally published in May 2018.