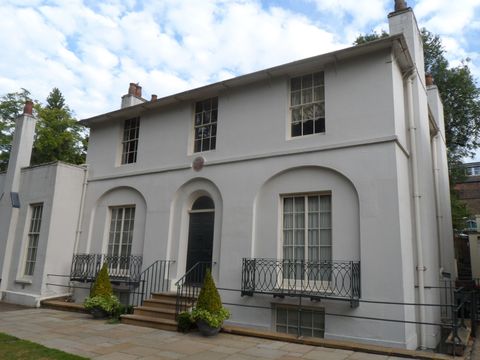 John Keat's house, Fenton House, Forty Hall and, Myddleton House just some of the wonderful small museums in north greater London.
Too far out of town for casual visitors, too close for the more adventurous, Greater London rarely gets much attention. In years gone by, however, wealthy people who wanted to conduct business and enjoy fresh air made their homes within a carriage ride of the City. Today some of our very best museums are in what was once (and in some cases still is) countryside and this month I'd like to begin something new – to gently encourage anyone who's not yet explored further afield not to dismiss the capital's forgotten jewels…
John Keat's house
Wildly romantic, John Keats was the ultimate starving, tragic poet: author of odes still famous today, thwarted in love by poverty and dying the classic poet's death from consumption.
Today Keats House is a single, splendid, Regency-style Hampstead villa but in his day it was divided in two very uneven parts. The struggling poet could only afford to rent two rooms: a study, where he wrote some of his finest work, and a bedroom where he diagnosed himself with the disease that would kill him. Poor as a church mouse and never enjoying good health, Keats was lucky in one respect: his friends. He would spend hours talking with his housemate Charles Brown and fell in love with Fanny Brawne, literally the girl next door. The lovers were separated by a brick wall and communicated by letter.
Alas, poverty and ill health prevented them from marrying and, tragically, Keats died in Rome at the age of 25. Fanny treasured her engagement ring for the rest of her life and it is now on display in the museum. For all the tragedy, Keats's house is light, charming and optimistic, from its bustling servants' quarters to Fanny's bedroom; Keats's tiny study to a delightful little garden.
Fenton House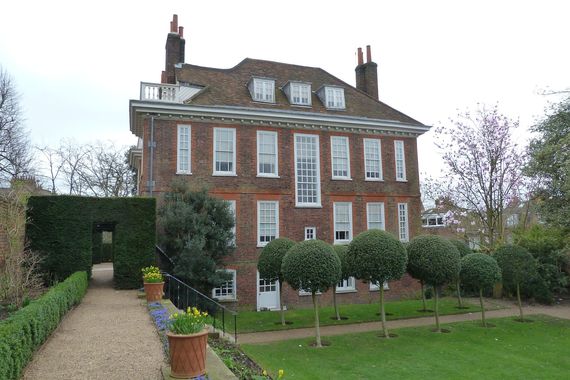 3
There are more National Trust properties in London than you might expect. One or two of them are full-sized mansions; others are smaller, more intimate homes that visitors can almost imagine living in themselves. Set in the leafy heights of Hampstead village, the late 17th century Fenton House is one of the latter, and one of the most pleasing small museums in North London. It gained its current name when Yorkshire merchant Philip Fenton bought it in 1793 and kept it, even though the house only stayed with the family until 1834.
Built-in red brick, it's made to look grand by white balustrading around the roof and columns at the front door, even though the entrance path is just a few feet long – this is, after all, London, where everything is small. Inside, every room is a jewel box of mainly Regency features, including original staircases, panelling, fireplaces and the kind of corner cupboard that brings out the nosiness in us all. The house's last owner, Lady Binning, collected porcelain, furniture and needlework, displayed here with a second collection: rare historical musical instruments acquired by George Benton-Fletcher. Visitors are often treated to the sound of a harpsichord or spinet being played by an expert somewhere around the house.  Windows at the top enjoy breath-taking views of London; lower down they frame Fenton House's exquisite garden. It's impossible not to be enchanted by the aged walls, formal lawns, herbaceous borders, vegetable plot, exotic terraces, topiary and 300 year-old orchard with at least 30 different varieties of apple.
While Keats's House and Fenton House are relatively easy to find on public transport, the rest of this month's choices are, I'm afraid, best discovered by car, or cab from a nearby station. They are, however, worth the extra effort and, with a little planning, visitable together in one day. They nestle just inside the M25, so might make a visit on the way to something else, but I recommend each in its own right.
Royal Small Arms Factory
Enfield is probably best-remembered for the Royal Small Arms Factory, which produced the Lee Enfield Rifle and Sten Gun but not nearly well-known enough, even by Londoners. The artificial New River, built with backing from Sir Hugh Myddleton in the early 17th century, flows through the borough, bringing fresh water to the capital, and the jostling market town provided a last staging post before London itself. 
Forty Hall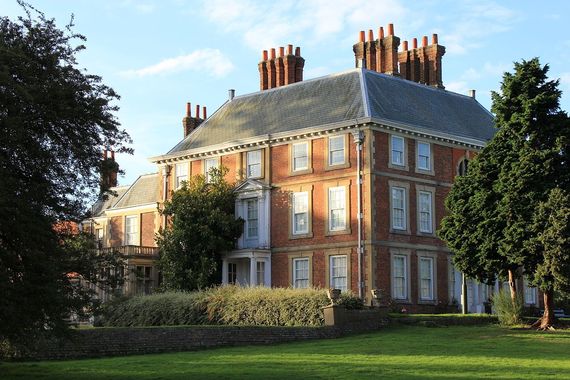 3
Forty Hall was built in 1632 by a former Lord Mayor of London, Sir Nicholas Rainton, who wanted a country estate close enough to oversee his interests in the City and still 'get away from it all'. In the early 20th century the estate was bought by Mr Carrington Bowles, who lived at nearby Myddleton House, for his eldest son, Henry Ferryman Bowles. In 1920 Henry's only child Wilma married Eustace Parker and the family changed its name to Parker-Bowles.
The Grade I listed house now belongs to Enfield Urban District Council and has been beautifully restored. Unlike so many historic houses, nearly all of it is open to the public. There's not much furniture, but the stunning plasterwork, paint effects, stained glass and wood panelling more than makes up for that.
Myddleton House
In Henry's day there was a quick route across a field between Forty Hall and his father's home, Myddleton House, often walked by Henry's world-famous gardener brother, E.A. Bowles. Edward Augustus 'Gussy' Bowles was universally loved as a talented gardener, writer, artist and decent chap, and his eight-acre garden is still one of my favourites in the UK.
Myddleton House Garden bursts with Gussy Bowles's passions: alpines, hostas, irises and crocuses (he was known as the Crocus King). It also reflects his sense of humour. He was particularly interested in weird varieties and strange formations, which he collected in a corner of the garden he called his 'Lunatic Asylum'. Two life-size ostrich statues now live in the garden's tiny museum, but wire-work replicas preside over a wisteria-arched bridge that once spanned the New River. A conservatory next to the house is open to the public lending an evocative vision of Edwardian England, with coloured floor tiles and exotic species. I have never been to the recreated Victorian hothouse further into the garden at any time of the year and not found something extraordinary in full bloom.
Bowles was an early recycling fan. If he saw a broken piece of architecture, he couldn't stop himself snaffling it away somewhere in the garden. Keep your eyes peeled for bits of the old London Bridge, paving stones from Clerkenwell's Georgian streets, stone shot from a medieval trebuchet, a strange royal monument, and a 'stone garden' of fossilised tree stumps and other oddities including a mounting step from Forty Hall.  Bowles was particularly distressed to see Enfield's gothic Market Cross relegated to a local scrapyard. It now takes pride of place amongst his roses. The garden is particularly peaceful in spring when it is ablaze with crocuses, daffodils and tulips.
Finally, if you happen to be in Enfield on a Tuesday or the last Sunday of the month and you're into truly curious museums, you are in luck.  Do not miss Whitewebbs Museum of Transport, one of the dottiest, friendliest, most enjoyable collections of mainly 20th-century memorabilia you could wish to find. A cough and a spit from Forty Hall and Myddelton House, Whitewebbs was a Victorian pumping station for the New River - it still has a perilously deep 'well' - but it's mainly used by the Enfield and District Veteran Vehicle Trust to display every imaginable relic of transportation, from vintage cars and bicycles to model vehicles and everyday artefacts from World War II. Oh, and it has a cracking café, too, serving tea and cake, the old fashioned way, by people who really, really care.