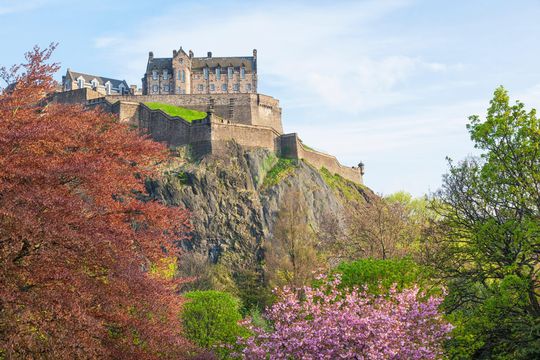 If you're intrigued about visiting Scotland but don't know where to start let this be your guide...
Scotland can be an annoying place in that there are just so many things to see and do. It is also a land of contrasts. From craggy highlands to beautiful little fishing villages that dot the coastline. From the brooding and haunted Glencoe to the retired Royal Yacht Britannia docked in Leith. From Edinburgh's fast-food eateries to the fantastic Michelin-starred seafood stall on Oban's quayside. From the wonderful art of the Edinburgh Festival and Glasgow's Kelvingrove Museum to the tribal intensity of Celtic Park and Ibrox Stadiums.
It is almost impossible to plan an itinerary that doesn't fill for several months. Having recently returned from a short family trip to this beguiling country perhaps I can offer a few pointers to help.
Up north? 
Firstly, what would you like to see? If you are looking for a walking holiday then the Highlands will offer the most unique experience but this countryside is unforgiving. You can easily find yourself miles from anywhere, halfway up a mountain, soaking wet and in an impenetrable mist. If you are the sort of person who likes wild hiking and camping then this is for you. If not, simply stay in the car or take a coach or train to get a flavor of this unique environment. 
From Inverness, you can travel southwest through the Great Glen which bisects the country all the way to Fort William (definitely worth a look) and on to Oban in the west. You will travel the whole length of Loch Ness and so have plenty of opportunities to spot its resident monster! There are so many beautiful places in Scotland it would be impossible to name them all, but Loch Lomond, the Firth of Forth and the Cairngorms all cry out to the visitor.
Of course, there is even more wild countryside in the many islands of Scotland from the Hebrides in the West to the Shetlands and the Orkney's to the North. But beware because if you are on a short stay trip you can spend a lot of time on ferries moving between the islands and these can also be weather dependent. The islands are quite sparsely populated and for that reason, they are unsurpassed for relaxation and sightseeing, but not for clubbing…
Scotland's rich history
Scotland's unique past of rebellion, religion, and royalty provides a positive feast for the historian and the country is rich in castles. Four heroes of Scottish history stand out; firstly King Robert the Bruce who fought the English to establish Scottish independence in the late 13th and early 14th centuries.
The Scottish Knight William Wallace was one of Bruce's senior commanders and although their relationship was not always cordial they chased the English from the country. Eventually, in 1706 both the English and Scottish Parliaments agreed to the two countries being joined in the United Kingdom with a shared monarch -  a situation which persists to this day. Nonetheless, there were further rebellions most notably led by two other heroes of Scottish History firstly James Edward Stewart, the 'Old Pretender' the eldest son of King James II of England and VII of Scotland who had been deposed by Parliament for being a Catholic in 1688.
The Old Pretender returned to Scotland from exile in France to launch his campaign in 1715, which soon was suppressed and he retired to France until his death in 1766 aged 78 years. His son Charles Edward Stewart, the 'Young Pretender' or in popular terms Bonnie Prince Charlie, took over and in 1745 led a more vigorous rebellion. He invaded England and advanced as far as Derbyshire before retiring; only to have his clansmen slaughtered at the Battle of Culloden by a British army. The Bonnie prince also died in exile in France.
Edinburgh
Edinburgh is also a good place to commence a short break or a first visit. There is more than enough to occupy the most determined tourist for weeks in the city itself. From the natural grandeur of the geological massif of Arthur's Seat which dominates the city to the bastion of Edinburgh Castle perched atop another great rocky outcrop, the City has much to see. "The Royal Mile" is a thoroughfare stretching from Edinburgh Castle to the Palace of Holyrood House, the residence of Queen Elizabeth when she is in her Northern capital. Along this route are some amazing sights.
Edinburgh Castle is a treasure trove of military history and exhibits, although for those familiar with the annual Edinburgh Military Tattoo from the television its main parade square is rather smaller than one might think. The Tattoo is part of the World famous annual Edinburgh Festival of the Arts in August. St Giles Cathedral which is the epicentre of the Scottish Church (or Kirk)  is a wonder of architecture, stained glass, and Regimental memorials. But amidst all this grandeur the most amazing sight is Real Mary King's Close which is an underground laneway because when the Edinburgh City Chambers (City Hall) was constructed in 1755 it was simply built on top of the Row, which was never demolished.  When you enter you are directed to a wooden staircase which takes you down and down to a spooky, narrow, and largely untouched underground street which is Real Mary Kings Close, named after one of the more successful traders. The row descends sharply downhill for a hundred metres or so and remained in normal use for hundreds of years. There are abandoned shops, residences, stables, inns and lodging houses here. There are also ghosts aplenty.
Edinburgh houses the National Gallery of Scotland and its most impressive collection of Scottish art through the ages. In one small gallery can be found a library which houses an exhibition of death masks taken from prisoners executed in the town jail. These include the infamous Burke and Hare – the bodysnatchers or resurrection men as they are known.
Food and fun
Scotland is home to many outstanding restaurants with seafood being especially fine, especially at coastal locations. One way to combine two favourite activities would be to visit the restaurants sited in the famous and fine Golf Courses which abound in Scotland where the game was invented. The Royal and Ancient at St Andrews, The Trump Turnberry, and Gleneagles all have a selection of different restaurants famed for their food almost as much as their golf! On the less expensive side, there are numerous pubs and inns around the country which can easily be rooted out and which serve the freshest ingredients. The best oysters of our trip were found in a fine Victorian pub in the backstreets of the Edinburgh Old Town called the Café Royal. The food was very Scottish especially a rather fine haggis which is something everyone should try, it is delicious just don't ask what is in it!