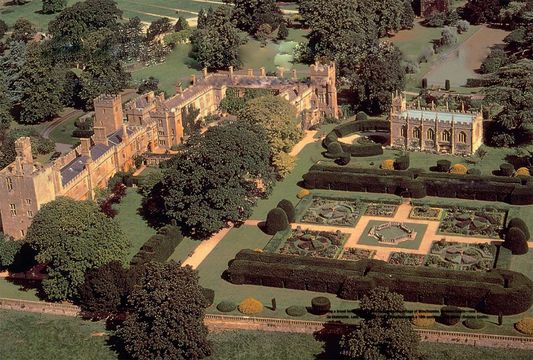 Tudor entanglements, Victorian vigor, glorious gardens, and the gracious Lady who knows the story.
Adorning a broad fertile vale in the Gloucestershire village of Winchcombe, Sudeley Castle—now home to its chatelaine, Lady Ashcombe—had its beginnings as a 10th-century Saxon manor.
The first impression of a place reaches straight to the heart. Sudeley Castle, in the Cotswold village of Winchcombe, greeted me with golden warmth. Here, certainly, is a noble survivor that has accommodated generations of history and suffered neglect with elegant dignity. Today quiet energy flows through the courtyard and corridor where soldiers ran or royal lovers whispered. How could you not fall for such a place?
Lady Ashcombe
Lady Ashcombe, chatelaine of Sudeley, remembers somewhat different first impressions. As American-born Elizabeth Chipps, she visited in the 1960s with her future husband, Mark Dent-Brocklehurst. ''We had come down for the weekend from London, and I first saw the castle by moonlight," she recalls. ''It had a rather romantic, mystical, almost Gothic feeling about it. We came in with our bags at one end of the house, and it seemed like miles of passages to get to the other side of the courtyard where we were staying. The castle was unmodernized, uncomfortable and cold. The atmosphere was somewhat forbidding. My mother-in-law, Mary Dent-Brocklehurst, and her family had lived here during the war, and after things like rationing she was used to an austere way of life. She still ran a disciplined, very formal household. I was in my early 20s, and this wasn't a young person's world."
We're chatting in Lady Ashcombe's private sitting room, a log fire murmuring cheerfully on one side, windows opening onto the grassy courtyard on the other. This room was once the kitchen, with a kind of rickety old lift" to transport the cook up to the morning room to discuss menus with Mrs. Dent-Brocklehurst. In 1969 Mark and Elizabeth succeeded his mother as owners of the castle, bringing their young son and daughter with them. They immediately set about the daunting task of tackling dry rot, damp and woodworm, and creating a more comfortable family home. As someone who loves to entertain family and friends, Lady Ashcombe remarks, It's very satisfying to hear people now say they feel the castle's coziness and warmth." Sudeley looks back on a thousand years of history with royal connections and, Lady Ashcombe points out, has enjoyed a very strong feminine influence." She adds, ''Destructive or turbulent things have often happened under male influence."
In the 10th century, King Ethelred gave the Saxon manor and ''estate of Sudeleagh" with its royal deer park to his daughter, Goda, on her marriage to Walter de Maunt. But it was in the 15th century with Ralph Boteler, distinguished on the battlefield and in royal service, that the castle took shape on its present site. When he backed the wrong side in the Wars of the Roses, Sudeley passed to the Yorkist King Edward IV, and later distinguished visitors included Henry VIII and Anne Boleyn. Then the boy King Edward VI gifted Sudeley to his uncle, Sir Thomas Seymour, and a brief golden era dawned under Seymour's future wife, Katherine Parr.
The story of how twice-widowed, 31-year-old Katherine renounced her love for Sir Thomas to marry King Henry VIII is well known.
One of the most fascinating exhibits at Sudeley is the age-mottled love letter she wrote to the charismatic courtier, explaining her dilemma. After Henry's demise in January 1547, Katherine lost no time in rekindling her relationship with Seymour. Marriage and pregnancy quickly followed, and the pair escaped to Sudeley, which Thomas had been busy refurbishing so luxuriously it was termed 'a second court" fit for the dowager queen.
Katherine personally oversaw the decoration of the rooms prepared for her eagerly awaited child, filling them with tapestries, a chair of state and an elaborate cradle. Looking up from the garden at the stunning Tudor Gothic window in this part of the castle, you can easily imagine the expectant mother, at last with her true love, gazing out in contentment. It didn't last. Poor Katherine died in September 1548, a few days after giving birth to a daughter, Mary. Ten-yearold Lady Jane Grey, who had been in Katherine's guardianship, stood as chief mourner at her burial in Sudeley's chapel. It was the first royal Protestant ceremony of its kind. Bewitching, ruthless Thomas outlived his wife by just six months—he was executed for treason in March 1549.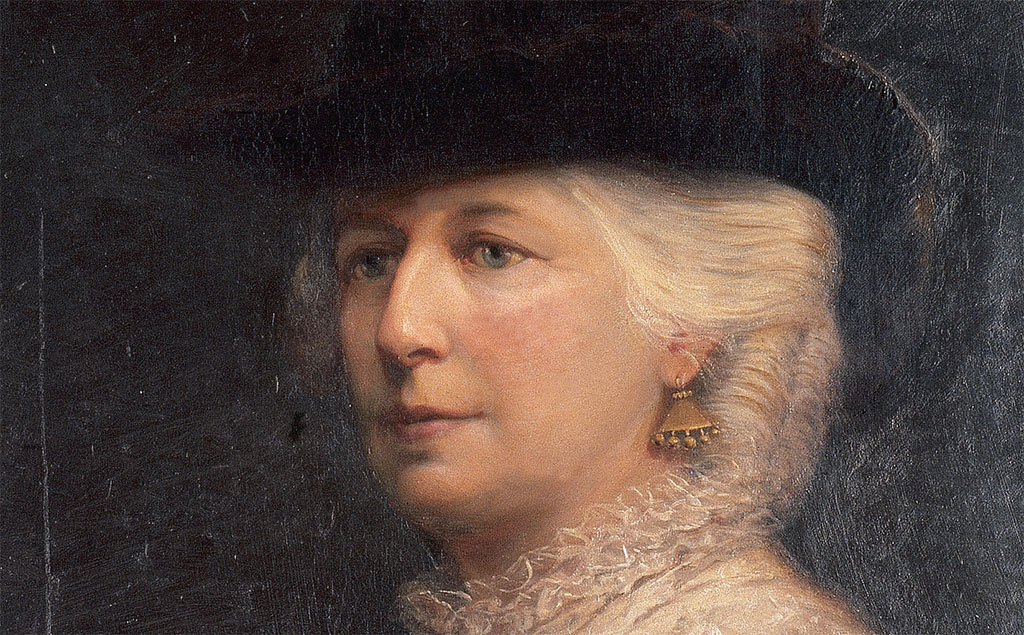 2
The Victorian chatelaine of Sudeley was the resourceful and energetic Emma Dent. Lady Ashcombe credits Emma as her inspiration for what has been done at Sudeley over the past generation.
The Tudors
"If I had to choose a period to return to at Sudeley, I suppose the most interesting conversations could be had with the Tudors," Lady Ashcombe remarks. "Princess Elizabeth was briefly here, and to talk to her about the intrigues of the court would be totally, utterly fascinating."
Elizabeth also returned as queen in autumn 1592 when she was approaching 60, giving rise to Sudeley's most spectacular moment. It was her third visit, during summer progress to celebrate the anniversary of her victory over the Spanish Armada. For three days, Elizabeth was entertained with a flamboyant pageant, bear- and bull-baiting, dancing and feasting. But at night, when the fireworks had died away, the aging queen's thoughts might well have been tinged with sadness: a remembrance of her kindly stepmother; memories of Seymour who, to Katherine's chagrin, had brazenly flirted with her; and longing for her childhood companion Lady Jane Grey, cruelly beheaded after her nine days as queen.
All had once been happy in the castle. Perhaps she even wondered about the fate of Katherine Parr's daughter, Mary, believed to have died in infancy and never able to enjoy her Sudeley birthright.
Forty years later, the violence of civil war superseded the Elizabethan spectacle, and in 1649 Cromwell's troops slighted the castle, effectively leaving it a ruin for 200 years. Even then, this gradually moldering giant in its amphitheater of gentle hills attracted visitors of a romantic disposition from far and wide. Among them, thankfully, were two brothers who would reverse its fortune and establish the family link that continues to this day.
John and William Dent, wealthy glovemakers from Worcester, were keen antiquarians, and when they first glimpsed Sudeley they were fired by the challenge of its restoration. After purchasing it in the 1830s, they made the Elizabethan ranges of the outer courtyard habitable again, but left the medieval buildings of the inner court, including the Banqueting Hall, as picturesque ruins—one of the aspects of Sudeley today that makes it so evocative.
"They were very excited by Sudeley's Tudor connections, so it was restored in the Tudor style of Katherine Parr," Lady Ashcombe explains. "Katherine was here such a relatively short time, but her influence has completely molded the character of the building."
Fascination with the Tudors continued when the Dents' nephew, John Coucher Dent, and his wife, Emma (of the Brocklehurst silk family), took over in 1855. Lady Ashcombe admits to a huge admiration for Emma: "She was a fascinating woman and unbelievably energetic. She is the real backbone of what I've done here. She tried to see the romance of the past, and I've looked back both through my own eyes and through hers."
With indefatigable enthusiasm, Emma hunted down period antiques and furnishings for the castle and created a wonderful lace and needlework collection. She and her husband were pillars of Victorian society, building almshouses and a school in Winchcombe, and providing the town with piped water. Mildly eccentric, Emma even wore a pedometer to calculate how many miles she walked in a year as she bustled about doing good—usually over 1,000!
''But she was also very bright and clever, not harnessed by the puritanism of her type," Lady Ashcombe explains. She was desperate to explore ideas outside her perimeter. We only found this out because we discovered her diaries, in which she comes alive as a woman of her time and class."
Snippets of her writings, on display and collected in a book, range from her relationship with servants to on-the-spot records of momentous historic events. Suddenly, you're transported to Queen Victoria's coronation, looking through the eyes of the child Emma and seeing the crown catching in the sovereign's hair or noticing a lord—''he was very old and feeble"—tripping on the steps leading to the throne.
Closer to home, Emma relates how in 1861 Katherine Parr's coffin, which had suffered ghoulish vandalism in the 18th century, was moved to a new tomb designed by Gilbert Scott in Sudeley's restored chapel. And in 1880 she notes the presentation to the castle of an exquisite brooch containing a golden lock of the queen's hair previously stolen from her grave, adding with relish that those concerned had reportedly all ''met with sudden and untimely deaths." The brooch, alongside one of Katherine's teeth, is still on display. Sudeley's gardens have been a special passion for Lady Ashcombe, who was at first bored by gardens. She uses organic principles at Sudeley.
Just as Emma presided over a Victorian renaissance at Sudeley, so Lady Ashcombe has overseen its latest flourish of fortunes. It has not been easy. In 1972, three years after she and Mark had taken over and opened the house to the public as a means to pay for its upkeep, her husband died of a heart attack, at just 40. His widow faced single-handedly running a castle beset by death duties and massive debt. ''I felt totally unprepared emotionally or in terms of training," she reveals. ''But there didn't seem to be much choice. I couldn't just leave. There were certain points when I felt like throwing in the towel, but perhaps the unique situation—being a young American, thrust into English heritage by a tragic accident of fate—strengthened my will and sense of duty to it more than if Sudeley had always been my family home."
For a brief time after her second marriage, in 1979 to Lord Ashcombe, she lived away from Sudeley, but was drawn back by the castle's "unique magic." She established attractions such as the exhibition on Tudor Sudeley and Henry VIII's six wives. Her own greatest magic, however, has been wrought in creating Sudeley's gardens, winner of the Historic Houses Association–Christie's Garden of the Year Award in 1996. "First of all, I used to be bored by gardens," she recalls with amusement. "Of course, now the coin has completely flipped. I went to design school when I was young, and I first designed jewelry. Now I think one's creativity can best be expressed through gardening and the landscape."
She has taken the house as her inspiration and continued its history into the 10 small gardens that surround it, all grown according to organic principles by her diligent team of workers. The centerpiece is the Queen's Garden, sited on the original Tudor parterre and bursting with old-fashioned roses that recall days gone by the White Rose of York, the Red Rose of Lancaster, and the bicolored Rosa mundi of the Tudors blending with sweet-scented Damask and Bourbon roses beloved of the Victorians. The Knot Garden follows the pattern on a dress worn by Elizabeth I in Lucas de Heere's painting The Tudor Succession, which hangs in the castle. The White Garden chastely honors the dedication of Sudeley church to the Virgin Mary, and two ironwork figures, planted with ivy, suggest Katherine Parr and Lady Jane Grey on the way to prayers.
My favorite is the Ruins Garden featuring the Banqueting Hall. Devastated by Cromwell's troops in the Civil War, the noble skeleton is furnished as though Sudeley's owner, the sixth Lord Chandos, has fled moments earlier: A cloak of rambling roses is left cast across a stone chair, a curtain of clematis swings across a window. The sense of wildness perfectly complements both the drama of the situation and the romance of the ruin.
When I say how much I admire Lady Ashcombe's courage and industry over the years, she reflects, then says: "I've had many compliments about what I've achieved, but I don't feel it's been 100 percent me. There's something else working with me; perhaps it's the spirit of people who lived here before. I'm not being modest—I really am limited in my ability to manage a large house and estate. My energy and ideas have come from someplace else, and it feels like I've been a channel. I don't know what you or your readers think about that." I believe her. It's at the heart of the place.