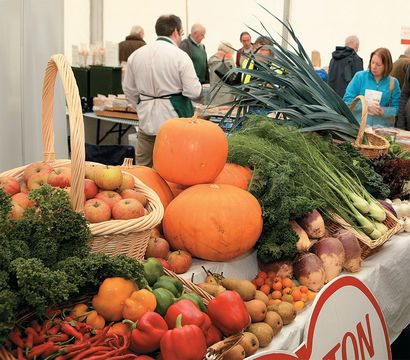 Fill it with cider, farmhouse cheeses, strawberries and asparagus from England's agricultural heartland and most sparsely populated county
"People enjoy coming to our farmers' markets not just for the produce but as a day out. They laugh, smile, talk—markets bring back good old-fashioned values." David Griffiths, chairman of Herefordshire Farmers' Markets Group, has broken off from selling his plants for a chinwag. Behind us another aproned stallholder is confiding that yellow cauliflowers are firmer and stronger flavored than white ones—or perhaps the customer would prefer a nutty-tasting cauli?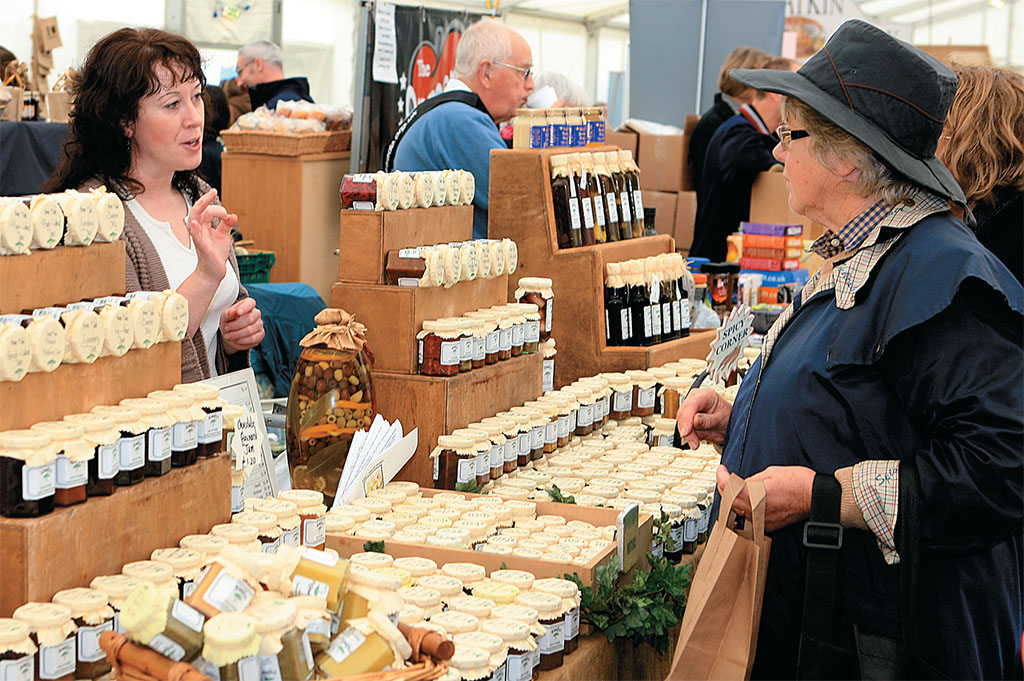 3
 The scene could be Hereford Hightown, the historic Market Hall at Ross-on-Wye or Leominster's Corn Square, each the venue for monthly farmers' markets (indeed Hereford bags two). All producers have come from within a 30-mile radius and everything you're tempted to buy has been grown, reared, caught, brewed, baked, pickled or smoked by the stallholders who accept your money.
For farmers, the markets are a welcome way to cut out the middleman and engage directly with their consumers, and vice versa. For new and small-scale artisan producers, they provide a commercial toehold unavailable elsewhere in a supermarket-dominated culture. And as Griffiths says, far more is exchanged than lucre. Whether a throwback to an age when people still passed the time of day with each other, or paradigm for a future in which local food and community are valued as much as global grab-it-all: The thriving farmers' market scene offers a vignette of a flavorsome way of life that has always been at the heart of Herefordshire.
Pixley, Putley, Weobley or Trumpet, as you potter along roads to places that roll off the tongue of Old England, it's easy to appreciate that in Herefordshire countless generations have lived close to the soil.
The current population of some 177,000 lives sprinkled across 842 square miles—not quite the least populated of England's counties, but the one with the greatest "sparsity" (official-speak for scattered in rural corners). There's the pocket-sized city of Hereford in the middle, of course, and five market towns—Bromyard, Kington, Ledbury, Leominster and Ross. Otherwise Herefordshire is a big green bowl sheltered by the Black Mountains of Wales, the Malvern Hills and Forest of Dean.
Slow down and enjoy the rich pickings. You'll probably have to anyway, chugging lazily along country lanes behind a tractor-load of earthy spuds or some other harvest. The farmed landscape and seasons turn the pages of this story at their own pace. Remote valleys, gentle hills and rivers—the Wye flows east from the Welsh border and down into the Wye Valley—villages and rural churches present a largely unspoiled picture. The fertile soil is the seedbed; farmland, fruit orchards and hopyards have traditionally supplied the living. Iconic white-faced, red-coated Hereford beef cattle (first exported to America circa 1817) will watch your progress.
Maybe you'll follow the Black and White Village Trail to the northwest of the county, a 40-mile tour of England's most extensive range of medieval and Tudor oak-framed dwellings. Oaks grow with such profusion, they are known as "the weeds of Herefordshire." The picturesque legacy comes in no small part from the local Ryeland sheep whose wool brought great wealth and provided Queen Elizabeth I with her royal stockings.
The later Industrial Revolution, however, mainly passed Herefordshire by. Today the county remains richly rooted in agriculture, which employs a healthy 11,400 or so of its modest population. Nearly half of farm holdings are small—less than 13 acres—patchworking together with larger concerns a total of 452,000 agrarian acres.
The region has its acknowledged specialties: It produces more cider (63 million gallons) than anywhere else in the UK, as well as more strawberries, asparagus and hops. But its menu is exceptional in its range, from farmhouse cheeses and yogurts, beef and rare breed pork, to perry and wines, and all sorts of specialist chutneys and preserves. Tuck in at pubs, tearooms, restaurants or producers' own premises and be prepared to let out your belt a notch or two.
People are passionate about their produce, particularly the growing band of artisans who marry tradition with a burgeoning desire to live and work in sustainable communities where "low food miles" and "authentic methods" are watchwords.
James Marsden, of award-winning Gregg's Pit Cider & Perry, is one (visits by appointment only, weekends May-October, tel. 01531660687). Marsden made his home on an 18th-century smallholder's plot near Much Marcle in 1992, restored the neglected orchard, identified its apples and pears—some trees were 200 years old—and planted new ones. He now makes some 5,000 liters of craft cider and perry a year using juice from his own and neighbors' fruit.
 While most people know what cider is, fewer are acquainted with perry. "There are around 120 identified varieties of perry pears, which are inedible raw but make a wonderful drink," Marsden says. "The pears have names like Blakeney Red and our own Gregg's Pit, Bloody Bastard, Merrylegs and Lumber Skull, relating to their place of origin, the quality of drink produced or body parts affected!"
More akin to wine than cider, perry varies from sweet to dry, boasts an aromatic bouquet and floral tastes. It was particularly popular in the late 17th century, and when the Napoleonic Wars with France dried up wine imports. Right up until the early 20th century its production was a speciality of the West Midlands. Following both a loss of favor and orchards—it was last made at Gregg's Pit in the 1920s, for example—the tipple is enjoying lively renaissance in Herefordshire, Worcestershire and Gloucestershire.
For Marsden it's all about artisan rather than industrial methods: An 18th-century stone-bed press is used alongside the 21st-century stainless steel vats in his cider shed. He belongs to the Three Counties Perry Presidium, part of the Slow Food Movement, which identifies, protects and promotes specialist regional foods. Three Counties Perry has been awarded Protected Geographical Indication, a sort of European Union equivalent of the wine world's Appellation Controlée.
In a direct link back to centuries of tradition, Marsden also goes wassailing in winter, during which his presses are blessed. By custom wassailing takes place on Old Christmas Eve (January 5), Twelfth Night (January 6) or Old Twelfth Night (January 17). Much cider is quaffed and poured over the roots of orchard trees, and a libation is offered to the goddess Pomona. Visitors can join in the fun, complete with torchlight processions and Morris Men, at several locations around the county.
Indeed cider provides the cheer behind many local celebrations, as befits a beverage made here for more than 350 years. Herefordshire's reputation for it really began with the Redstreak apple, raised from a pip by Viscount Scudamore of Holme Lacy in the 17th century after he had seen cider production in France. Following the noble lord's example, it was recorded in 1662 that "all Herefordshire is become in a manner but one entire orchard."
Unfortunately, agricultural ups-and-downs, and various unhelpful political policies, have seen England's orchards decline by 63 percent since 1950. Herefordshire's dropped from 22,240 acres in the late 19th century to 9,900 acres today, though orchard acreage is growing again, thanks to revived interest.
You can meet many of the enthusiasts fuelling the pomological boom at twice-yearly Big Apple events, when the seven little parishes of the Marcle Ridge on Herefordshire's southeastern edge celebrate their heritage of apples, pears, cider and perry with activities like tastings and demonstrations of fruit-related crafts. Alongside Blossomtime revels in May there's the Annual Cider and Perry Trials, while Harvestime in October yields a weekend of cider-making displays and cider-cake teas. The Big Apple began as a one-off in 1989, British Food and Farming Year. It was such a success that it has continued.
Early autumn is also a good time to drive the Herefordshire Cider Route that guides visitors to artisan makers only too willing to share insights into their craft and sell you a bottle or two. There are a couple of circular Cider Cycling Routes for the more energetic (19 or 20 miles), including generous refreshment stops.
Tasty tips
Visit Herefordshire,
www.visitherefordshire.co.uk, provides lots of useful travel information, plus links to the Herefordshire Cider Route and local events.
You'll also find details of the annual Flavours of Herefordshire Awards that reward businesses who make/source and promote local food and drink. Winners 2009 include:
Breakfast of the Year: Walford Court Tearoom and Guesthouse, Leintwardine, www.romanticbreak.com Savor the local butcher's home-cured bacon!
Gastropub of the Year: The Mill Race, Walford, www.millrace.info. Relaxed, simple, seasonal.
Restaurant of the Year: Wilton Court Hotel, Wilton, www.wiltoncourthotel.com. Superb food, romantic riverside setting.
Tearoom of the Year: Monkland Cheese Dairy, near Leominster, www.mousetrapcheese.co.uk. After tea or a light lunch, sample traditionally made farm cheeses.
Take the Ledbury route; there's a worthwhile detour to Dragon Orchard at Putley, a fruit farm tended by the same family for more than 80 years. Faced a while back with the harsh reality that, undercut by cheap imported apples, their orchards didn't pay, Norman and Ann Stanier hit upon the idea of crop sharing. For an annual subscription, crop sharers may visit the farm during four open weekends, one for each season, to share a meal, enjoy orchard walks and talks, join in wassailing and whatever other timely jollity is happening. They get to keep an eye on how their crop is doing, and then carry off a share of the autumn harvest, including apples, juice, cider, homemade jams and jellies.
Festival food
A good way to meet lots of the region's independent food producers—and to "try and buy" their luscious fare—is at the annual Flavours of Herefordshire Food Festival, Hereford Racecourse. Scheduled for October 23-24, 2010, the festival brings together more than 70 producers in the Food Pavilion, a Farmers' Market, cookery demonstrations, talks and tastings.
www.herefordshirefoodfestival.com
Other flavorsome dates include The Big Apple celebrations of apples and cider in early May and mid October.
www.bigapple.org.uk.
For Farmers' Markets, check out www.hfmg.org.
Community-supported agriculture is a win-win that ensures the Staniers a market and reconnects punters to rural life. It has been so popular that new trees have been planted in the 22-acre orchard, raising the number of different varieties to over 30, including plum and quince.
The desire to reconnect people with the sources of their food flows strongly in Herefordshire. With understanding comes a sense of heritage and value—of the orchard and cattle-roamed landscape, of the people who work it and the justifiable reasons for paying the extra pennies for handcrafted goodies to keep the whole story going. It doesn't simply put good food into bellies; attractive scenes fuel tourism, too.
Drop into Monkland Cheese Dairy, near Leominster, for example, and you can watch cheesemaking several days of the week. Karen Hindle will tell how she and husband Mark revived the unpasteurised Little Hereford Cheese, a recipe that had been discarded along with so many English farmhouse and craft cheeses when customers were lured away by cheap, ready-wrapped mass supplies in supermarkets.
"The recipe was found in an attic and came from Ellen Yeld, the chief dairy instructress of the county in 1917," Hindle says. "She went around teaching the wives and daughters of farmers the skills of making cheese and butter."
After hearing how the seasons and pastures influence milk and the taste of cheese, try a morsel in Monkland's café or shop—Little Hereford is like a cross between a Caerphilly and a Cheddar. The Hindles also have Mousetrap Cheese Shops in Leominster, Hereford and Ludlow bursting with home-grown flavors. British cheese-makers now produce more than 450 unique cheeses.
The constant challenge to make a living from the land has seen many UK farmers diversify, and Herefordshire's are no different. Phil Pennington has established a small vineyard at the mixed family farm at Lulham Court, Madeley. "But it's not really new," he points out, "People forget that the Romans had several vineyards in Herefordshire." He produces very palatable whites, rosés and sparkling wines.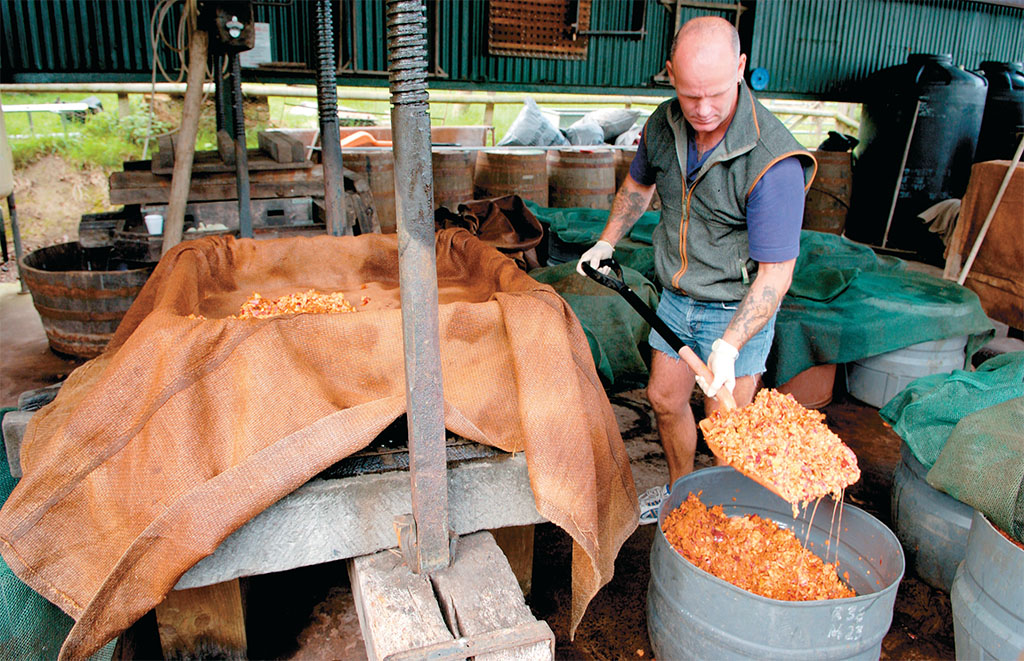 3
William Chase opted for something more novel. After 20 years of growing potatoes in the fields around his home farm, Tyrells Court, he took out his fryer and started experimenting in a storeroom. Hey, presto, to cut a long story short, he launched hand-cooked Tyrells Potato Chips in 2002. Today more than 100 tons of local spuds tumble into the Tyrells factory each week to become chips, including Best of British flavors like Beef Wellington and Pork and Apple. Some chips even ship to the States, which is a little like taking coals to Newcastle.
Latterly Chase passed on the chip making to someone else, though he still provides the spuds. His new project is the first pure, rather velvety, English potato vodka—visit his distillery at Rosemaund Farm to get a peek into how potatoes "go from field to fermentation in under a mile." His Naked Chase Vodka distilled from apples, which sells for around £35 in Herefordshire, goes for £180 a bottle in London clubs—another convincing argument to "buy local."
Before you tug yourself away from Herefordshire, do explore Hampton Court Castle near Hope under Dinmore, Leominster. This little-known treasure predates the Surrey palace of the same name by some 80 years and reveals a gripping story of glory, decline and modern restoration.
When Victorian owner Johnny Arkwright, like many landowners, saw his world and wealth disintegrate, did he spot the irony? His forebear, the 18th-century inventor and industrialist Sir Richard, helped set in train the Revolution that lured people in droves to cities and towns, divorcing them from their rural roots and overturning the preeminence of farming in British society.
It's a thought to chew on as you enjoy Sunday lunch or afternoon tea in the castle's orangery—the organic kitchen garden provides ingredients for scrumptious chutneys.
Whether you think the story of Herefordshire's landscape, of its food scene and seasonal celebrations, is a vision of Old England or rally-call to a sustainable rural future: Feeling connected to local food sources appeals at an instinctive level. Eat, drink and make merry, as the saying goes.