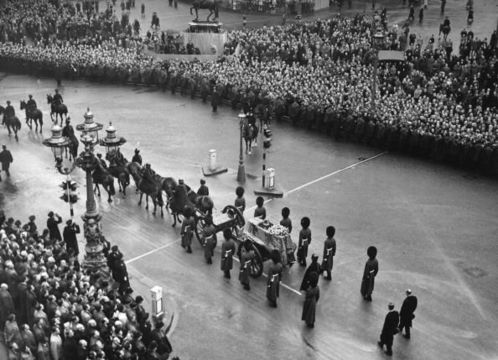 Have you seen this stunning clip?
Much of the discourse surrounding the Royal Family this week has understandably been centered around the sad death of Prince Philip and his funeral. 
Held on Saturday, Prince Philip's funeral was one of the most-watched events of the British television year so far. While everyone in the United Kingdom is used to large-scale events, particularly when it comes to weddings and funerals, the Duke of Edinburgh's funeral was a predictably low-key affair.
While there were some small military salutes and a small procession that walked to the chapel, it was nothing like what we're used to seeing. Usually, crowds will flood the streets to pay their respects, and a huge amount of military personnel will be on hand to offer their services.
Queen Elizabeth cut a solemn figure during the service, and well wishes poured in for Her Majesty in the coming days.
The clip from the most recent Royal funeral can be compared with this incredible old piece of footage from British Pathe.
The video is believed to be from circa 1915-1920. While it is somewhat unclear as to who's funeral it is, British Pathe believes it to possibly be for Prince John, the youngest child of the King & Queen who died in 1919 aged 14. 
The entire Royal Family can be seen in mourning coming out of St. George's Chapel, the women dressed in black veils and the men wearing black armbands. 
King George V, Queen Mary, and Queen Alexandra can all be seen walking out together. 
The Prince of Wales & his brothers are all seen in their various military uniforms all the while holding a salute. 
It is fascinating comparing this footage to more recent Royal events as, while of course, things have changed, much of the ceremony and tradition stays the same.