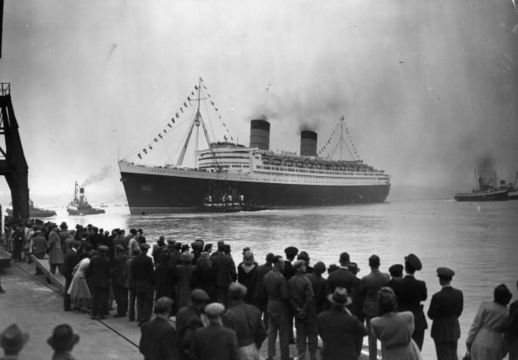 This British Pathe footage is harrowing
The RMS Queen Elizabeth was an ocean liner operated by Cunard Line. With the RMS Queen Mary, she provided weekly luxury liner service between Southampton in the United Kingdom and New York City in the United States, via Cherbourg in France.
After the Second World War ended, the ship was redesigned and refitted in order to allow it to complete more journeys. 
As the ship had been used for war service, sea trials had never been done on the ship. The ship traveled to the Isle of Arran and her trials were carried out. Onboard was the ship's namesake, Queen Elizabeth, and her two daughters, Princesses Elizabeth and Margaret. During the trials, Queen Elizabeth took the wheel for a brief time, and the two young princesses recorded the two measured runs with stopwatches that they had been given for the occasion. 
The ship would continue functioning for years before being sold to a group of American businessmen from a company called The Queen Corporation. While the group had planned to convert the ship into a hotel and use her sister ship for the same, the Florida-based project proved to difficult to maintain, and the ship was eventually sold to bidders from Hong Kong.
The journey from the USA to Hong Kong proved to be a particularly difficult one for the ship, which was strained hugely in making the trip.
As some repairs were being done to the ship, it caught fire on the 9th of January 1972. There is some suspicion that the fires were set deliberately, as several blazes broke out simultaneously throughout the ship.
The fire can be seen blazing in this incredible footage from British Pathe. The ship was destroyed by the fire.
Take a look.