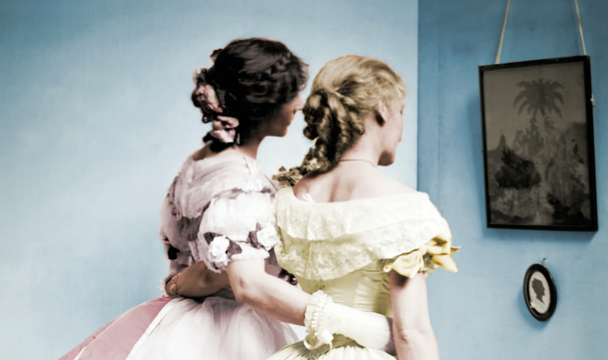 Anne de Courcy, author of the book "The Husband Hunters: Social Climbing in London and New York" talks with BHT about the real-life Downton Abbey, Lady Coras, and their history-changing legacies.
The courtship of Lord and Lady Grantham, back when they were simply young Robert Crawley and Cora Levinson, predates the show Downton Abbey but was often referenced within the series. "Twenty-four years ago, you married Cora against my wishes for her money," the blunt Countess Violet (played by Maggie Smith) reminded her son, calling the match "peculiar." But an aristocrat choosing a young American bride wasn't at all unusual at that time—nor was using her wealth to support his failing estate. Their beloved fictional union-represented many marriages of that generation. It was a defining era for the British aristocracy when pretty New World brides crossed the Atlantic to trade wealth for titles and altered the social class forever.
"It was an absolute invasion like never before and never since, not in that way," says author Anne de Courcy, who tells BHT that 100 American girls married British aristocrats between 1870 and 1914. "And it's a very small, tight circle, so they really scooped up a truly huge number." As detailed in her upcoming book, The Husband Hunters, 60 were wed to elder sons, 40 to younger sons, six to dukes. "A lot of the English mothers, who hoped their daughters would be the lucky ones, got really rather upset. In fact, one group of women went to the archbishop of Canterbury to ask if he could do something about it. He, very wisely, did nothing."
At the time, American industrialists were building enormous empires while British aristocrats were going broke—events not entirely unrelated. "All the aristocrats, except the few lucky ones, lived off the land. They usually had large estates, were landowners and farmers," says de Courcy. "Quite suddenly, during that period, their incomes were cut by half, because there were a lot of bad harvests. America was getting back onto its feet and huge fortunes were being made. The prairies were being planted with wheat. Huge ships were being made and grain was being shipped to England, which meant it undercut the crops in Britain."
American girls also had several advantages over their British counterparts even besides the money. "The Englishmen loved their great self-confidence. In England, the daughters were very much second-class citizens. An English girl came into her own after marriage, whereas American girls grew up meeting boys on an equal footing," says de Courcy. "Their fathers thought of them as little princesses, and so they grew up with tremendous confidence. If you can chat away at 18 in a sparkly way, as opposed to a shy debutante, and you're pretty and rich—all men thought they were wonderful."
As for those wealthy American families, they had their own reasons for sending beloved daughters off across the Atlantic; not all were embraced by society at home. "The amount of money spent during the Gilded Age was colossal, but there was one thing half these people could not buy into New York society, which was rigid, much more so than ours, actually," says the author, who claims it was harder for a girl born outside that tight Knickerbocker set to impress Mrs. Caroline Astor than get noticed by the Prince of Wales, heir to the throne.
"Much harder! To Bertie [later King Edward VII], a pretty, rich American girl who was fun, she was in! But to Mrs. Astor…"  The undisputed queen of the New York social scene allowed just the "creme de la creme" to enter her circle, and the invitation list to her annual ball, the biggest event of the season, included only so many names. 
"New York society then depended on whether you were a part of old New York, old money. Others battered with their fists vainly against the walls of the stockade," de Courcy explains. "However, if one of these daughters married into the English aristocracy, Mrs. Astor would graciously deign to receive them, and of course the mothers would come too." 
That's partly why de Courcy says the mothers, who then controlled their girls' fates, were the true husband hunters: "It was at a time when daughters did exactly what their mothers said. Consuelo Vanderbilt is the supreme example of somebody groomed into a marriage she didn't want. She was kept a prisoner until she agreed to marry the Duke."  She refers to Charles Spencer-Churchill, the future 9th Duke of Marlborough, who stood to become Lord of Blenheim Palace. "Her mother [Alva Vanderbilt] had decided that Consuelo was going to marry the Duke long before they'd even met."
"I spent the morning of my wedding in tears and alone," Consuelo wrote in her memoir, The Glitter, and the Gold: An American Duchess in Her Own Words. "We were twenty minutes late, for my eyes, swollen with tears, required copious sponging before I could face the curious stares that always greet a bride."
The match, of course, failed. "He was in love with someone else at the time. She, at one point [before her marriage], had a sort of an elopement with Winthrop Rutherfurd to Paris, but they got hauled back before they could marry. Eventually, [Consuelo and the Duke] separated, and she wound up being married very happily to a Frenchman who'd been in love with her when she was first in Paris." Though the marriage was unhappy, the railroad dynasty heiress' dowry saved Blenheim palace for the Marlborough family. "Consuelo's dowry was the biggest," says de Courcy. "The Marlboroughs would not be living in Blenheim now if it hadn't been for Consuelo. It was American money completely."
Another famous American bride who made an even bigger impact on British and world history was Jennie Jerome. "A pioneer dollar princess," says de Courcy. "Their mother couldn't get them into New York society. Leonard Jerome was a very flamboyant financier, but again he was new money, so he was not allowed in."
Instead of sticking around to be snubbed as nouveau riche, Mrs. Jerome took her daughters to be educated in Paris. "The Empress Eugenie had this wonderful court, you see, where the only criteria was to be glamorous, never to wear the same dress twice and 
be rich." When Eugenie's court came to an end with the 
Franco-Prussian war, the family went to England. "It was a pretty safe bet that if you had a lovely yacht the Prince of Wales would want to look at it, because he was fascinated by them. He later became Commodore of the Royal Yacht Squadron."
In the summer of 1873, Jennie Jerome and Lord Randolph Churchill were introduced at a sailing regatta on the Isle of Wight--a reception hosted by the future King Edward VII. "There were balls and all kinds of things there, and Lord Randolph Churchill fell in love with Jennie almost at first sight, and she with him. That one was a love match." Churchill proposed in just three days, but the marriage never quite tamed her wild American spirit.
"Jennie had loads of affairs, an enormous number. She was very beautiful, and everybody adored her, so she got away with it," says de Courcy, who notes that one of the lady's admirers was the Prince of Wales. Even with all the excitement, it's Jennie's contribution as a mother that changed the course of history. "She, of course, gave us Winston Churchill, which is the greatest gift of all. I'd just rather not think what would have happened to Western civilization without him."
When asked which of these marriages most resembled the fictional Crawleys' marital bliss, de Courcy suggests Mary "May" Goelet. Her father died, leaving her $20 million, making her "a golden target" for all the eligible men of her day, but sensible May waited for the right one. "She was older when she married, so it was much more of a love match," says the author. May wed Henry John Innes-Ker, 8th Duke of Roxburghe, when she was 25. "She knew that they would get on, and they did. She settled into a life of being Duchess." The Duke and Duchess were happily wed for nearly 30 years. 
Not all the international brides were as lucky. Frances "Fanny" Ellen Work and her children—a daughter and twin sons—were deserted by her Irish husband, James Boothby Burke Roche, 3rd Baron Fermoy, after Fanny's father, Franklin Work, refused to clear Roche's gambling debts. 
A self-made American businessman, Franklin publicly stated, "If I had anything to say about the matter, I'd make international marriage a hanging offense."
Franklin Work even made it a condition in his will that his grandsons stay in the U.S. for the rest of their lives, but despite that wish, they did later return from overseas. The eldest, Maurice Roche, inherited his father's title in 1920. His granddaughter Diana married Prince Charles.
"A lot of them fit in beautifully. Some couldn't take it, went back to America and were very unhappy," says de Courcy. "But most of them did settle down. As I say, life as a married woman could be very agreeable, and even if you weren't getting on terribly well with your husband, the house was usually so big that you could live in separate wings." 
Besides the extraordinary historical contributions, some of these marriages led to, de Courcy says the dollar princesses also had an overall influence on the aristocracy—that their American spirit, not just their wealth, altered their husbands, families and estates. 
"I'd say what they gave the aristocracy was a more open approach. They helped it survive, and it actually has survived. It just altered its protective coloring. They gave it a new vigor."
* The Husband Hunters: Social Climbing in London and New York is available on Amazon.co.uk.