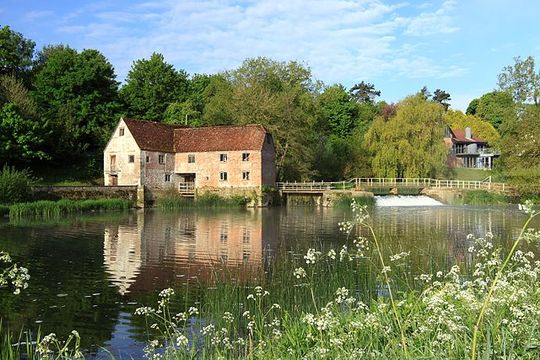 The Sturminster Newton Mill, on the banks of the River Stour, in Dorset County, is in high demand as bulk buyers and home consumers alike are using more flour during the coronavirus lockdown.
This historic mill, dating back to 1016, is so old it gets a mentioned in the Domesday Book, a survey of England carried out during the Elizabethan era. Now, for the first time in decades, the Sturminster Newton Mill is back in action.
This April the mill ground over one ton of wheat as the UK bakes up a storm while in COVID-19 lockdown.
Read more: A day well spent... Sherborne, Dorset
Closed in 1970 the mill was converted to a museum by the Sturminster Newton Heritage Trust in 1994. Now operated by millers Pete Loosmore and Imogen Bittner it typically operates just two days per month, producing just enough flour to provide visitors with small souvenir bags of flour. Speaking to the BBC they told they said that when they'd heard supermarkets were running out of flour they decided to step up. 
Loosmore (79), a retired art teacher whose grandfather worked at the mill for over 50 years, told the Washington Post "When COVID-19 struck, all of the local shops ran out of flour very quickly...
"We had a stock of good-quality milling wheat and the means and skills to grind it into flour, so we thought we could help."
The historic mill runs on a 25-horsepower water turbine, installed in 1904. The mill can produce 66 pounds of bread flour per day.
"[W]e have got through the whole of that ton in two to three weeks and we're still chasing more and more grain," Loosmore told the BBC.
"It's been nice to bring the place truly back to life and back into something like it used to be when it was working six days a week."
Sturminster Newton Mill has already sold hundreds of three-pound bags of artisan flour. All proceeds are being invested back into the mill, making up some of the shortfall lost when the steady flow of school groups and tourists which has now stopped altogether due to the COVID pandemic. 
Find out more about Sturminster Newton Mill here.
Read more: A history of the British cotton industry
Here's a short clip on the mill and how it's back in action: