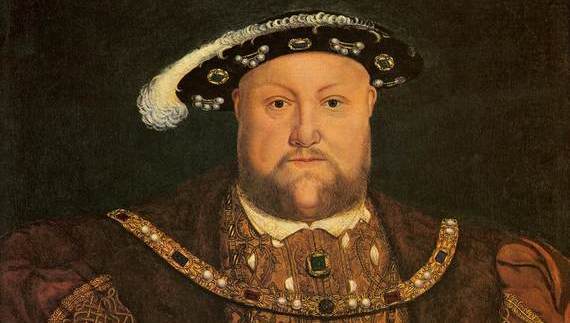 A fascinating discovery has been made by the UK's Portable Antiquities Scheme
The year was 1526, and King Henry VIII was looking to have more of a hand in the running of the British economy at the time.
With this in mind, he and Cardinal Thomas Wolsey started the process of changing the coinage used in the UK.
Henry VIII introduced new gold crowns. What was peculiar about this was that, upon close inspection, the coins were inscribed with the initials of his Queen consort, Catherine of Aragon.
Seven years later, when Henry divorced Catherine to marry Anne Boleyn, the Royal Mint issued a new set of crowns inscribed with the letter "A." Three years after that, when Henry had Anne beheaded on charges of adultery, incest, witchcraft and conspiring to kill him, the Mint produced yet another gold coin, this time dedicated to the monarch's latest queen, Jane Seymour. 
As we all know, King Henry VIII would go on to marry three more women, but none of them ever quite made the cut on one of his coins.
Earlier this year, several of these fascinating coins were found in New Forest. A British family weeding its garden during Covid-19 lockdown stumbled upon a collection of 64 medieval coins. The British Museum's Portable Antiquities Scheme (PAS), which is responsible for tracking the English and Welsh public's archaeological finds, released a statement detailing just how interesting a find this is for the museum.
"They were out turning up the soil and all of a sudden these coins popped out of the ground … miraculously," Ian Richardson, the museum's treasure registrar said. "It is quite a shocking find for them and very interesting for us."
It has been noted by historians and royalists alike that King Henry VIII certainly was no stranger to 'debasement' as it was called at the time. This practice involved attempts to lower the worth of coins, by mixing in regular metals while maintaining their face value. 
In the latter years of his reign, Henry VIII's exploits were labeled as 'The Great Debasement'.
This practice was certainly controversial and was carried on by Henry VIII's son, Edward VI, after his death.
It has been a busy year when it comes to historical finds. Other key discoveries included a collection of 50 apartheid-era South African gold coins; a medieval mount featuring a white boar, the personal emblem of Richard III; and a copper Roman furniture fitting. Officials reported that Covid-19 lockdowns led to an increase in the number of historical artifacts being found. This is understandable, as more and more Brits have been confined to their gardens for the year.
Have a look at the story, per the @SmithsonianMag Twitter account
A family in southern England found the trove of 64 coins while gardening. https://t.co/EKU55VSPNb

— Smithsonian Magazine (@SmithsonianMag) December 12, 2020