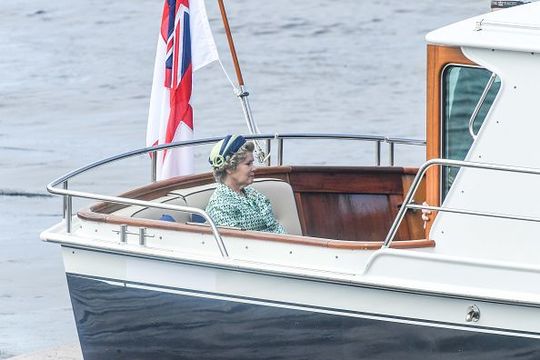 Imelda Staunton has transformed herself into the image of the Queen!
Imelda Staunton was once again seen filming series 5 of The Crown on Tuesday, with the actress transforming into an older version of Queen Elizabeth II for the upcoming series.
The 65-year-old Staunton is set to play Queen Elizabeth in seasons 5 and 6 of the smash hit The Crown.
The show has been a resounding success around the world and has drawn the attention of royalists all over.
The Netflix series has won a huge amount of awards and proven itself to be one of the most popular shows of its time.
Staunton was spotted at Scotland's Covesea Lighthouse over the weekend along with her castmate Theo Fraser Steele, who is thought to be playing Anne's second husband Timothy Laurence.
An early glimpse of our new Queen Elizabeth II, Imelda Staunton. pic.twitter.com/ZeMSA1hDnv

— The Crown (@TheCrownNetflix) July 30, 2021
Staunton could be seen sporting a prim tartan skirt and cardigan, teamed with one of Her Majesty's silk headscarves.
Due to the location of filming at Covesea Lighthouse, production was stopped multiple times due to RAF fighters jets flying overheard to land at the nearby RAF Lossiemouth base, situated just a few hundred metres away.
Imelda Staunton has big shoes to fill as she follows the performance of Olivia Colman, who garnered huge praise and awards for her portrayal of Queen Elizabeth in earlier seasons of The Crown.
Fans of The Crown are no doubt waiting with bated breath for the release of season 5, which is rumoured to be the penultimate season and may be ready for release come 2022.
Netflix released the first on-set photographs of British actor Imelda Staunton playing Queen Elizabeth in the award-winning series 'The Crown' pic.twitter.com/di0iCsqyFO

— Reuters (@Reuters) August 2, 2021
Stay tuned to BHT for further updates relating to The Crown!