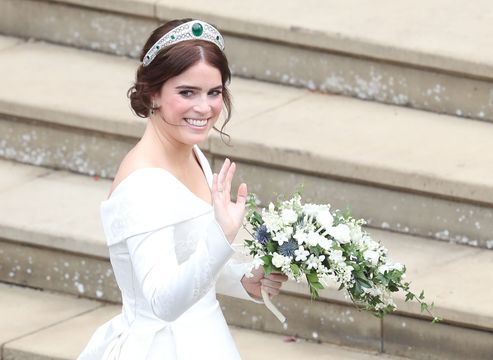 Wishing a very happy 33rd birthday to Princess Eugenie Victoria Helena of York!
Princess Eugenie was born on Mar 23, 1990, at The Portland Hospital, in London. Her full title is Princess Eugenie Victoria Helena of York, Her Royal Highness is the second child of The Duke of York and Sarah, Duchess of York, and sixth grandchild of The Queen and The Duke of Edinburgh. Eugenie is tenth in the line of succession to the throne of the United Kingdom and 15 other Commonwealth realms.
Her Royal Highness and Jack Brooksbank were married on October 12, 2018, at St George's Chapel, Windsor Castle. The couple welcomed their first child into the world on Feb 9, 2021. The baby August Philip Hawke Brooksbank was named after Queen Victoria's consort Prince Albert, who had Augustus as a middle name. The baby's middle name Philip is in honour of Eugenie's grandfather and August's great-grandfather the Duke of Edinburgh.
In January 2023, the Princess announced that she was pregnant with her second child. 
Princess Eugenie's education
Eugenie started school at Upton House School and Coworth Park School, both in Berkshire. Princess Eugenie went on to attend St. George's School in Windsor before moving on to Marlborough College in Wiltshire, in 2003, from where she completed A levels in Art, English Literature, and History of Art.
Her Royal Highness studied a Combined Honours BA in English Literature, History of Art and Politics at Newcastle University.
Charities and patronages
In Oct 2002, Princess Eugenie (12) underwent back surgery at the Royal National Orthopaedic Hospital in Stanmore, Middlesex, to correct a scoliosis condition. As a result of this surgery, HRH is keen to support others going through similar treatments. Princess
Eugenie became Patron of the Royal National Orthopaedic Hospital's Redevelopment Appeal in April 2012. As part of the appeal, an accommodation unit at the hospital will be named Princess Eugenie House.
In June 2012, HRH was one of around 3,000 cyclists to take part in Nightrider, a 100km bike ride through London. HRH raised money for the Royal National Orthopaedic Hospital and the Marylebone Cricket Club Foundation.
Princess Eugenie, alongside her mother Sarah, Duchess of York, is a supporter of the Elephant Family, a charity campaigning to protect the Asian Elephant and their habitat. HRH visited Tara the Elephant at The Duke of York Square, London, in June 2015 in support of the charity.
Princess Eugenie and Princess Beatrice became Patrons of the Teenage Cancer Trust in June 2016. Their mother, Sarah, Duchess of York, is also a long-term honorary Patron of the charity. The Teenage Cancer Trust supports young people facing cancer.
Princess Eugenie became Patron of the Coronet Theatre, Kensington in November 2016. The Coronet Theatre is a theatre and art space for Kensington and across London.
HRH became the Patron of The European School of Osteopathy in April 2017. The ESO is a world-renowned provider of high-quality osteopathic education available from undergraduate and up to postgraduate levels.
Princess Eugenie became Patron of Charity: water in 2017 which is a non-profit organisation bringing clean, safe drinking water to people in developing countries, and Ambassador for Project 0 in 2018, with the aim of restoring and protecting the oceans.
HRH became a Patron of the Tate Young Patrons in May 2018. Founded in 2007, the Tate Young Patrons are a group of collectors, philanthropists, and art enthusiasts aged under 40, who contribute to conserving historic works, acquiring new works for the Tate collection, and supporting education and learning programmes.
Also in 2018, Princess Eugenie became a Patron of the Big Cat Sanctuary, a charity protecting Big Cats from extinction.
In 2019, Her Royal Highness became Patron of Horatio's Garden, a charity that creates beautiful accessible gardens in NHS spinal injury centres.
Princess Eugenie works full-time in the art world.
H/T: TheDukeOfYork.org