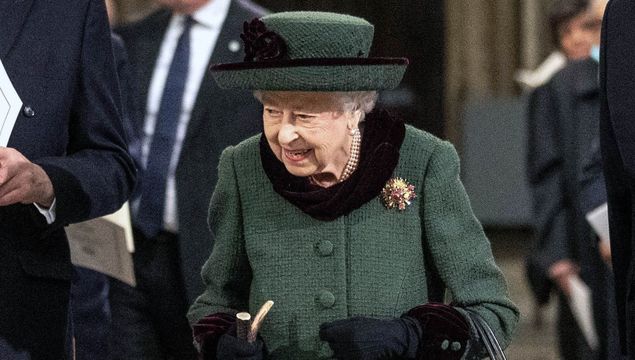 Almost one year after the Duke of Edinburgh, Prince Philip passed away the Royal Family and large crowds celebrated his life and legacy in London.
Queen Elizabeth II's husband, Prince Philip passed away, aged 99, on April 9 2021 when Covid restrictions remained in place in the United Kingdom. The Queen cut a lonely figure at his funeral where she sat alone, wearing a mask. Tuesday, at Westminister Abbey, was a very different scenario. 
The Queen surrounded by her family celebrated Prince Philip and their 73-year marriage. She sat next to her son and heir Prince Charles next to Prince William and Kate Middleton. She was escorted into the church by her son, Prince Andrew who has not been seen in public since he settled a lawsuit relating to a convicted sex offender, Jeffrey Epstein. 
 "It shows she wholeheartedly loves and believes her son," says royal commentator Robert Jobson, told People magazine. "As she did when she made a statement about Camilla being Queen's Consort, many people will now accept the Queen's word and judgment."
Jobson, the author of Prince Philip's Century, says there was disquiet among senior members of the family, "but she insisted."
"It does make some sense that he accompany her because he doesn't have a partner. A settlement has been paid but he's guilty of nothing in the eyes of the law," he adds. "She has faith in Andrew. Even if he disappears from public life, he's been able to pay tribute to his father, who after all, was very proud of his service in the Royal Navy, where he fought in the Falkland Islands conflict."
In the congregation were kings and queens from around the globe, members of the military, Prime Minister Boris Johnson and representatives of over 500 charities that Philip championed. 
Several tributes were paid to the late royal and the music used during the ceremony was chosen by Prince Philip. The flower arrangements at Westminister were inspired by Queen Elizabeth and Prince Philip's wedding day.
The Queen as well as Princess Anne and Camilla, Duchess of Cornwall among others wore green in tribute to the Prince. This dark green color was Prince Philip's official livery called "Edinburgh Green". This colour is used for staff uniforms and even his private cars. Queen Elizabeth also honored her husband by wearing a brooch he had gifted her.