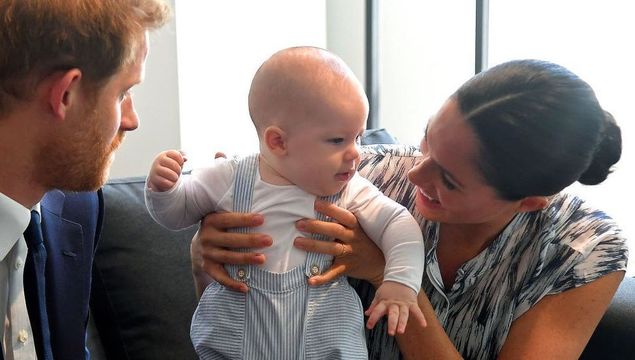 We cannot get enough of young Archie Harrison Mountbatten-Windsor - especially while on his royal tour of South Africa
Earlier this week, the Duke and Duchess of Sussex commenced their 10-day royal tour of Africa, arriving in South Africa with baby Archie - who made his first official appearance this morning via the @SussexRoyal Instagram Stories account this morning.
Meghan and Harry took their four-month-old son out to meet the Archbishop Desmond Tutu and Leah Tutu in Cape Town. "Thank you, Archbishop Tutu, for your incredibly warm hospitality, Archie loved meeting you!" the couple wrote on their Instagram, where the two shared a black and white photo from the meeting.
Read more: Meghan Markle gives patrons the surprise of their life
They then shared a second post which summarised their meeting: "Arch meets Archie! This morning The Duke and Duchess were honoured to introduce their son, Archie, to Archbishop, Desmond Tutu and his daughter, Thandeka. The Archbishop, a globally respected figure in the anti-apartheid movement, is one of the world's great champions of equality and has spent his life tirelessly battling injustice.
Their Royal Highnesses have joined The Archbishop and Thandeka to learn more about the work of The Tutu and Leah Legacy Foundation, and see first-hand how they are focusing on global awareness of the critical issues affecting the world."
Archie, by the way, has been spoken about quite a bit on the tour. Recently, the Duchess told Nazli Ebross Fakier, who she had tea with, that Archie is "happy in Cape Town," according to CNN's Max Foster. Meghan also told Fakier that her baby "likes to sleep on his dad's chest." But proving he is most definitely his mother's son, Archie wore blue and white pinstriped dungarees from H&M which matched the minimalistic wardrobe that Meghan has assembled for the trip, and we are certain that the "Archie effect" will undoubtedly kick in soon as mothers of newborns across the globe clamour to get their hands on a pair.
Thankfully, lots of photos were taken of Archie during the event, giving the world its first good glimpse since Archie's christening of how much Meghan and Harry's little boy has grown. Here, the best photos.
15
Read more: Who is Archie's godfather?
15
Read more: Everything you need to know about the newest royal bride
15
15
Read more: The Queen gave Harry this piece of advice and he's stuck to it
15
15
Read more: Royal baby photos from over the years
15
15
Read more: Inside Meghan's inner circle
15
15
Read more: Who pays Meghan Markle's salary?
15
15
15
15
This article originally appeared on IrishTatler.com