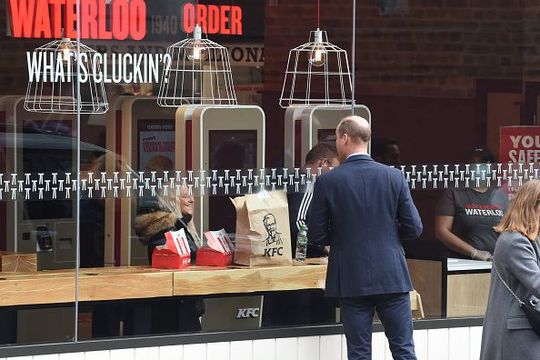 The Duke of Cambridge is not so different to you or me
Prince William has been a public figure his whole life, which has led to some interesting nicknames. 
Over the years we've seen him called some pretty outlandish things...But nothing that can be compared to 'His Royal Thighness'.
On Tuesday, William and the Duchess of Cambridge stepped out to meet with some of the 100 finalists from Kate's "Hold Still" photography project, which she launched during the lockdown and has been a real success so far.
The project is spearheaded by The Duchess of Cambridge, Patron of the National Portrait Gallery, and is an ambitious community project to create a unique collective portrait of the UK during the lockdown.
William and Kate traveled to Waterloo, in London, to have a look at one of the exhibitions that are available to the public.
Kate and William then celebrated with Hackney Food Hub volunteer Sami Massalami Mohammed Elmassalami Ayed, who featured in the winning picture called 'Sami'. 
During their time in Waterloo, William was caught with a wandering eye.
Prince William caught a waft of the sweet spices coming from a KFC, and was snapped as he veered in the window with a desirous look on his face.
KFC's social media team clearly saw the opportunity and were quick to take to Twitter to offer up some quips.
Take a look.
William whispered quietly to himself;

"Oh, I just can't wait to be wing" pic.twitter.com/oKlQPiV3YJ

— KFC UK & Ireland (@KFC_UKI) October 20, 2020
While the pun gets a solid 7/10 from us, KFC themselves recognized the missed opportunity at a 10/10.
I'm sad I didn't call him His Royal Thighness in the main tweet tbh

— KFC UK & Ireland (@KFC_UKI) October 20, 2020
One hopes That the Duke of Cambridge at least got some delicious chicken for lunch after this photo was taken.