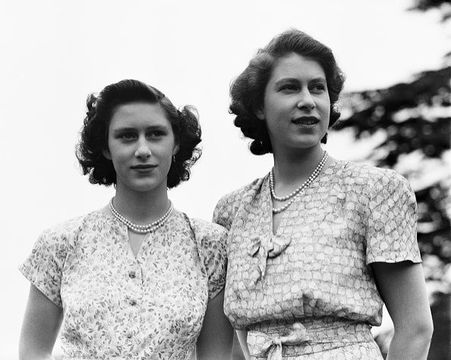 Have you seen this incredible British Pathé footage of the Royal Family celebrating the engagement of Princess Elizabeth and Prince Philip at a photocall in 1947?
This photoshoot held at Buckingham Palace certainly looked like a fun one! In this amazing British Pathé footage, we can see Princess Elizabeth, Prince Philip, the Queen Mother, King George, and Princess Margaret smiling and laughing during the photo shoot to celebrate a very royal engagement.
The love story of Elizabeth and Philip started back in 1939 when the young princess, aged 13 at the time, caught Prince Philip of Greece's eye. Five years her senior, Philip was just about to start out on his naval career. 
In 1946, Philip asked King George VI for his daughter's hand in marriage. The king agreed but only if they postponed the announcement until Elizabeth turned 21, in April 1947. In post-World War II, the Royal engagement was a great cause for celebration. They were married in Westminster Abbey, in the heart of London, in November 1947. 
Little did Elizabeth know that in a matter of five years, she would ascend to the throne and take her vows as Queen Elizabeth II.
The footage is shot in black and white and really provides a good insight into what life was like at Buckingham Palace at the time.
Have a look at the footage below, courtesy of British Pathe:
The footage is described by British Pathé as:
"Unissued / unused material. Royal engagement photoshoot at Buckingham Palace, London. Various C/Us of Prince Philip (Duke of Edinburgh), Princess Elizabeth (Queen Elizabeth II), Queen Elizabeth (Queen Mother), King George VI and Princess Margaret. Item is selected scenes from newsreel story in Gazette issue 47/56."
* Originally published in Jan 2020.