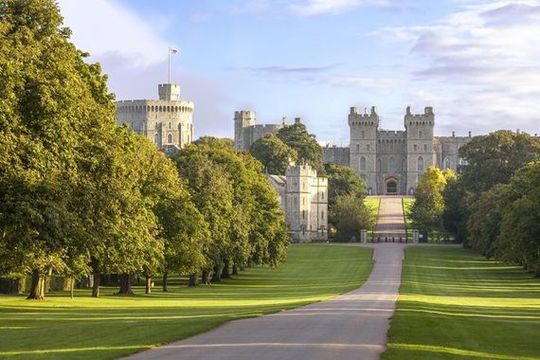 The Royal Family have taken to dressing Windsor Castle with Christmas decorations
Earlier in the year, Queen Elizabeth and Prince Philip outlined their plans to spend the Christmas period at Windsor Castle this year.
Of course, Christmas will be very different this year for the Royals.
Due to the pandemic, there won't be an annual walk to services at St. Mary Magdalene church, and Queen Elizabeth and Prince Philip won't be spending the holidays at Sandringham estate—breaking a decades-long royal tradition. Instead, the couple plans to celebrate "quietly" at Windsor Castle.
Despite this, however, no expense was spared in the decorating of Windsor Castle. 
A 20-foot-high Norway spruce tree, sourced from Windsor Great Park has been put up in St. George's Hall, which is the largest room in Windsor Castle by quite some distance. The tree has been lit-up by over 3000 lights and is of course adorned with beautiful ornaments. In the Queen's Gallery, small Christmas trees line the room's perimeter, standing alongside rare silver furniture. There is another Christmas tree in the inner hall, which is of course heavily decorated also. The space, created by George IV in the 1820s as an area to greet official guests, is now the first room visitors see when they enter the castle.
In another bit of good news, as of today, the general public will be allowed to visit Windsor Castle and get a look at the tree. There will also be access to the Undercroft Cafe, on the grounds of the castle. For the holiday season only, the restaurant will serve a variety of festive fare, from turkey sandwiches to cranberry and orange éclairs.
🎄✨Dressed with hundreds of iridescent glass and mirrored ornaments, the magnificent 20ft Norway spruce tree is pictured in St George's Hall.

Explore the festive makeover at #WindsorCastle which is now open to the public. Head to @RCT to find out more. pic.twitter.com/dE4XgryJQa

— The Royal Family (@RoyalFamily) December 4, 2020
The Royal Collection Trust even let us get a look at how the trees were felled.
Watch as a 20-foot Norwegian Spruce is selected and felled by the Forestry Team in Windsor Great Park, part of
the Crown Estate, before being transported to #WindsorCastle. pic.twitter.com/oyWiNPNied

— RoyalCollectionTrust (@RCT) December 2, 2020
Will you be making a trip to Windsor Castle this Christmas?