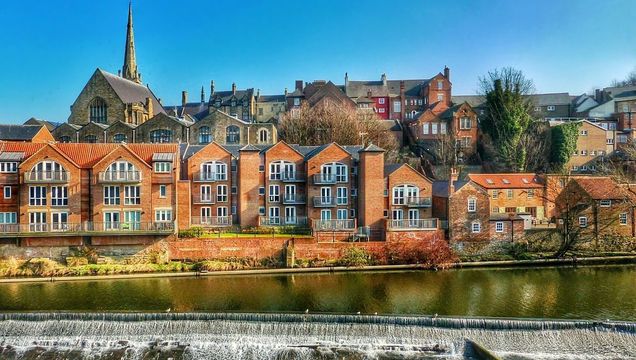 From the moment you catch the dramatic skyline view of the cathedral on its rocky bluff towering over the River Wear you will likely fall under a spell. There are plenty of options in this historic city, in England's North East, to keep you enthralled for a full day. 
In his travel classic Notes from a Small Island, Bill Bryson recalled getting off the train at Durham only "intending to poke around the cathedral for an hour or so" but he fell in love with the city "…it's wonderful – a perfect little city."
Prince, bishops, and saints
The "old town" of cobbled streets, market place, cathedral and castle sits neatly on the peninsula within a tight loop of the River Wear and this is where to start exploring.
Durham World Heritage Site Visitor Centre in a refurbished 19th-century almshouse, on Owengate, provides your introduction to Durham and the dual majesty of its Norman cathedral and castle, rightly lauded as one of the great architectural experiences of Europe, and at the heart of UNESCO World Heritage Site. 
The cathedral began as a final resting place for the body of St Cuthbert, brought here in AD 995 a couple of centuries after it had been spirited away from Lindisfarne to keep safe from marauding Vikings. Following 
the Norman Conquest of 1066, William the Conqueror also spotted Durham's strategic attractions, protected on three sides by a river, and ordered the construction of a fort. 
Religious and secular powers coalesced from 1075 when the king got fed up with trying to govern the turbulent north and the Bishop of Durham became a Prince Bishop. With the right to raise an army, mint coins and levy taxes, and in return for their loyalty to the monarch, these medieval Prince Bishops ruled over what was, effectively, a buffer-state between England and Scotland. Fiery Ranulf Flambard, warrior Bishop Bek and builder Bishop Cosin - wielded enormous power and wealth. 
Appetite whetted by such an introduction, head along the road to the cathedral, begun in its present form in 1093: a supreme example of Romanesque architecture and Norman craftsmanship. The Open Treasure exhibition route takes you around the cathedral's key highlights, starting in the 14th-century oak-beamed monks' dormitory where wafts of incense, beeswax, and medieval spices add to your sense of stepping back in time. In the great kitchen, one of only two such medieval monastic kitchens surviving in England, you will find the treasures of Cuthbert, including his gold and garnet pectoral cross and 7th-century wooden coffin. Cuthbert was renowned for having spread Christianity in the north of England and pilgrims flocked to his shrine. These days to be found behind the high altar. The tomb of another saint, the 7th/8th-century Venerable Bede whose writings earned him the title "Father of English History" can be found in the Galilee Chapel.
After a coffee in the cathedral's Undercroft Restaurant and Café, amble across the palace green to the castle. Visits are by guided tour only and times vary (you can buy tickets at the World Heritage Site Visitor Centre). It's a fascinating step through 1,000 years as the military stronghold morphed into the Prince Bishops' ceremonial palace and in 1832 became the founding college of Durham University. It remains very much a hub of student life. Alongside stories of notable Prince Bishops, you will see Norman and Tudor chapels, Civil War weaponry, and the 13th-century great hall where students now dine in style.
Culture, gardens, and cream teas
Lunch options are plentiful – Café on the Green with views of cathedral and castle is popular for something light like sandwiches or cake. Then will you head south or north?
A 30-minute picturesque walk (or short bus ride) to the south brings you to the Oriental Museum and Botanic Garden, each of which provides teaching and research resources to the university while also being open to the public. With a trove of more than 33,000 objects from the great cultures of northern Africa and Asia, from prehistory to the present day, the museum is dazzling in its diversity. From Egyptian mummies to head-hunting swords from Borneo and Qing dynasty dragon robes from China. The ten-hectare Botanic Garden is then the perfect way to wind down, exploring exotica in the glasshouses, Alpine flora, a bamboo grove, woodland and much more. Treat yourself to tea with a fruit scone, clotted cream, and jam in the garden café. 
An alternative afternoon option is to shuffle around Palace Green Library – with galleries ranging from local archaeology to Durham Light Infantry – and then take a short walk north to Crook Hall and Gardens. A medieval hall-cum-Jacobean-manor-cum-Georgian-town-house surrounded by themed gardens and cocooned in tales of knights, romantic poets, ale merchants, and the occasional ghost for good measure. The home of the Bell family is nothing if not memorable. Enjoy a courtyard tea or book ahead for a classic afternoon tea including sparkling wine and sweet and savoury treats served on vintage crockery.
Catch evensong at the cathedral or a show (drama, musicals, comedy) at the Gala Theatre, Millennium Place.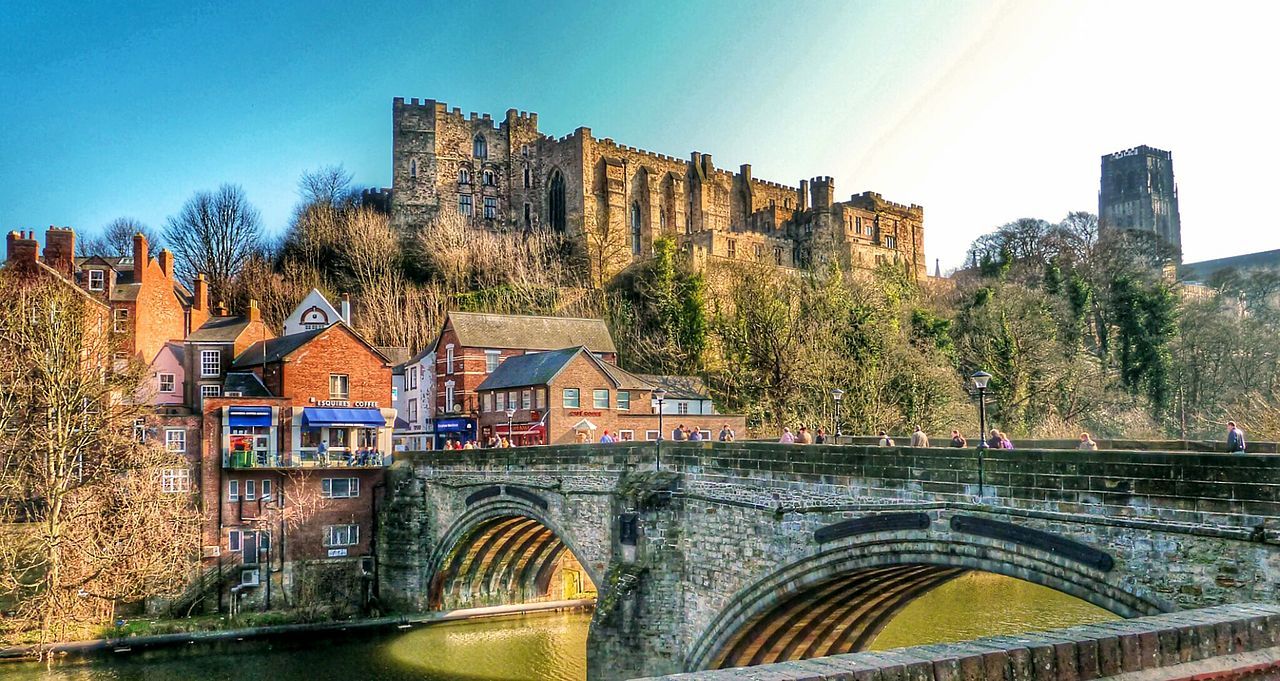 2
Durham's dining options include everything from Thai to English and French classics, with accommodation equally varied: Premier Inn, Radisson Blu, cosy pubs like the four-star Victoria Inn on Hallgarth Street. You can sample university B&B in college rooms during academic vacations or, available throughout the year, the state-room luxury of the Bishop's Suite or Chaplain's Suite in Durham Castle.
Staying longer
All within a radius of a dozen miles of Durham you can visit: Auckland Castle (re-opened after a three-year conservation programme), where the Prince Bishops hosted lavish entertainments and created the largest private chapel in Europe; Finchale Priory, a holiday retreat for the monks of Durham, on the site of a retired pirate's hermitage; and Brancepeth Castle, one-time home of the powerful aristocratic Neville family; world-famous Beamish open-air museum telling the story of life in northeast England during the 1820s, 1900s, and 1940s. Further north, there's contemporary city culture in Newcastle and visions of Roman frontier life along Hadrian's Wall, while to the south, there's further historic city heritage at York. 
Need to know
It's 5hrs 15mins / 260 miles drive from London to Durham, via the M1 and A1(M), www.durham.gov.uk/parkandride 
Direct rail journeys from London Kings Cross station take under 3hrs, www.nationalrail.co.uk. Walk into the city centre (15–20mins) or catch the cathedral bus (10mins).
For information on attractions and accommodation see  www.thisisdurham.com
The Prince Bishop River Cruiser sails daily (March–October): enjoy on-board commentary and impressive views of the cathedral, castle and historic bridges from the River Wear,  www.princebishoprc.co.uk
To capture an iconic picture of the cathedral: stand on 18th-century Prebends' Bridge, from which JMW Turner painted (Don't tell but he he 'rotated' the cathedral a bit – artistic licence!). 
In Durham Cathedral you can see a 13th-century sword said to have slain the Sockburn Worm (dragon), a legend that lives on in Lewis Carroll's "Jabberwocky" poem.
Durham Regatta (13 & 14 June 2020) dates back to 1834, the UK's second oldest regatta (after Chester), www.durham-regatta.org.uk; the 136th Durham Miners' Gala of bands, banners and marching takes place on 11 July 2020,  www.durhamminers.org.