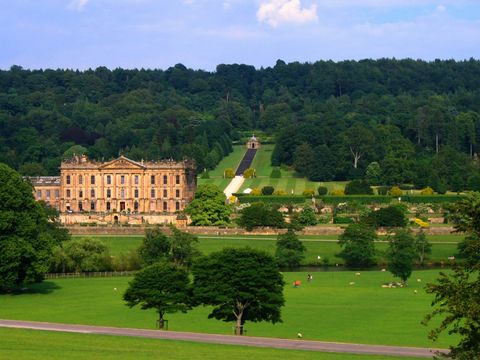 Located on the eastern edge of the Peak District National Park of Derbyshire, Chatsworth is repeatedly named as Britain's favourite stately home.
Over the years, I have visited scores of grand and stately homes from Cornwall to Aberdeenshire. They just don't come any grander or statelier than Chatsworth, the hereditary seat of the Dukes of Devonshire. The Cavendish family has made it home since the days of King Henry VIII. Sited on the eastern edge of the Peak District National Park of Derbyshire, the Devonshire is considerably smaller than it once was but still covers 35,000 acres. Chatsworth House is surrounded by 1,000 acres of parkland.
It takes a score of full-time gardeners to maintain more than 100 acres of Chatsworth's gardens spread into the Derwent River valley. The distinct gardening fashions of six centuries are on superb display—for a third of a million visitors a year. It takes hours to see the gardens on foot. Or take the land train near the Orangery for a half-hour slow circuit where "every prospect pleaseth," and hop out along the way to explore.
Chatsworth House was begun in 1549 by the famous Bess of Hardwick, wife of Sir William Cavendish. It has been altered and enlarged by generations of Cavendish dukes. Today, the 12th Duke and Duchess live in private apartments in the 126-room house. The State Apartments of approximately 25 rooms open to the public are an unrivaled treasure trove of art, sculpture, and furnishings gathered from across Europe by generations of acquisition.
In 1832, then-Princess Victoria, age 13, dined in adult company for the first time in the State Dining Room. The table is set for 28. The complete Baroque suite of staterooms was created by the 1st Duke beginning in 1687. Its rooms and galleries included a royal presence chamber complete with thrones in anticipation of a visit from monarchs William and Mary. As it happens, they never came. Visitors have come since the 18th century, however, and repeatedly voted Chatsworth their favorite stately home.
Watch Explore Chatsworth House and Gardens

* Originally published in March 2017.