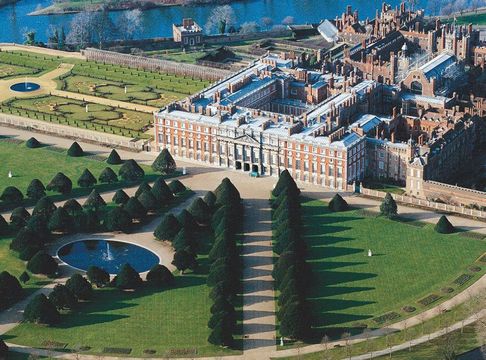 The ancient history of clipped bushes and hedges and where to see topiary gardens at their best in Britain.
Everywhere in Britain, you will spot bushes and hedges clipped into ornate or fanciful shapes: rows of pyramids bordering paths; paired yew spirals standing sentinel at doors; leafy balls on skinny stems sitting in the middle of flowerbeds.
You will see evergreen shrubs cut in birds and animal shapes, and at New Place, Shakespeare's home in Stratford-upon-Avon, you'll be reminded of the name of his theater by the perfectly clipped globes sitting on the garden hedges. Almost every stately home has a parterre or interlaced knot-garden, made of tiny hedges forming artfully patterned beds.
All are examples of topiary, and it's tempting to think that this art is a British invention. In fact, it goes back to the Romans, who used topiary as living statues and to frame views. Describing his house in the 1st-century AD, Pliny the Younger explained: "In the front of the portico is a sort of terrace embellished with various figures and bounded with a box hedge, from whence you descend by an easy slope, adorned with the representation of various animals, in box, answering alternately to each other, into a lawn… surrounded by a walk enclosed with evergreens, shaped into a variety of forms." Beyond lay the distant Apennines, and clearly Pliny's hedges and "various animals, in box" enhanced the dramatic vista.
At Powis Castle near Welshpool, you can see a similar effect. The 12th-century castle was strategically built atop a hill to fend off would-be attackers. Today its hillside is terraced with lavish herbaceous borders, protected at both ends by immense 17th-century yews clipped into cumulus-cloud shapes. They are called twmps in Welsh, and are now so dense that they form twiggy caves big enough to hide in. Looking down from the terraces you see fat topiarized bushes bordering the formal garden. Beyond that lie the hills of North Wales—not as tall as Pliny's Apennines, but just as gorgeously framed by Powis' topiary-rich gardens.
After the Roman Empire, topiary survived in monastery grounds. The art revived in the Renaissance, when first Italian and then French gardeners used crisply clipped topiary to emphasize the formal structure of palace gardens. Geometric shapes such as cones, pyramids and globes highlighted flowerbeds, punctuated parterres and formed archways and alcoves for statues.
The gardens at Hampton Court Palace exemplify these techniques. William III's Privy Garden bristles with spires and pinnacles shaped from tapered trees complemented by ball topiaries. The yew avenue in the park is less orderly. Its huge trees date from Henry VIII's time and they have grown irregularly. Like the Powis Castle yews, they can't be trimmed geometrically; instead they are neatly clipped, each in its own wandering shape, so together they look like a row of giant mushrooms.
Such avenues provide sheltered places to walk. Large topiarized hedges and bushes often also shelter houses. Chirk Castle, one of the last of Edward I's 13th-century Welsh castles, perches on a hill, so it gets wide views—and also rain and sharp winds. So its 19th-century owner, Sir Richard Myddleton Biddulph, planted a hedge clipped to mimic the battlemented top of the castle. This shields the terrace, which is decorated with numerous tall topiarized trees resembling brimmed high-crowned hats. These protect both the rose garden and the downstairs living rooms from harsh weather. Similarly, to make the most of the northern sun, a 20-foot beech hedge has been clipped to make a sun-trap at Levens Hall near Kendal.
Beyond such practical uses topiary is often purely whimsical. The stone pinnacle in the middle of the herb garden at Arley Hall in Cheshire is wittily highlighted by two topiaries of the same shape. A topiary squirrel and an owl perch in a quiet corner off the scented garden, and a topiary cottage adorns an old horse trough in the stable yard. At Gloucestershire's Hidcote Manor and at Great Dixter in Sussex, fantasy birds sit high on topiary bushes marking entrances to parterres and walks.
Such frolics are not new. In 1599 Thomas Platter described Hampton Court's Privy Garden as it was in Queen Elizabeth I's day, writing that it had "all manner of shapes, men and women, centaurs, sirens, serving maids with baskets, French lilies and delicate crenellations…trimmed and arranged picture-wise."
While such quirky creatures can be spotted in many British gardens, the ideal place to see them is Levens Hall. Its magic is pinpointed by Anthony Blagg on his website www.frostatmidnight.co.uk: "As major religions have their Mecca or Rome, topiary has Levens Hall. If you are at all interested in the art, your first visit to Levens near Kendal, will make you run about like a new born puppy."
The gardeners at Levens agree, confidently describing the garden as "the best example of topiary in the world." With more than 100 topiaries, it has something to awe or amuse everywhere you look. In the herb garden, it is cone-shaped yews; in the rose garden, it's the tiered topiaries that intersperse perfumed English roses. In the outdoor café, it's handsome topiarized yews sitting amid mauve and yellow flowerbeds.
The Levens honeypot, though, is the topiary garden laid out by Guillaume Beaumont in 1689. He had worked at Hampton Court, where he was gardener to James II, but he did not reproduce its formal style at Levens. Instead, he let his imagination roam. Some of the trees are cut in figurative shapes such as peacocks, chess pieces, a judge's wig, even Queen Elizabeth and her maids. There's also a topiary portal topped with a crown, and a jug of Morocco—the name of dark ale brewed at Levens.
Just as dramatic are the abstract shapes: trees looking like popsicles or sugar loaves, drums with perky topknots, spirals teetering at odd angles, trees tiered like cake stands. The largest of these is known as the Umbrella because it is so old and dense that when it rains you can sit underneath it for an hour before you begin to get wet.
It's impossible to look at the topiary at Levens or elsewhere without asking how it's made and maintained. The answer is that while it's possible to eyeball a bush and clip it into a shape, typically gardeners use a wire form and train the shrub around it. At Levens you will see a leafy baby elephant growing up around a frame in the cottage garden of Head Gardener Chris Crowder.
Small-leaved evergreens such as yew, golden yew and box are the best for topiary. Ilex, a variety of holly, is also used, most dramatically at Arley Hall, where 14 giant ilex topiaries lead to an Arcadian view of the park. Other possibilities include privet and rosemary. Gardeners at Powis Castle are even working on topiarizing a grapevine.
Topiary takes years to achieve its final form, but it lasts a long time. Some topiaries at Levens Hall and Powis have survived since their planting 300 years ago, and Chirk and Arley have topiaries well past their century. Survival depends on clipping, which begins in early September, using cherry pickers to reach the tops of the tallest specimens. "It's an art; everyone does it differently," says Levens' gardener. "To see if our apprentices have the knack, we test them on our lion. It doesn't look much like a lion so it's hard to get it into shape!" The yew clippings themselves are valuable: Chirk sends three tons of them to be made into the cancer drug tamoxifen.
Topiary is a lot of work and it shows: it's clearly not natural. In 1712 the essayist Joseph Addison complained of "Trees cut into Mathematical Figures…in Cones, Globes and Pyramids. We see the mark of Scissors on every Plant."
Poet Alexander Pope derided topiaries such as "Adam and Eve in Yew; Adam a little shatte'd by the fall of the Tree of Knowledge in the great Storm; Eve and the Serpent very flourishing." Such criticisms heralded the era of landscape gardening when most topiary was simply torn out in favor of sweeping lawns and artfully designed views.
Nineteenth-century gardeners brought topiary back, and it remains popular. At his home High Grove, Prince Charles planted a Thyme Walk of multicolored thyme complemented by shapely topiaries. Many owners of historic houses research former plantings and reproduce them. The Privy Garden at Hampton Court was replanted in the 17th-century fashion in the 1990s.
So topiary is alive and well. Look for it in Britain's suburban and cottage gardens, as well as at stately homes and parks. You never know where you'll see a bush looking like a teapot or a chicken, or whatever the owner's fancy has suggested.
* Originally published in March 2015.