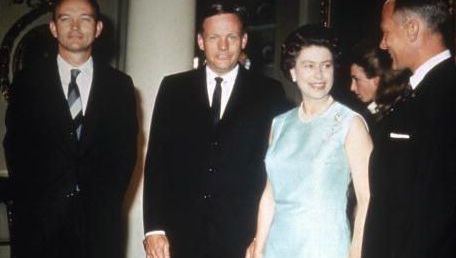 Neil Armstrong was apparently left 'mortified' after his first meeting with Queen Elizabeth II
Editor's note: Queen Elizabeth II, Britain's longest-serving monarch passed away on Sept 8, 2022, aged 96. Now, BHT takes a look back at some of the most popular stories which arose during her 70-year reign. 
Neil Armstrong is best known as the very first person to ever walk on the moon. The esteemed astronaut is a household name and, when it comes to famous figures, he's met them all over the years.
His meeting with Queen Elizabeth, however, ended in embarrassment for Armstrong.
The Queen met with Neil Armstrong in 1969 after his successful Apollo 11 mission, which saw him become the first man to ever walk on the moon.
Armstrong was accompanied by his wife to Buckingham Palace. He and the rest of the Apollo 11 crew were on a world tour of sorts, where they would meet world leaders and dignitaries as a way of marking their amazing achievement.
Armstrong, Buzz Aldrin, and Michael Collins were all invited to Buckingham Palace to meet with Her Majesty and Prince Philip.
The American visitors viewed the occasion as "delightfully memorable", but Armstrong had less fond memories due to a royal faux pas.
Looking back on his visit to the Palace, Armstrong remembers his wife insisting that they must go to the Palace, despite the fact that Armstrong was suffering from a rather nasty cold.
Neil Armstrong was quoted as saying ''She told me that if I had to be embalmed, we were going to the palace. She wanted to see the place."
According to Paul Haney, a NASA Announcer who penned the book That Silent Sea, when meeting Her Majesty, Armstrong accidentally coughed in her face!
Haney wrote "She knew he had a cold. He tried to say something like, 'Thanks – we had a great time.' Instead, he coughed in her face. Mortified, he again tried to mouth an apology and hit her in the face with another cough. She held up both hands in surrender."
What a faux pas! Queen Elizabeth is undoubtedly used to meeting people while they're on their best behavior, so this probably came as a real shock to Her Majesty!
Take a look at this clip of Armstrong's visit, courtesy of British Pathé: