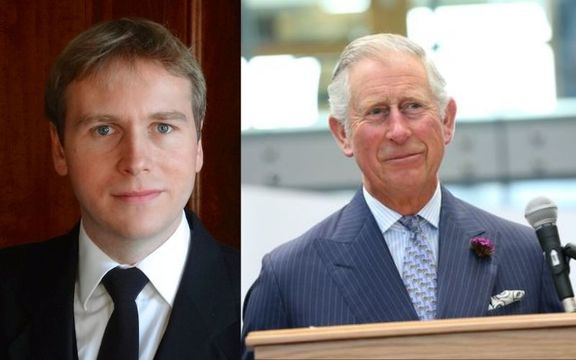 Former Royal butler Grant Harrold explains what we can expect from the Royal family's summer plans.
As King Charles prepares for his first summer at Balmoral without the late Queen, former Royal butler Grant Harrold has revealed His Royal Highness will be 'putting on a brave face' and will 'carry on'. 
In a new interview with Spin Genie, King Charles' former butler Grant Harrold has shared his insight into how the Royals will be spending their summer holidays, revealing they will be heading to Balmoral for the 'first summer with The King'. He added that King Charles will follow in the late Queen's footsteps by doing an official 'arrival ceremony', as he 'likes to follow traditional protocol'. And speaking about how the King will be feeling about being at the lodge without his mother by his side, Grant says it will be 'mixed emotions for him' following her death last year. 
In the exclusive chat, Grant also goes into detail about Princess Kate and Prince William's upcoming summer plans in Balmoral, which is a chance for them 'to escape everyday life' and 'be themselves'. He went on to share what the 'dynamic duo' Kate and William are like as a couple after previously working with them - insisting that they are 'best friends and the 'perfect models for the Royal family'.
What will the King's plans be this summer?
"The King has already got his own private home at Balmoral. Now, he's a huge believer in traditional protocol. He will go up to Scotland at the end of this month. And historically, he goes up to the Castle of Mey, which he is a trustee of. He would always spend the week there. I don't think he will be going this year. My gut is telling me that he will do the whole ceremony of arriving at Balmoral. He'll divide his time between Balmoral and back home."
How will he be feeling going there for the first time without the late Queen? 
"It will be mixed emotions. It's where he went every year with his parents as a kid, and he's now lost both his parents. Even though he has his own property and his own house, and does his own thing when he's normally there, every year there will be events, including The Ghillies Ball, which I went to. But now he's the main man. Balmoral Castle is the place where he said goodbye to his mother, the Queen. It's where she died, and spent her last memories. He's aware that's where his mother spent the last days of her life. So, there will be many emotions going through his head. I believe she chose to pass there, it was her favorite place to be. It's a place where the Royal family can get away from everything and be together as a unit. The kind of character Charles is, he'll go up there like all of us who have been in a similar situation, and he'll put on a brave face and carry on. He's also very close to the staff up there. They've always got on very well with the family. A lot of them will be deeply missing the Queen. Don't forget, the King has guests when he's up there. He has friends that often come up to stay with him."
What do the Royals usually get up to when at Balmoral?
"They may do a bit of shooting, but I don't know how much shooting the King does now. I do know that he likes his walks, he likes fishing, and painting. He famously loves doing his lithographs. He will go to the Ghillies' ball, which is held at the castle. It's very much his time to relax. People think the Royals stop working during the summer, but they really don't. They carry on their duties and are expected to do a lot of engagements despite being on holiday."
For Kate and William, will this be a time when they can relax and be with each other?
"When they go to Scotland, it's time for them to escape everyday life. When they're up there, they have the chance to be a family on holiday. Kate and William want their children to love Scotland as much as they and their parents do. It's the perfect place to escape from the hustle and bustle. There's nothing there. I used to go up with Kate and William when I used to work with them. And I know how much they love it up there. It's always a time when they can just be themselves. I have no doubt that every year, going to Balmoral will be part of their holiday."
What are Kate and William like? 
"They're really fun, jokey, humourous and caring. When I watch them now, I'm so proud of them, but when I watch them, I see them as these two fun-loving young people. I see them as much younger than they are, as they're young at heart. I always knew Kate as Kate, never as Catherine or as Her Royal Highness. I know them as Kate and William. But when I see them doing their official duties, I see that come through and I appreciate that they are doing an amazing job. But when they have those little moments with each other and giggle with laughter, it's like no time has passed. I recognize that because what makes their relationship work is humor. They're best of friends, who discuss everything and they're a team - a dynamic duo. They do such a good job as husband and wife, as lovers, and as soulmates. They are the perfect model family for the Royal family."
Did Harry enjoy staying at Balmoral?
"He absolutely did. I think he wishes he could experience it with his children more. It must be hard for him. He was up there when his mother died. Balmoral has been at the front of a lot of serious historical events."
Where do William and Kate like to holiday when they go abroad? 
"Historically, the late Queen and the Royal family would go to Balmoral during the summer. It's a simple golden rule that they go there in the summer. However, younger royals have always done things slightly differently. There have been times when Kate and William have gone on to the States or Portugal. They've gone to beautiful places. Queen Camilla has also been spotted on a yacht ahead of Balmoral. I'd bet that they will go to Balmoral for the first time with the King. But it wouldn't surprise me if they also have their own little holiday."