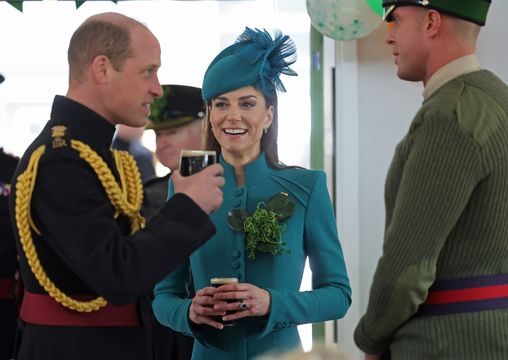 Kate Middleton and her husband, Prince William, met with the Irish Guard at the Mons Barracks, in Aldershot on March 17, St. Patrick's Day, with the heir to the throne joking that he would yet again fail "to finish a pint of Guinness."
Kate Middleton was recently bestowed with the title of honorary Colonel of the Irish Guard by King Charles II. That makes this St. Patrick's Day trip to greet the British regiment something of a handover for the Prince and Princess of Wales as William had previously held this title but is now an honorary colonel of the Welsh Guards.
Both William and Kate gave speeches at the event. Kate Middleton said it was a "true honor" to be called "Colonel Catherine" by William.
Prince of Wales said, "Whilst I am extremely happy to be here celebrating St. Patrick's Day with you once again, I'm incredibly sad to be giving this speech, as it really does mean my time as your Colonel has come to an end. It has been one of the great honors of my life to hold that title; I'm proud of everything it stands for – just as I'm immensely proud of every single one of you."
The Prince went on to poke fun at himself and the tradition of toasting the holiday with a pint of Guinness.
He said "I would now like to speak directly to the families gathered here today. I hope you know how truly grateful I am to all of you too. On this, my 13th and final St. Patrick's Day as Colonel, not only am I saddened that I'll likely fail once again to finish a pint of Guinness… but I am also sad that I won't in future see more of you, the families, whose unwavering support enables these outstanding men and women to do what they do."
He added, "I may be stepping aside, but in Colonel Catherine, you have a committed, focused, and already incredibly loyal 11th Colonel."
Kate, wearing a teal Catherine Walker & Co ensemble, said "I really couldn't be prouder to stand in front of you here today. It really is a true honor to be your Colonel. I am here to listen to you, to support you, and to champion you in all you do – this is a responsibility I do not take lightly.
"I look forward to spending more time with you and your families, seeing your commitment to duty and service in all you do. Before I close, however, I want to thank Colonel William. He has always talked about his fierce pride for this Regiment. I know he will continue to support us all in the work we do," Princess Kate said. "Finally, I would like to wish you all, a very happy St. Patrick's Day."
Wishing all our followers a very happy St Patrick's Day today!

Looking forward to joining the @irish_guards this morning to celebrate at the #StPatricksDay Parade.

— The Prince and Princess of Wales (@KensingtonRoyal) March 17, 2023
Kate distributed shamrock sprigs, which the guards pinned to their tunics. Also getting a sprig of the Irish bloom was the regimental mascot the Irish wolfhound, Turlough Mór, aka Seamus. The parade ended with a royal salute as the troops marched past their honorary Colonel. 
Walking to get your shamrock on St Patrick's Day like 🫡 pic.twitter.com/7r0go5mxyS

— The Prince and Princess of Wales (@KensingtonRoyal) March 17, 2023
After the parade, Kate and William met with veterans from the Irish Guards Association. Kate was invited to inspect the front rank. Prince William inspected the second rank.
Following the inspection, Prince William and Kate sat for photographs before they retired to the dining hall of the junior ranks. There, the Senior Guardsman raised a glass and proposed a toast to the prince and princess.