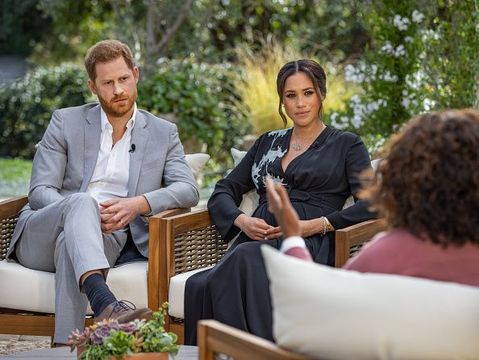 Harry and Meghan sat down with Oprah Winfrey for a tell-all interview that aired on CBS on Sunday evening in the United States, and bombshells were dropped.
The world has been waiting with bated breath for the Duke and Duchess of Sussex, Harry and Meghan Markle's interview with the iconic broadcaster, Oprah Winfrey. While teasers released of their chat suggested it would be an explosive affair, perhaps it is fair to say that no one was quite ready for what was to come.
Within the first few minutes of the interview, it became very clear that no topic was off-limits, and that Meghan and Oprah were more than willing to get into the nitty-gritty of why it is that the Sussex's relationship with the Royal Family has broken down so badly.
Meghan's relationship with Queen Elizabeth and Kate Middleton, her relationship with the British tabloid press, her status in the family and its connection to race, and Archie's position in the family were all discussed with no punches being pulled by anyone.
Last Wednesday, a story emerged, seemingly from the Palace, that alleged Markle had been involved in a bullying complaint during her time at the Palace. A spokesperson for the pair said the claims were a "calculated smear campaign based on misleading and harmful misinformation". This wasn't the only alleged mistruth that Markle looked to set straight.
In her interview with Winfrey, Markle detailed how, despite rumors circulating that she had made Kate Middleton cry in the lead up to her wedding, the reverse was in fact true.
Addressing the reports, Markle said "The reverse happened. I don't say that to be disparaging to anyone, because it was a really hard week of the wedding, and she was upset about something. But she owned it, and she apologized and she brought me flowers and a note apologizing."
She added that she believed Middleton to be a good person, and said "If you love me, you don't have to hate her. And if you love her, you don't have to hate me."
Oprah took the time to address the differing treatment Meghan and Kate received at the hands of the British press. While Kate was adored and praised for holding her baby bump while pregnant, Markle was vilified and mocked for doing the same thing. Middleton was shown eating avocado, coupled with a positive headline, while Meghan's headline was accompanied by a statement about the damage avocados do to the environment.
Meghan also detailed how, the very first time she met Queen Elizabeth, she was expected to curtsy. This came as a surprise to Markle, who believed that it was simply "part of the fanfare" surrounding the Royal Family. Markle was not hesitant to praise Queen Elizabeth in the interview, who she described as "warm and inviting and really welcoming."
In what turned out to be the most explosive information of the night, Meghan Markle also revealed that in the lead up to Archie's birth, there were concerns among prominent members of the Royal family over how dark the child's skin-tone would be.
A horrified Oprah looked on aghast at such a shocking statement.
Meghan said "In those months when I was pregnant…[there were] concerns and conversations about how dark his skin might be when he was born." After Oprah asked Markle to reveal who had said this, she refused to, and said "I think that would be very damaging for them.'"
Later on in the interview, Winfrey asked Harry for more information on this shocking revelation. He said '"That conversation, I'm never going to share. But the timing was awkward; I was a bit shocked. It was right at the beginning, when [Meghan] wasn't going to get security, when members of my family were suggesting that she carries on acting because there's not enough money to pay for her. There were some real obvious signs before we got married that this was going to be really hard."
This all came with the added information that the Royal family decided Archie would not be a Prince, and would therefore not be receiving security. Markle spoke candidly about the effect the treatment she received by the family had on her mental health. 
She disclosed that she had suffered from depression and anxiety, and had suicidal thoughts due to the media scrutiny she was on the receiving end of.
She even revealed that she looked for help within the family, but to no avail.
She was told by the Royal Family's HR department that there was nothing they could do for her, and was simply left to struggle alone. 
All of this raises questions as to whether or not the bond between Harry and his family has been severed forever. 
Speaking of his relationship with Charles, he said "I feel really let down because he's been through something similar. He knows what pain feels like, and Archie's his grandson. But at the same time, I will always love him. There's a lot of hurt that's happened, and I will continue to make it one of my priorities to try and heal that relationship. They only know what they know, and that's the thing: I've tried to educate them through the process I have been educated."
On Prince William, he added "I love William to bits. He's my brother; we've been through hell together, and have a shared experience. But we are on different paths."
Here are some notable reactions to the interview
March 8, 2021
Of every shocking element of the way Harry and Meghan and Archie were treated by "the firm," the idea that they would be stripped of security at a time when they were under siege with racist death threats is simply monstrous.

— Norman Ornstein (@NormOrnstein) March 8, 2021
Royalty is not a shield from the devastation and despair of racism. #MeghanMarkle

— Be A King (@BerniceKing) March 8, 2021
Among the revelations from the Meghan and Harry interview is Meghan's struggle with mental health.

Her honesty will hopefully lead to more acceptance and more help for those who need it.

March 8, 2021