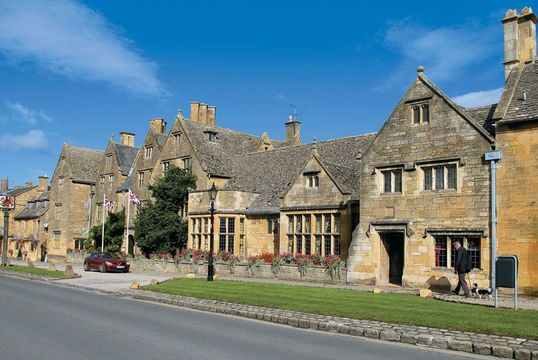 From the market town of Chipping Campden to the World Heritage city of Bath - taking in the exhilarating landscape and sheep-dotted pastures.
Editor's note: Originally published in 2016.
"It's hard to put into words what a great experience and adventure I had," puffed ultra-marathon runner Darryl Carter after he set a new record for running the entire 102-mile length of the Cotswold Way. Hats off to Darryl. However, most people would rather savor the route in a more leisurely timeframe than 20 hours and 36 minutes—and they would be right to do so.
Cresting the magnificent limestone escarpment from the market town of Chipping Campden, Gloucestershire, in the north, to the World Heritage city of Bath in the south, the walking route—a National Trail since 2007—is not just an exhilarating stride across a landscape noted for flora-and-fauna-rich limestone grassland, beech woods, and sheep-dotted pastures. The path also peers over breathtaking vistas and into hideaway valleys that invite you to step down into heart-melting villages. Whether you walk the Way or simply shadow it on a carborn jaunt, you will happen upon some of the Cotswolds' prettiest and most historic sights.
The handsome arched 17th-century Market Hall in Chipping Campden is the official start (or finish) of the Cotswold Way and this remarkable town also provides an ideal introduction to the historical character of the area.
The very name "Cotswold" derives from "sheep shelters" (cots) "in rolling hills" (wolds) and many of the region's fine houses and churches were built on the enormous wealth of a flourishing medieval wool trade. Explore, for example, Campden's early Perpendicular "wool church" of St. James, rebuilt in the 15th century. Here you'll find a brass commemorating William Grevel, "flower of the wool merchants of all England." He may have had modest beginnings, but by the 1390s Grevel was lending 200 marks (£135) to no less a figure than King Richard II.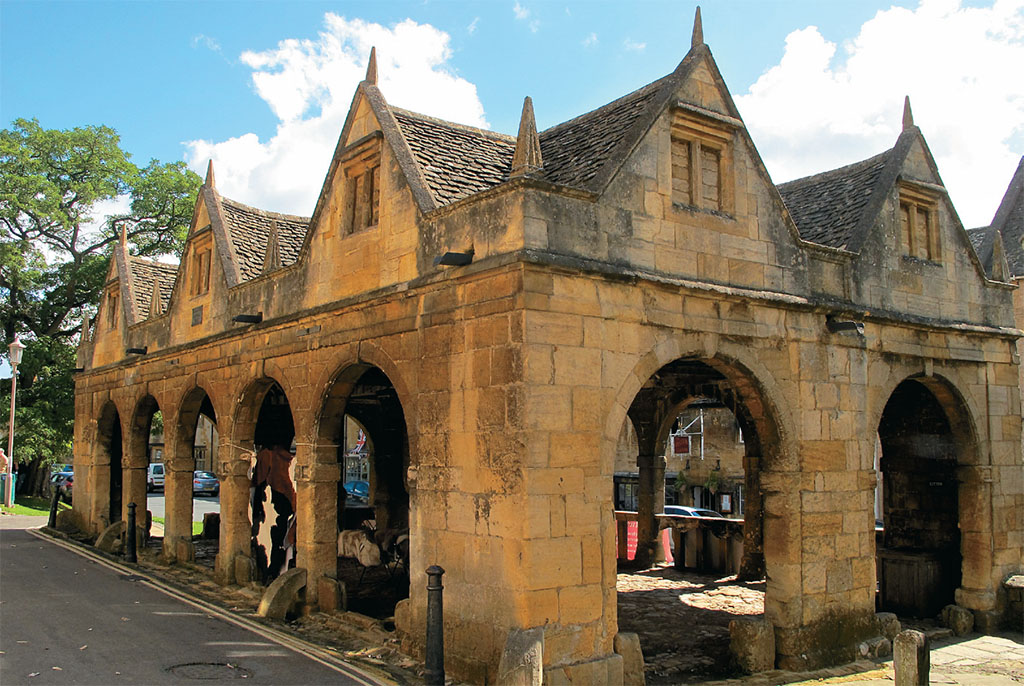 6
The merchant's home, resplendent with carved windows, gargoyles and a sundial, stands on the broad, curving High Street—a thoroughfare brimming with beautiful architecture, from 14th-century Woolstaplers Hall and 14th-17th-century dwellings to a Victorian Town Hall (though streetscapes are somewhat dream-pricked at ground level by parked cars). The traditional Cotswold stone slate roofs and thatch provide crowning glories.
In the 20th century, when the local wool trade had declined and Chipping Campden had become a rural backwater, William Morris–devotee C.R. Ashbee relocated his Guild of Handicraft from London's grubby East End to the fresh air of what he called this "City of the Sun." Some 200 craftsmen, wives and children swamped the town, bringing their skills in metal, woodwork and jewellery. Today, David and William Hart, grandson and great-grandson of one of those original incomers, continue as gold and silversmiths on Sheep Street. Their workshop, which has scarcely changed since 1902, makes for a fascinating browse. Across town, Court Barn Museum tells more of the rich story of arts, crafts and design in the north Cotswolds.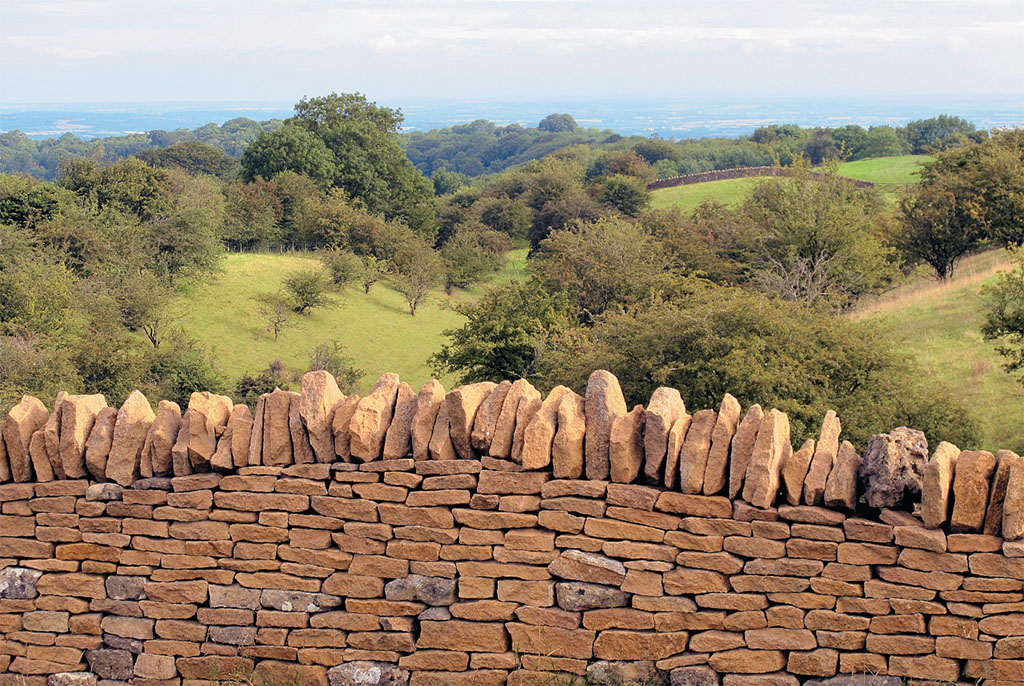 6
If you come in summer, grab some local color on nearby Dover's Hill where the Cotswold Olimpicks give full rein to rural eccentricity. London Games may come and go, but this event is now an annual fixture with a heritage dating from 1612. Time-honored activities include shin-kicking, sack-racing, backswords and single-stick (the latter two were training exercises for fencing and fighting in days of yore). "It's difficult to define what Britishness or Englishness is," says chairman Graham Greenall. "But certainly the Cotswold Olimpicks are part of it."
It's a six-mile field and woods step to Broadway, or if you're driving, follow the hairpin bends up to Broadway Tower, just off the A44. This Capability Brown/James Wyatt 18th-century "Saxon tower" folly was a holiday retreat of William Morris and his Pre-Raphaelite pals, and displays on three floors reveal numerous other intriguing uses over the years. At 1,024 feet above sea level, the tower is also a dramatic vantage point, unfolding panoramas to patchwork fields, the Vale of Evesham, and tree-bobbled skylines that drift into a distant haze of blue hills.
After a cuppa in the café beside the Tower, slip down into the famously charming village of Broadway. A former stop on the Worcester–London coaching route, it reincarnated as a haunt of artists, writers and composers, Morris, Francis Davis Millet, John Singer Sargent, Peter Pan author J.M. Barrie and Edward Elgar among them. Meanwhile, the Gordon Russell Design Museum on Russell Square provides insight into the life and ideals of the 20th-century furniture designer.
In high season, crowds buzz in Broadway, as bees to honey along the golden-stone High Street of shops, galleries, inns and restaurants. New this year is the opening of an outpost of Oxford's Ashmolean Museum in Tudor House: revisiting Broadway in the 17th–20th centuries.
The next must-see village along the Cotswold Way (or off the B4632) is Stanton, a storybook vision of green, idyllic cottages and a medieval church. You'll spot walkers who have puffed over Shenberrow Hill to get here and you might have a glass of something refreshing in the Mount Inn, but otherwise, this is a rare Cotswold nook largely devoid of tourism (keep the secret!).
This stretch of our tour also brings a sprinkle of those attention-grabbing historic houses. Just off route, Snowshill Manor is crammed full of toys, musical instruments, clocks and the odd suit of Samurai armor collected by Victorian eccentric Charles Paget Wade. "Let nothing perish" was his motto. Stanway House at Stanway, the home of Lord and Lady Neidpath, is an exquisite Jacobean manor, whose water garden boasts the world's tallest gravity fountain; it shoots up more than 300 feet.
It's up and downhill or a few minutes' drive to the 13th-century ruins of Hailes Abbey, romantic Sudeley Castle (British Heritage, May 2012) and Winchcombe with its medieval gargoyle-festooned church. A mile or so out of town, a waymarked stride uphill leads to Belas Knap Long Barrow, a big, brooding, grass-covered Neolithic tomb dating from circa 3000 BC.
The Cotswolds are well endowed with such monuments and Belas Knap, in its prominent position on the scarp, sets the skin tingling. Remains of at least 38 people were found buried within its chambers, but who knows what ceremonies took place in the stone-built horned forecourt? The saunter back downhill gives great views to Sudeley Castle, Winchcombe and farmland.
Further ancient sites to investigate along the Cotswold Way include Uley Long Barrow, northeast of Dursley on the B4066 road, and Nympsfield Long Barrow on the B4066 road.
From the arts-and-crafts town of Chipping Campden in the north to the baroque mansion of Dryham Park near Bath, the 102-mile length of the Cotswold Way takes in many of the picturebook region's most famous sites and landscapes.
Continuing on from Belas Knap, there are more panoramic viewpoints at Cleeve Hill, the highest point on the Cotswold Way at 1,083 feet, and Leckhampton Hill above Cheltenham. At Crickley Hill there are remains of a hill fort, and at Cooper's Hill in late spring there's the madcap cheese-rolling competition that sees contestants chasing after Double Gloucester cheeses down gradients that hit 1-in-1. "Health and Safety" would love to ban it, but in a region that cherishes shin-kicking, tumbling head over heels is merely a warm-up.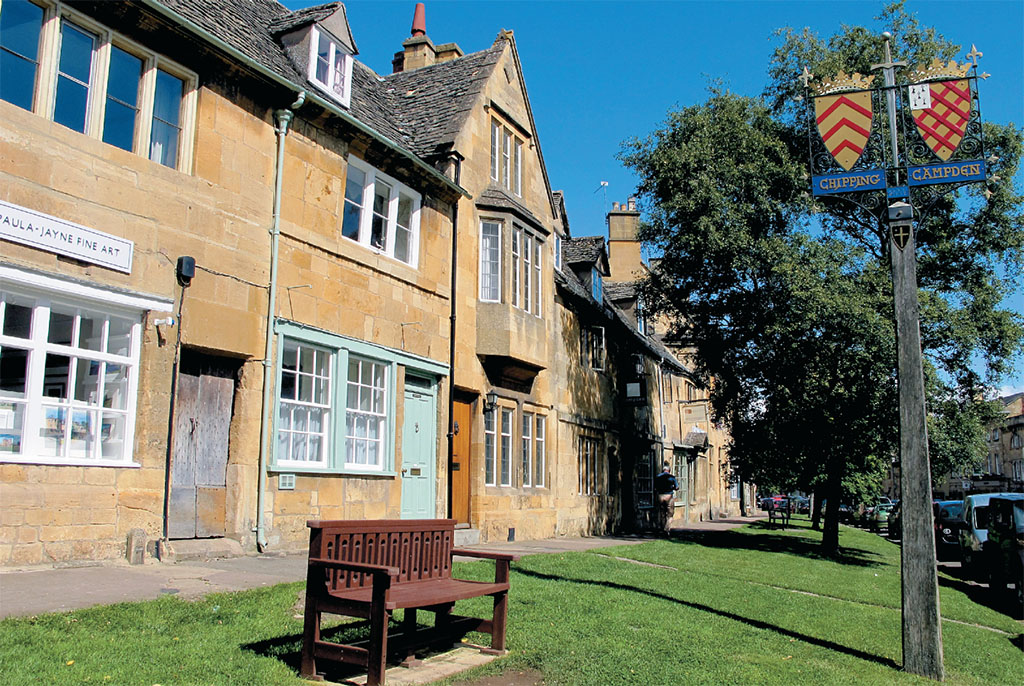 6
Painswick, mid-point of the Cotswold Way and high on a spur, is known as the "Queen of the Cotswolds" for its delightful creamy-grey limestone buildings. Pick up a town trail leaflet from the Tourist Information Centre in the Town Hall and explore quaint, steep narrow streets with valley views.
The water-powered mills of this wool town have vanished, or been turned into homes, but St. Mary's churchyard, packed with an amazing collection of chest tombs and tea caddy-shaped memorials, reminds of its rich 17th/18th-century clothiers and merchants. St.Mary's neat yew trees are equally striking, although legend claims no more than 99 will ever grow. 
Hours are easily wiled away in Painswick's antique shops and art galleries, taking cream tea, catching a match on England's oldest bowling green (1554) behind the Falcon Hotel, or discovering the theatrical Rococo Garden.
On past Stroud and the Stroudwater Canal, we come next to North Nibley, where a 100-foot-plus monument on top of Nibley Knoll high above the B4060 honors local man William Tyndale who was burned for heresy in 1536 after daring to translate and print the New Testament in English. A handrail helps sightseers up the hill and, if your legs are still willing, 121 more steps will take you to the tower's wind-whistled viewing gallery for 360-degree views of the curving escarpment, to the Severn estuary and beyond.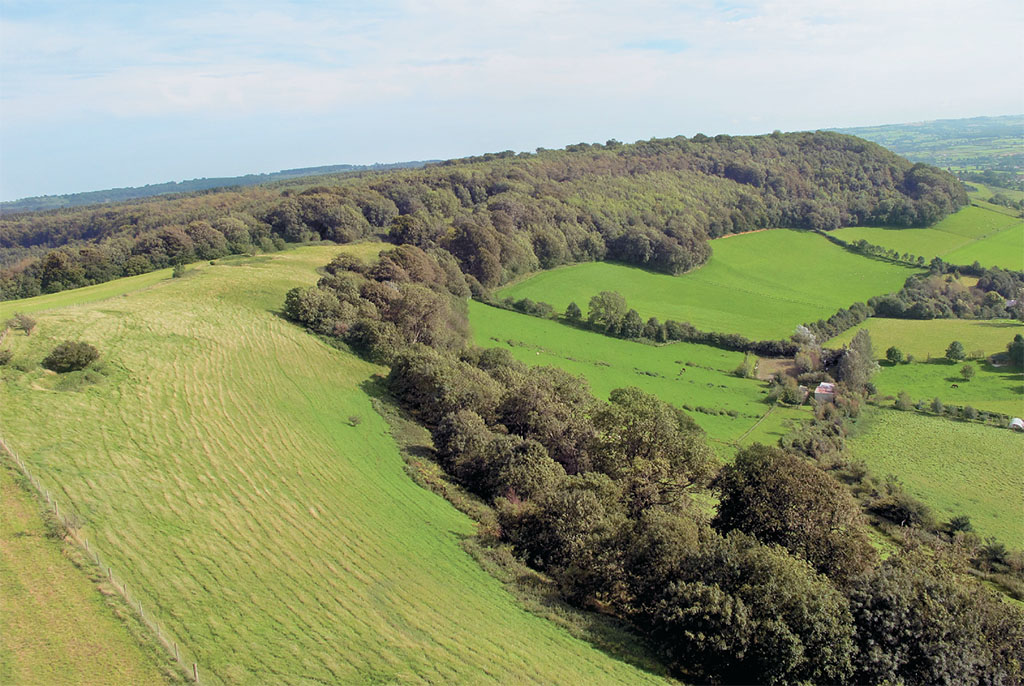 6
Our next stop, Wotton-under-Edge, is tucked below a wooded ridge and overlooks the Severn Vale. It's yet another wool town with a splendid church but breaks ranks from the usual harmonious sweep of Cotswold stone streetscapes with an individualistic mix of stone, brick and timber-framed architecture. The almshouses with chapel, dating from 1638, invite visitors into a beguiling enclave of tranquillity off Church Street.
Via the National Trust's Horton Court, near Chipping Sodbury, and Dyrham Park near Bath, the sense of crescendo builds. The former is a manor house built from the remains of a Norman hall and the latter is a 17th-century baroque mansion boasting lavish collections and a deer park. Then it's onwards to Bath and the superlative sights of the Royal Crescent, Circus, Roman Baths and, the end of the Cotswold Way, Bath Abbey. Perhaps a gentle soak in the natural thermal waters of Thermae Bath Spa is a suitably relaxing conclusion.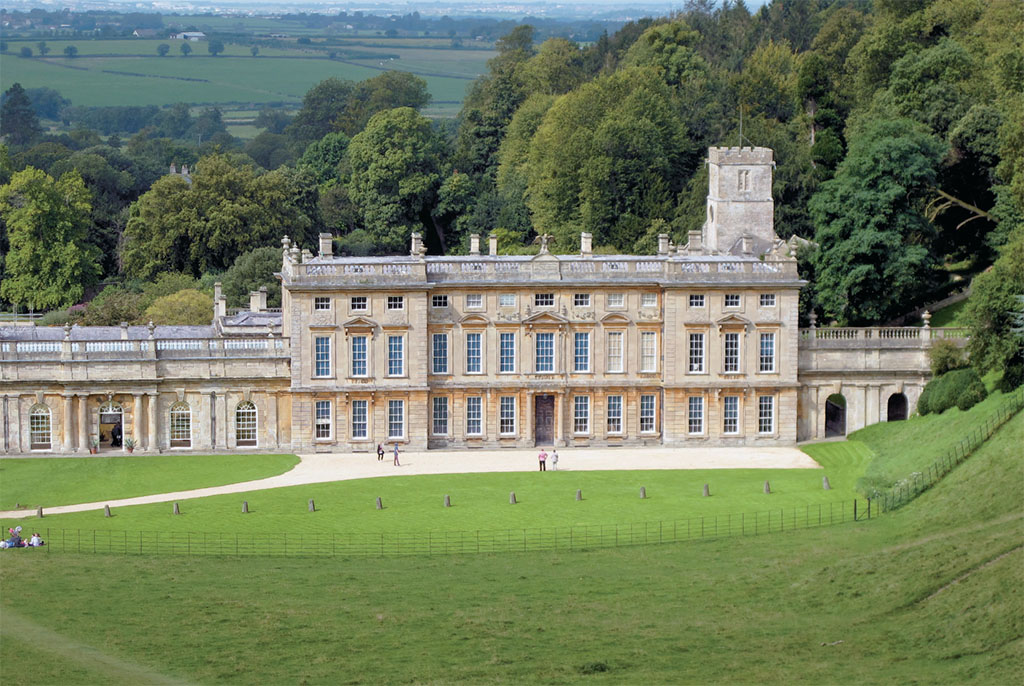 6
Useful Cotwold tips
Maps, accommodation and tourist information useful to walkers and non-walkers alike may be found at www.nationaltrail.co.uk/Cotswold/
Travelling by road from London, take the M40, A40, A44, B4081 to Chipping Campden (approx. 2hr 20 min), or M4, A46 and A4 for Bath (approx. 2hr 25 min). For rail and bus options to Chipping Campden, visit www.traveline.info; for Bath, it's simply London Paddington to Bath Spa Rail Station in 90 minutes. www.nationalrail.co.uk
* Originally published in 2016, updated in 2023.