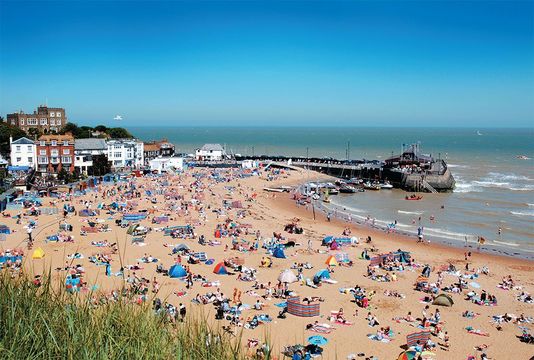 Roman remains and a modern marina, deserted beaches, and bustling seaside resorts, quaint villages, ancient churches, spectacular cliff-top walks, secret tunnels, and an amusement park inspired by Coney Island - this is Kent's Isle of Thanet.
Despite its name, the Isle of Thanet isn't really an island. It was once. Back when the Romans invaded Britain, Thanet was cut off from southeast England by the Wantsum Channel, two miles wide in places and a major shipping route from Europe to the Thames Estuary. But the channel began to silt up in the 8th Century, and now only two rivers, the Stour and a minor tributary still called the Wantsum, divide Thanet from the rest of Kent, leaving it with two coastlines—the real one of today and a ghost coast of the past.
Reculver makes a good starting point for a journey around the two coasts. It's situated at the end of a long and winding narrow road off the A299 east of Herne Bay. The Romans built a fort here, but the only remains are the twin towers of the 12th-century church of Reculvers, which was built at the center of the fort. Originally a few miles inland, this imposing landmark, thanks to coastal erosion, now overlooks the sea.
It's a good place for bird-watching. As the tide recedes, sandbanks are exposed where oystercatchers, redshanks, turnstones, curlews and wild geese come to feed. Reculver also marks the start of the Viking Way Coastal Trail, used by walkers and cyclists to skirt the coast eastward, all the way to Ramsgate. Turn in the opposite direction, however, and the lost coast of Thanet is ready to be explored.
If you bypass St. Nicholas-at-Wade, where sailors (whose patron saint was St. Nicholas) once waded from Thanet to the mainland, Sarre makes a suitable first stop. In days of old, a ferry ran here between the mainland and the island. Now, only a bridge over a narrow stream remains.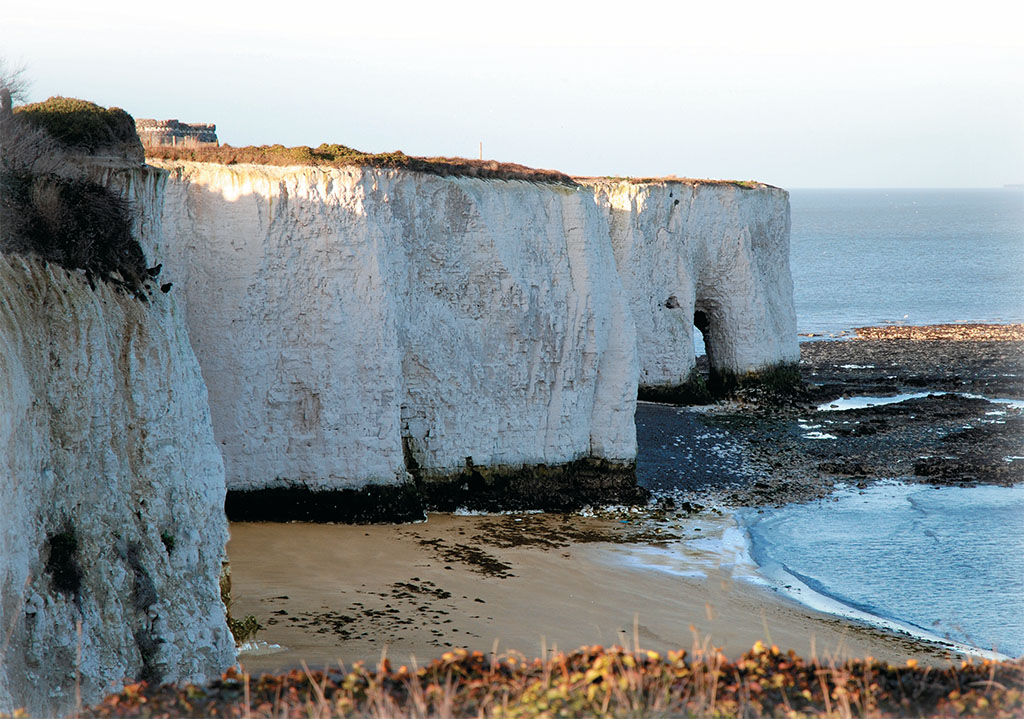 4
St. Nicholas-at-Wade's main attraction is one of Britain's few working windmills, dating to 1820. It's at the end of a narrow road, not much more than a footpath, off the A28 just outside town. This is a smock mill, whose shape resembles garments called smocks once worn by farm workers. Here you can watch stone-ground flour being produced in the traditional way. Then, stop for refreshment in the mill's tearooms before moving on to the quaint village of Minster, the original capital of Thanet.
Nearby Ebbsfleet was where St. Augustine landed in AD 597 to bring Christianity to Britain. The faith spread across southeast England, leading to the building of monasteries, or mynsters; the one at Minster was the first in England. Destroyed by the Vikings, but rebuilt later, Minster Abbey, in Bedlam Court Road, is home to Benedictine nuns. Visitors are offered guided tours of the monastic buildings and beautiful gardens.
Farther along the same road stands the ancient Church of St. Mary the Virgin, whose origins date back to AD 670. Standing in the churchyard, in the middle of this inland village, it's difficult to believe that, in the days of the Wantsum Channel, the Abbey had its own harbor, and the sea lapped at the church wall, earning it the title of the Cathedral on the Marshes.
Onward, then, to Pegwell Bay, where the River Stour meets the sea. There's a huge nature reserve here, known for its orchids and wetland birds in their natural habitats. Look out, too, for a replica of a Viking longboat on the cliff top. It commemorates the first Viking landings in 839, when the Norsemen sailed up the Wantsum Channel, into the mouth of the River Stour and all the way to Canterbury, where they raided the city. Pegwell Bay is known for fossil hunting, but in truth it's not as attractive as Ramsgate a little farther along the coast. Ramsgate is one limb of the Cinque Ports, a series of old port towns in Kent and Sussex defending the narrow Channel crossing.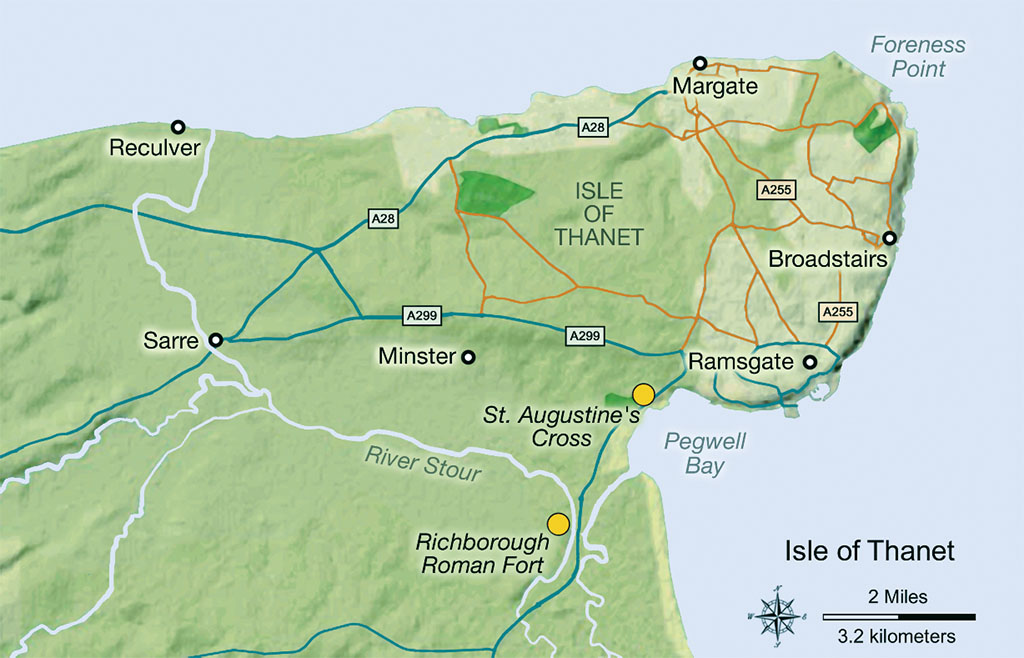 4
Heading into Ramsgate, it's best to ignore the town center and follow the signs for West Cliff. From here, a walk along cliffs gives views of sandy beaches on one side and beautiful 19th-century houses on the other, down to the only royal harbor in Britain. Its royal title was granted by King George IV in 1821 in recognition of the town's hospitality as he passed through.
Today the harbor has been transformed into a 700-berth marina where visitors can stroll and admire many luxury yachts, large and small. Cruises from the harbor sail to see colonies of seals on the nearby coastline. Few who visit this delightful resort, however, are aware that below ground, there's another world.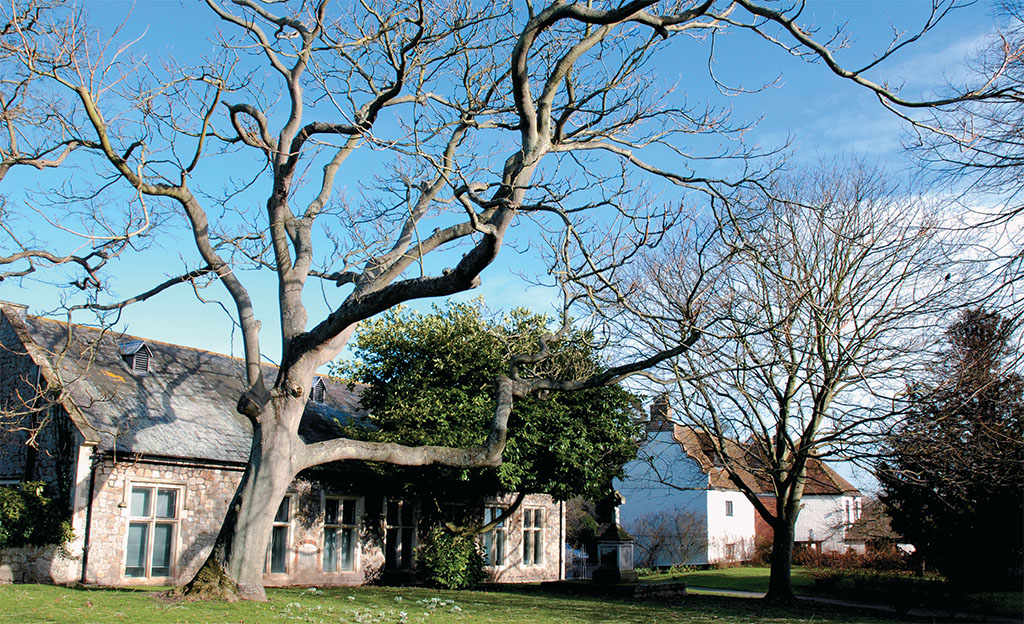 4
During World War II, an ambitious project was undertaken to build a complicated network of tunnels more than three miles long and up to 90 feet deep. They were used as air raid shelters, lit by hurricane lamps, and with a loudspeaker system that broadcast BBC radio programs. There were 10 entrances in parks and other open areas, with one more giving direct access to a hospital. The tunnels are still there today, but the entrances are sealed.
The jewel in Thanet's crown is Broadstairs, standing at the very easternmost tip of Kent. The town is dominated by a huge bay of golden sand terminating in a picturesque harbor, where fishermen's cottages, small houses made of flint and tiny shops selling jewelry, clothing and local produce can be found.
Charles Dickens lived and worked here in a house above the northern end of the bay. In his day, it was called Fort House, but a later owner renamed it Bleak House. This is not the Bleak House of Dickens' novel of that name, but Dickens did base the character of Betsey Trotwood in David Copperfield on a Broadstairs woman named Mary Pearson Strong. The house that was once her home is now a museum full of Dickensian memorabilia. It's worth a visit, as is the Palace Cinema, down by the harbor.
The Palace is one of the smallest cinemas in Britain, boasting just 111 seats—88 in the stalls and 23 in the balcony—nevertheless it shows all the latest blockbuster films.
One of the great joys of Broadstairs is to stroll along its promenades and cliff-top paths, past beautiful gardens where brass bands play in summer and on to other nearby bays. Broadstairs is built on Viking Bay, one of seven bays on either side of the town, whose large and less known beaches are more akin to Cornwall than Kent.
All are bordered by steep chalk cliffs and, at Botany Bay, the most northerly, huge slabs of chalk also rise from the sandy beach. Then, there's Kingsgate Bay, known for its caves; Joss Bay, a favorite with surfers; Stone Bay, where Scottish novelist John Buchan set his book The Thirty-Nine Steps; Louisa Bay and Dumpton Gap, the last two south of Broadstairs.
On to Margate, a town which until recently had an air of faded glory. But things are starting to change. Trendy pavement cafes and coffee bars have begun to appear. It also has a wide beach where the kids can ride on donkeys while the grown-ups try their hands at jet skiing.
Back in 1920, an entrepreneur called John Henry Iles, inspired by a visit to Coney Island, obtained the rights to build Britain's first roller coaster in Margate. Adding other fairground rides, he named his new amusement park Dreamland. At its height, visitors flocked from all over Britain to ride its rides. Damaged by a major fire a few years back, Dreamland is currently under renovation, to be opened again in Spring 2012 as a Heritage Amusement Park, featuring vintage attractions from now-closed amusement parks throughout the UK. It will include Britain's oldest roller coaster.
The English have a phrase—kiss-me-quick—for places like Margate, referring to words on fun hats bought by holiday makers in corny seaside resorts. With its candy floss and donkeys, cockles and whelks, fish and chips, the words fit Margate perfectly, not as an insult, but with love for a quintessential English seaside town.
After leaving Margate, you can make stops at Westbrook, Birchington, Hern Bay, and Minnis Bay, but soon signs appear again for Reculver, completing a tour of the two coasts of Thanet.
Paddling around Thanet
Richborough: The well-preserved remains of a Roman fort and amphitheater; the site of the start and end of Roman rule in Britain. Admission: Adults, £4.80; Children: £2.90. More details at www.english-heritage.org.uk.
Herne Mill: This is another restored historic windmill open to the public. Access is from the village of Herne. Admission: Adults, £1; children, 25p.
Stourmouth: There are actually two villages here—East and West Stourmouth, both picturesque and with many historic buildings, including The Church of All Saints.
Manston: Here you'll find the RAF Manston History Museum, the Spitfire and Hurricane Memorial Museum and the Manston Fire Museum. 
Quex Park: Close to Margate, this is a 250-acre country park with many attractions, including a corn maze, a craft village, secret garden, falconry and a collection of more than 500 stuffed African animals. 
Westwood Cross Shopping Centre: A shopper's paradise, comprising top British stores, plus cafes and such. It's located on the junction of the A256 and the A254 outside Broadstairs. Opening times: 9.30 a.m.–7:30 p.m.
Where to eat
Captain Digby: One of the oldest drinking houses in Thanet and now a family pub and restaurant located on a clifftop overlooking Kingsgate Bay.
Eddie Gilbert's: A fish restaurant situated above a top-quality fishmonger. Where better to eat traditional English fish and chips, and more besides? 
Where to stay
Smiths Court Hotel: An elegant Victorian Hotel with spectacular sea views. 
The Royal Albion Hotel: Situated in the middle of town, but with views of the sea and a large terrace overlooking Viking Bay. 
For more information about accommodation in Thanet, go to www.visitthanet.co.uk.